Brunch couldn't be more perfect – especially with a HEALTHIER homemade cheesy gluten free hash brown casserole! This casserole is great for weekend breakfast, brunch with family or friends, brunch parties, and entertaining.
Gooey and cheesy, this hash brown casserole was made to be healthier; free of gluten, eggs, and corn, with reduced dairy, and using organic potatoes instead of frozen (if desired) with preservatives. There is also an alternative suggestion for those watching carbs/grains (paleo and keto idea).
Are Hash Browns Gluten Free?
Potatoes do not contain gluten; however, the confusion lies in how the potatoes are prepared. Many frozen or pre-made items containing potatoes use flour as a thickener or to dust the prepared potato pieces with for a crunchier coating (such as sweet potato fries).
This definitely can apply to items such as hash browns. So, if you are not making the potato-containing item yourself, be sure to carefully check the label (or with the restaurant) before determining if the item is gluten free.
In this case, if you decide to make this recipe the fast/easy way, double-check the ingredients on your hash browns before purchasing. If making it from scratch with real potatoes (this is my preference as the shredding attachment makes it quick and I feel like it tastes better and is healthier), no worries, they're naturally gluten free.
Making Gluten Free Hash Brown Casserole
This recipe starts with preheating the oven to 375°F and prepping a 9×13-inch glass baking pan (using olive oil spray).
A 3 lb bag of organic potatoes can be washed, peeled, and shredded. Make sure you have a good vegetable peeler and food processor with shredder attachment, as they really make this easy. If you do not want to go through this extra step, you can buy premade shredded hash browns potatoes and thaw them (make sure to check the ingredient list for gluten if you're gluten free). Since the shredded potatoes will contain extra liquid that may make the casserole running, allow them to sit for a couple minutes and squeeze any excess water out.
Onions and garlic are sauteed and then added to a large bowl with the potatoes. This can be set aside while the cheese sauce is made (see recipe for details). The cheese sauce, part of the bacon, and the potatoes are mixed and added to the pan, covered in foil, then baked for 40-45 minutes. When ready, the mixture should be bubbly, but not yet fully cooked.
The top can be sprinkled with remaining cheese. It's then baked for an additional 15 minutes or until the top of the cheese begins to lightly brown. After removing from the oven, it's sprinkled with the remaining bacon and fresh chives. It'll need to cool prior to serving.
How to Make Your Breakfast Casserole Paleo or Low Carb
Watching your carb count or on keto or paleo? I've not tested it just yet but have seen successful recipes online where sweet potatoes are subbed for regular potatoes (these recipes will not be fully keto, due to the high amount of sweet potatoes still needed, but definitely closer). Try this sweet potato breakfast casserole or this sweet potato casserole for an estimate of times for baking of the sweet potatoes.
What Cocktails Should I Serve with Brunch?
Love brunch, but don't want to be out of capacity for the day? Some popular options include bloody marys, sangria, and coffee/liquor drinks, but those drinks can be high in sugar, sodium, and other unhealthy additives that can leave you feeling low for the day.
So, I like to serve some options that are on the healthier side such as these classic brunch cocktails: bellinis, aperol spritz, and mimosas! A couple fun versions of these that I have made over (to be healthier) and that go great served with this hash brown casserole are the: Aperol Orange Spritz, Blueberry Lavender Mimosa, and the sunrise colored Island Breeze Mimosas.
Gluten Free Potato Pancakes, Hash Brown Breakfast Cups, and Healthy Brunch Recipes!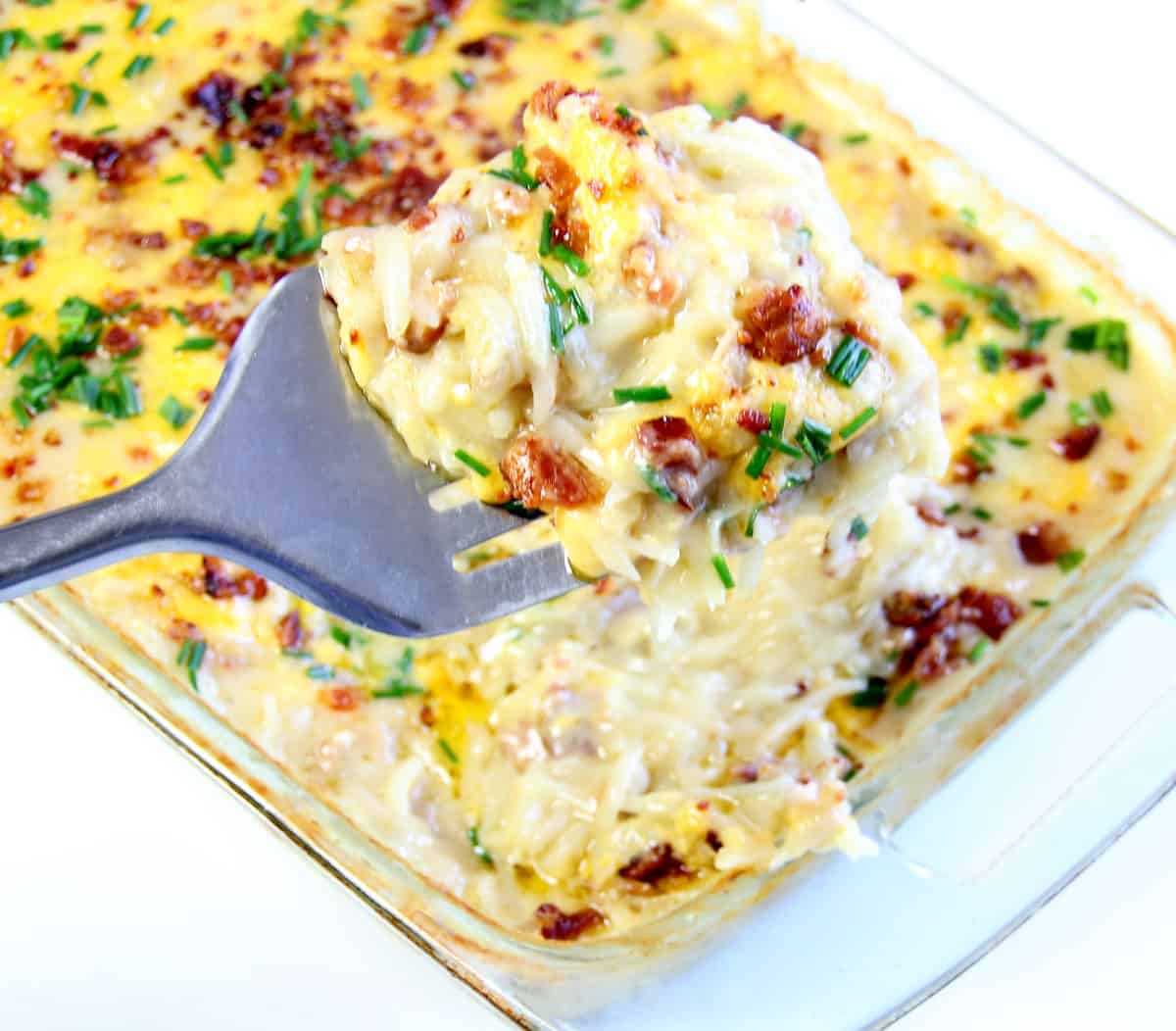 Who said you can't have your brunch and eat it too?! If you're ready to do brunch right (and on the healthier side), enjoy this amazing healthy breakfast hash recipe and many others. Take your brunch to the next level here with other favorite healthy brunch ideas (like these featuring potatoes): gluten free potato pancakes, egg breakfast cups, and more!
Here's to making your brunchtime (and hash brown casserole) healthier and gluten free…and regaining our sparkle together,
✧❈✯✦Jenn✦✯❈✧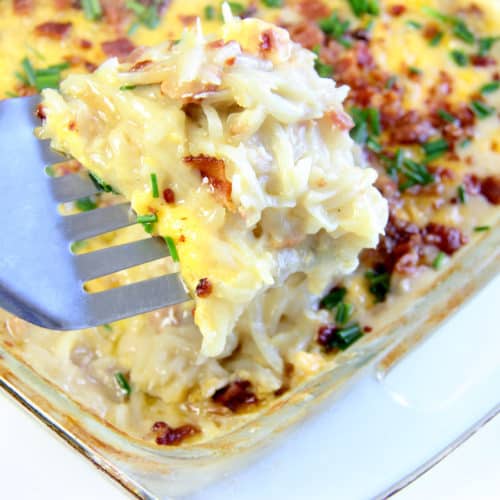 Print Recipe
Cheesy Gluten Free Hash Brown Casserole
Weekend brunch couldn't be more perfect – especially with a HEALTHIER homemade cheesy gluten free hash brown casserole!
Ingredients
3

lbs

organic potatoes or frozen shredded hash brown potatoes, thawed

verify if buying frozen that they don't contain gluten

1

lb package

pan-fried natural bacon

, chopped, divided (baking option: 400°F for 18-20 minutes)

1

tablespoon

organic olive oil

1

onion

, divided

3

garlic cloves

, minced

¼

cup

butter

¼

cup

arrowroot flour

1½

cups

milk

(I use unsweetened almond or coconut milk to reduce the amount of dairy)

1c

cup

chicken broth

3

cups

shredded Cheddar cheese

, divided

1

can

full fat coconut milk

1

teaspoon

sea salt

¼

teaspoon

black pepper

1

package

fresh chives

, chopped
Instructions
Preheat the oven to 375°F. Lightly grease a 9×13-inch glass baking pan.

Peel and shred* your potatoes (if not using frozen); I make sure to use a quality vegetable peeler and a food processor with shredder attachment to make them quickly & homemade without preservatives. Squeeze out any excess liquid from the shredded potatoes. Cook bacon (if not cooked already).

Add oil to a large skillet. Heat over medium. Once hot, add onions and garlic and cook until tender. Add the cooked onions to a large bowl with the potatoes. Add mixture to the 9×13 pan and set aside.

In a large saucepan, melt the butter over medium heat. Whisk in arrowroot powder, cook, whisking consistently, for 1 additional minute. Turn the heat up to medium-high and add the almond milk and chicken broth. Cook while whisking until it boils/thickens.

Remove from heat and stir in 2 cups of cheese, coconut milk, sea salt, and the black pepper.

Pour into the 9×13-inch glass pan. Mix. Cover with foil. Bake 40-45 minutes or until bubbly.

Remove and discard the foil. Mix in about 2/3 of the cooked bacon. Sprinkle with remaining cheese. Bake an additional 15 minutes or until golden brown. Sprinkle with remaining bacon and fresh chives.

Allow to cool for about 35-45 minutes before serving.
Notes
*Potatoes tend to oxide easily and turn pink or grey in color. To prevent try one of these 3 tips: soak in cold water until ready to use OR mix a little bit of vinegar or lemon juice in immediately after shredding.