This DIY hack will keep your hair looking amazing and smelling great this summer, through a workout, through a nerve-racking presentation, and so much more! Learn to make a dry shampoo at home like this cocoa powder dry shampoo for the healthiest, most affordable option for natural hair.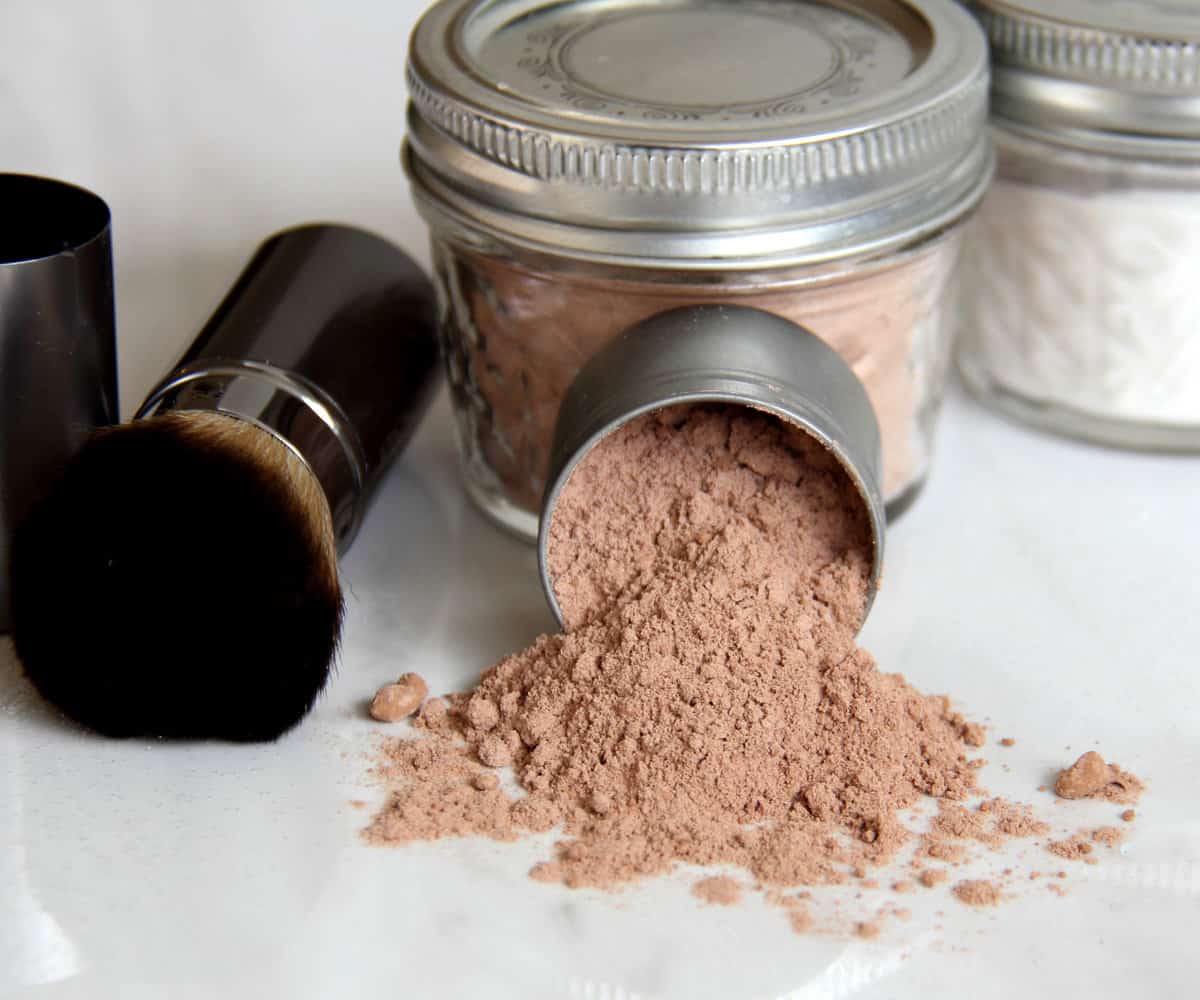 Controlling Oily Hair
Dry shampoo an option that makes is easier to skip showering. However, during the worst of my health issues, it was a daily necessity to me even when showering daily. Imbalanced hormones, a bad diet, stress, and other issues can cause an abundance of oil in your hair as it did for mine.
Luckily, this homemade cocoa powder dry shampoo is an easy solution! Plus, you may end up like me, where you grow to love it due to the amazing smell it leaves in your hair. So much so, that you use it even after it's no longer needed.
Easy, Homemade Cocoa Powder Dry Shampoo
I began the process of trying to get my oily hair under control by using a commercial brand a friend had recommended to me (that worked miracles for greasy hair). However, as I began to cut chemicals out, I wanted a more natural option.
Usually when I tried a more natural option for make-up, hair, or skin-care, I found it to be less effective. So, I was hesitant to enter the DIY realm again. However, my best friend at work (who knew my oil slick hair was due to health issues) decided to make me some cocoa powder dry shampoo as a gift and I was smitten.
DIY for the Most Affordable, Natural Dry Shampoo Powder
I created this recipe in honor of the kindness she had showed to me by this gift; which I to this day still really appreciate…While she was unphased by what I was going through, I did lose a lot of friends when I was hiding out sick. We have unfortunately lost touch, but my undying love for this DIY product continues. I hope you love it just as much as I do!
There are many reasons why I love this recipe, but the main ones are that it's affordable (with only 2 ingredients you likely already have in your baking cabinet), effective, super easy to make, and smells sooooooo good.
So, help me out and answer these questions for me:
Do you get greasy hair during certain times of the month and after certain activities?
Do you want an easy and natural solution?
Do you love the smell of chocolate?
Do you worry about the chemicals in your hair products?
Then this cocoa powder dry shampoo is the solution! Here are the times this dry shampoo is perfect (even if you don't have health issues):
During hormonal surges when your hair looks like an oil slick (lol I used this every month during the couple days prior to my period)
When you haven't had time to shower and grabbed that extra strength deodorant, but worried your hair will still give you away
When you want your hair to smell like a delicious fresh-baked batch of brownies
When you are going to an outdoor concert or show where you will be sweating a lot and may need a refresher
When you are out late, and your hair has a musty-smoky bar scent
And most importantly, as an absolute must-have for date nights; great for covering up nervous sweats on a first date and keeping the romance alive for years to come (isn't chocolate a natural aphrodisiac?!)
Storing & Making Your Own Dry Shampoo
This dry shampoo fits in a tin container right in your purse (I like these cute 1 oz tins
which seem to stay closed in my purse very well; but you can also search "small tin with window" for other options….And you can apply it to your hair with a blush brush (I use a retractable make-up brush
so it fits in my purse easily) for an even coat. The light coat will give you a nice light hint of chocolate scent and is a quick fix for your hair getting greasy!
P.s. For those of you who really don't want to put in the work, there are natural dry shampoos out there, such as this one
. However, you have less control over the scent, and they tend to be a bit pricier. I prefer to make my own because it only takes minutes and I love the scent.
How to Apply Cocoa Powder Dry Shampoo on Your Hair
Just store your dry shampoo in a small container and use a blush brush to apply it to your hair. Blot it sparingly on the roots and about a couple inches down the hair. Once it is lightly applied, do not add anymore to the hair roots. Use the brush to blend it into your hair.
If at that point your hair still appears oily, feel free to add a bit more. Make sure it's blended before you decide if you need additional powder. You want your hair to appear light and oil free, not dry.
Natural Hair Care
If you love this recipe, you may be interested in learning more tips for caring for your hair affordably and naturally. Try this fun, beachy Homemade Sea Salt Spray for DIY beach waves from the comfort of your home or if you want to try a darker hair look, experiment with dying with henna!


---
Cornstarch and Cocoa Powder
Dry Shampoo Recipe
DIY Dry Shampoo for light hair (blonde, grey)
½ cup organic cornstarch or arrowroot powder
3-4 drops essential oil for scent of choice
DIY Dry Shampoo for dark hair (brunette, red)
3 tablespoons organic cornstarch or arrowroot powder
3-4 drops essential oil for scent of choice
(I recommend Young Living for this; but they're expensive,
so I use the ones online or in the health food store)
¼ cup + 1 tablespoon unsweetened cocoa powder – for people with darker hair
1 dash cinnamon – for people with red or auburn hair
Instructions:
Add all ingredients into a bowl and mix. Store in an air-tight container.
For a quick grab and go, put some in a cute 1 oz tin for your purse and apply with a make-up brush to greasy areas as needed (these retractable make-up brushes are perfect for your purse as well)
---