These canapes make a super easy gluten free party appetizer. They make the perfect bite sized appetizer that everyone's sure to love – as they can easily be customized.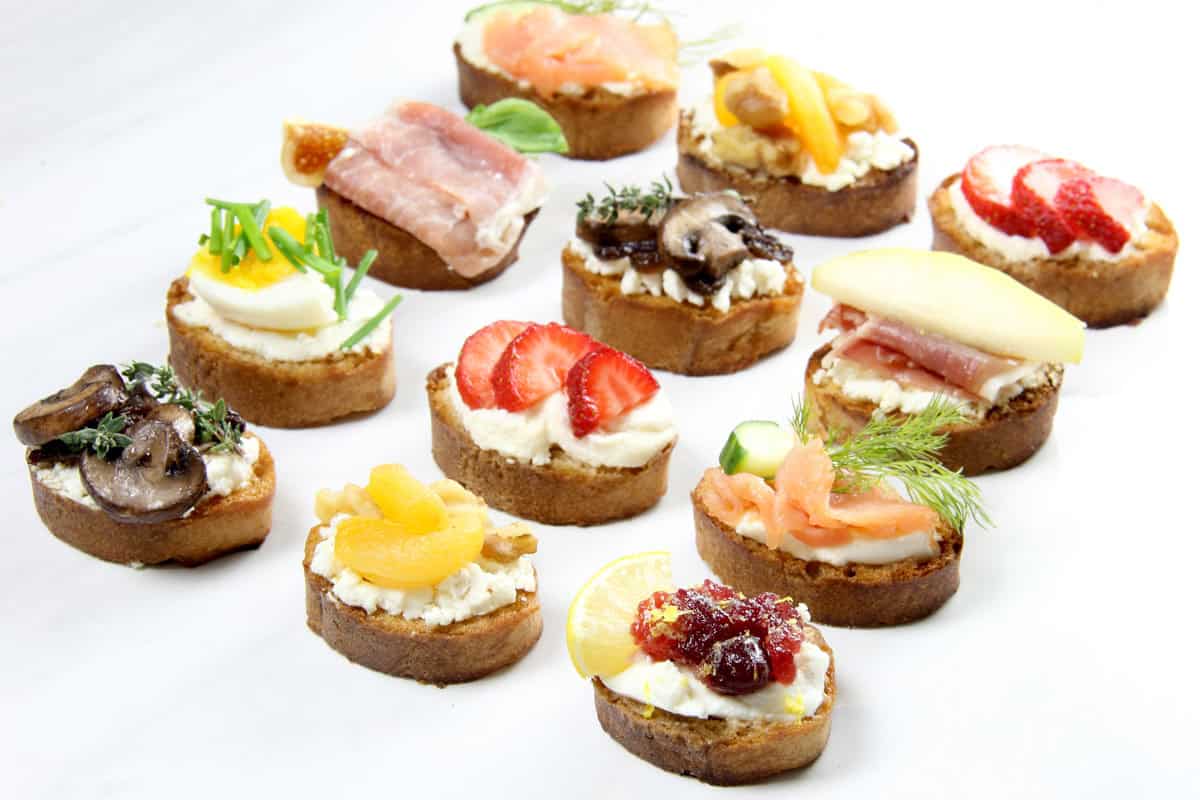 They're an easy hor d'oeuvre to bring to a party, a good finger food or snack, or make an excellent appetizer for wine tasting. Make sweet bites, savory bites, a mixture, with or without certain ingredients; however, you deem fit!
What Are Canapes?
Canapes are a French (or Italian depending on the variety) hor d'oeuvre (appetizer) that consist of a base (small bread slice, cracker, or puff pastry), a spread, and toppings. They are very decorative in nature due to their size and composition.
Gluten Free Canape Bases
Canape bases are typically one of three things: a small bread slice, crackers, or puff pastry. If you are gluten free, you can enjoy any and all options!
There are a ton of options for gluten free crackers; just check your local grocery store. Opt for crackers that are unflavored (salt) and without toppings as canapes can have a variety of toppings that may not necessarily work with all cracker flavors.
If you'd like to go with the bread option, there are gluten free baguettes and/or French bread that you can slice. Walmart has a baguette option from Schar® and/or Bfree® and Publix & Walmart have Udi's® French Baguettes.
The last option would be to do a puff pastry base. I find this the most difficult to find, however, one of the tastiest options. You can either locate Schar's puff pastry or make your own.
How To Make Canapes
Canapes are easy to make and consist of three simple steps:
Prepare the base. Crackers are fine as is. Puff pastry must be baked. Bread needs to be toasted and cut into slices – this is the option used in this recipe. Slice the loaf of French bread/baguette into slices that are about half an inch thick, add to an 8.5"x11" baking sheet, brush with a small amount of olive oil, and then bake at 400° for 2-4 minutes or until lightly toasted.
Spread with cheese for the middle layer. In this recipe, the canapes are spread with either goat cheese or ricotta cheese. If you'd like a dairy free, vegan cream cheese also makes an excellent base.
Top with your toppings of choice.
Canape Toppings and Ideas
Canapes are the best because they can be made your way with any toppings you desire! They're also great for parties, picky eaters, and/or those with allergies as there are so many different options. The following are the options I found delicious/popular amongst guests:
Goat cheese, Prosciutto, sliced fig, a few pieces of arugula
Goat cheese, Prosciutto, pear slices
Goat cheese, dried apricots, walnuts
Goat cheese, sauteed sliced mushrooms, caramelized onion, thyme pieces
Ricotta, hardboiled egg slices, chopped fresh chives
Ricotta, cucumber slices, smoked salmon, dill pieces
Ricotta, cranberry sauce, lemon zest
Ricotta, strawberries slices (or peach slices in summer), honey
Serving Canapes
Canapes work best served on a flat serving tray; or if you have a large cutting board or charcuterie board at home – those work perfectly. Serve shortly after topping them to make sure the cheese doesn't absorb into the bread/make the bread soggy.
How many canapes do you need for your party guests? It is recommended to serve 6-7 canapes per person alongside of other party appetizers: or for a large cocktail party, 10 per person.
FAQ
What is the different between capapes, crostinis, and hors d oeuvres?
A canape consist of a base (small bread slice, cracker, or puff pastry), a spread, and topping and is a type of hors d oeuvres. Crostinis refer to "little toasts" or the toasted bread slices; not yet inclusive of a topping. Hors d oeuvres are any small appetizers or starter dishes.
What type of bread can I use for a canape?
The bread used for capapes is typically French bread or a baquette, sliced and baked until crispy. For those who are gluten free, there are gluten free options (typically make from rice, tapioca, and/or potato flour) from various brands such as Schar, Bfree, and Udi's.
What is the best cheese for canapes?
It all depends on taste preferences. The most popular involve fresh ricotta and goat cheese, however options such as cream cheese and brie are also delicious.
How can I make my gluten free canapes dairy free?
Choose a vegan and/or dairy free cream cheese spread instead of ricotta/goat cheese. The variations listed in the recipe below all taste great with cream cheese as well.
Can I make these ahead of time?
These are not great assembled ahead of time as the ingredients won't taste as good/may get soggy. However, to reduce your prep time to under ten minutes the day of the event, you can prepare some ingredients in advance. The bread can be toasted and stored in an airtight container for up to two days prior. Additionally, the mushrooms and onions can be sautéed, the hard-boiled eggs can be made, and most of the produce can be prepped. I do not recommend cutting the pears in advance as they will brown or cutting the herbs in advance as they will wilt.
More Gluten Free Fun
Love parties, but thought you gave up entertaining when you or your close friend/family member went gluten free? Continue to have all the delicious food and none of the gluten with these gluten free party recipes featuring favorites like: Individual Charcuterie Boxes, Easy Mozzarella Prosciutto Party Skewers, and more!
Here's to having a good time, delicious food, and regaining our sparkle together,
✧❈✯✦Jenn✦✯❈✧
Print Recipe
Gluten Free Canapes
Gluten free party dishes have never been easier – these 8 gluten free canape ideas are quick, delicious, and easily customized.
Ingredients
Canape Bases
½

cup

olive oil

2

Gluten free baguettes or French bread

2

cups (about 9 oz)

ricotta cheese

1

8 oz

goat cheese log
Canape Topping Options
Prosciutto slices

Fig slices

Arugula leaves

Pear slices

Dried apricots

Walnuts

Sauteed sliced mushrooms

Caramelized onion

Hard-boiled egg slices

Cucumber slices

Smoked salmon

Cranberry sauce

Lemon zest

Strawberry slices

Honey

Fresh herbs: thyme, chives, dill
Instructions
Preheat the oven to 400°F.

Slice the loaves of French bread/baguette into slices that are about half an inch thick.

Place on an 8.5"x11" baking sheet, brush with a small amount of olive oil, and bake at 400° for 2-4 minutes or until lightly toasted.

Spread ricotta or goat cheese on each piece of bread (depending on which canape you're making).

Add toppings. See below for ideas/options.
Capape Options
Goat cheese, Prosciutto, sliced fig, a few pieces of arugula

Goat cheese, Prosciutto, pear slices

Goat cheese, dried apricots, walnuts

Goat cheese, sauteed sliced mushrooms, caramelized onion, thyme pieces

Ricotta, hard boiled egg slices, chopped fresh chives

Ricotta, cucumber slices, smoked salmon, dill pieces

Ricotta, cranberry sauce, lemon zest

Ricotta, strawberries slices (or peach slices in summer), honey