One of the downfalls in cooking for parties is that it can be so completely time consuming! Luckily, there are so many appetizer options that can be made quickly, easily, and healthy is very limited amounts of time. This is definitely one of my top pics due to it being an easy gluten free appetizer and full of fresh, flavorful ingredients.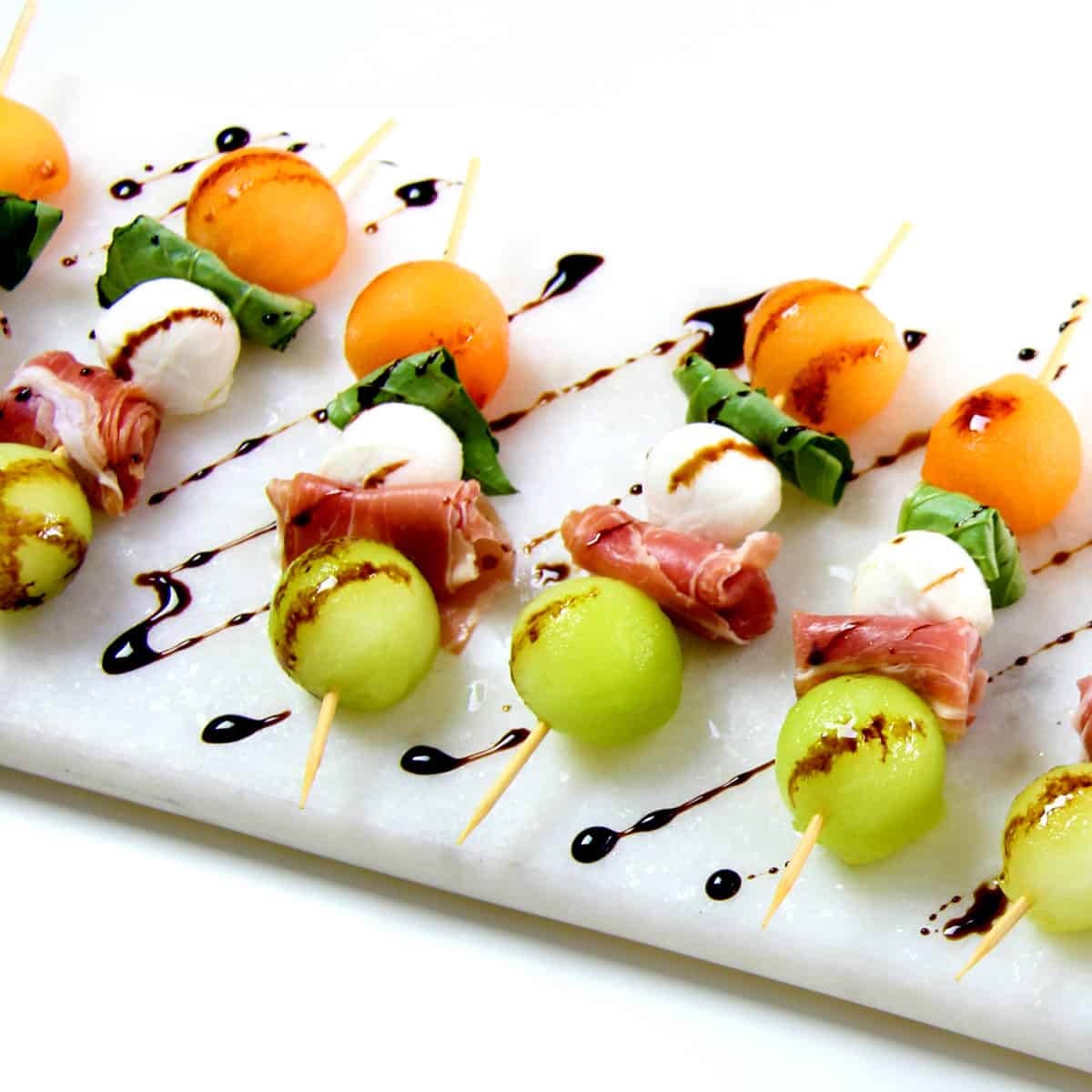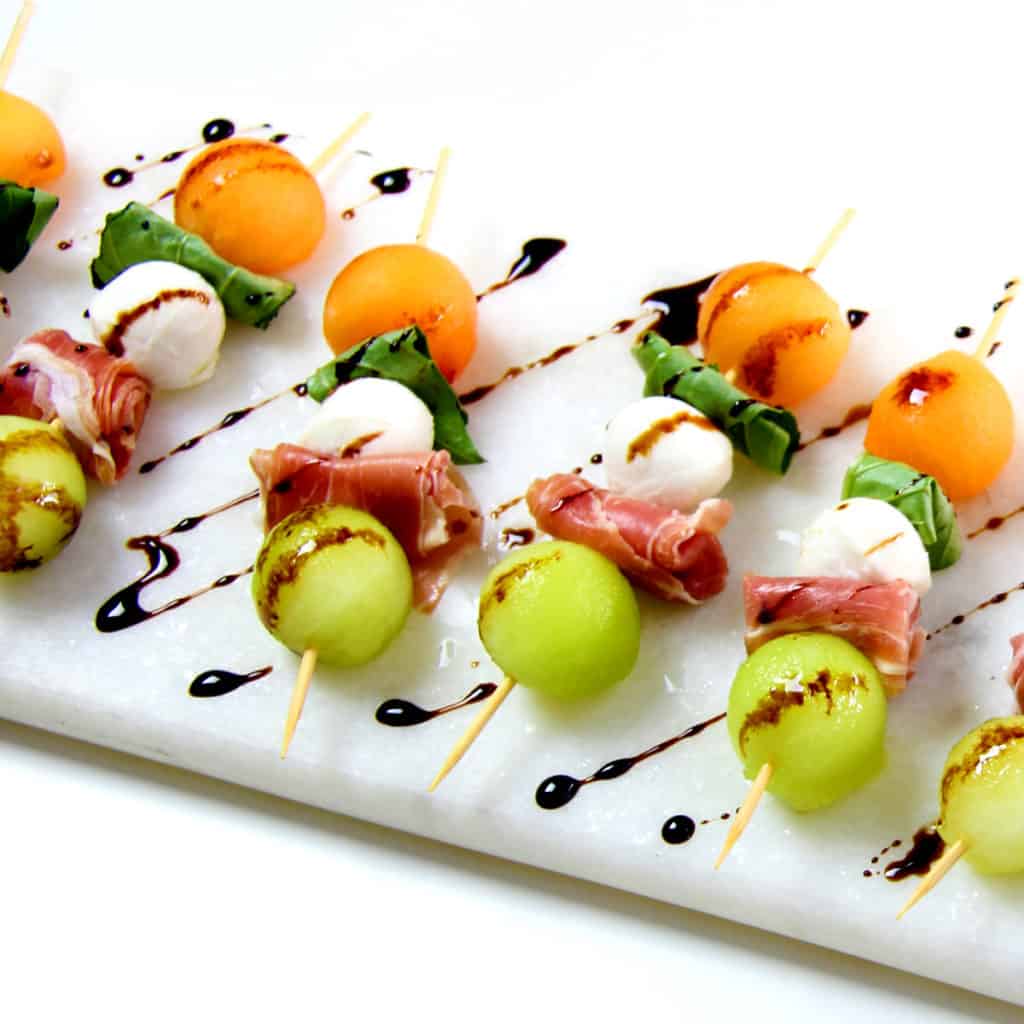 These Easy Mozzarella Melon Prosciutto Skewers are one of my top picks for healthy and easy Easter / spring party recipes. Plus, they can be made in under 15 minutes with ingredients that are easy to shop for and readily available in most grocery stores.
More Easy Gluten Free Appetizer Ideas
Looking to make your healthy party recipes quick and easy this spring? In additional to the recipe below, here are some other top picks you may like:
And more coming soon! Subscribe to my email list on right for updates/more healthy party recipes!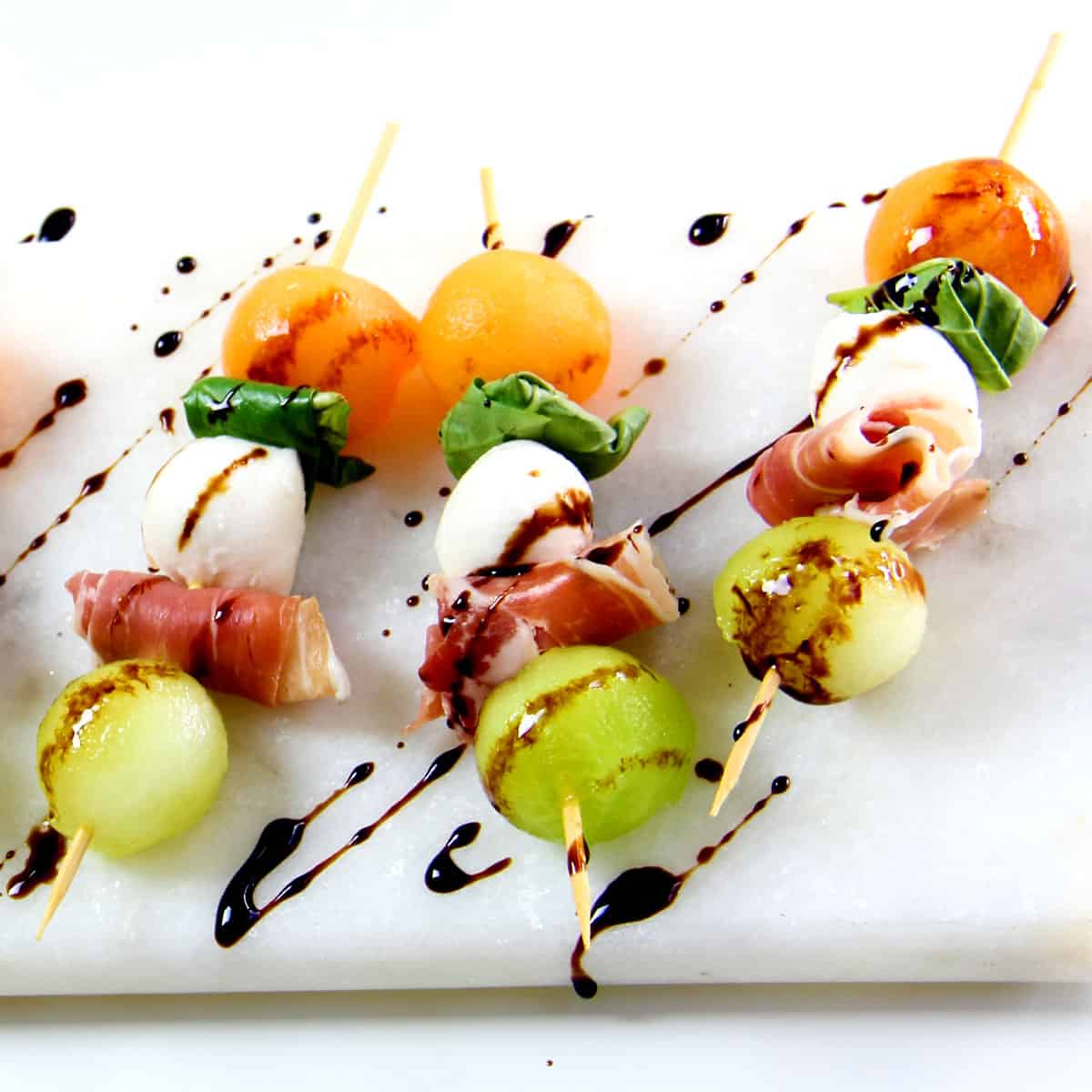 Prosciutto Melon Mozzarella Skewers Ingredients
These easy Prosciutto Melon Mozzarella Bites are so quick to make — only 7 ingredients (including the skewers) are needed! Here's everything that you'll need to grab on your next shopping trip:
A cantaloupe
A honeydew
Fresh basil
Fresh mozzarella balls (the mini kind)
Prosciutto
Balsamic glaze << you can also grab this online to make it easy (I chose the one linked as it's ingredients seemed healthier/more natural: just wine, vinegar, grapes, sugar, and salt. The others often contained corn syrup, corn starch, caramel coloring, and other additives).
4-inch skewers << can also grab online to make it easy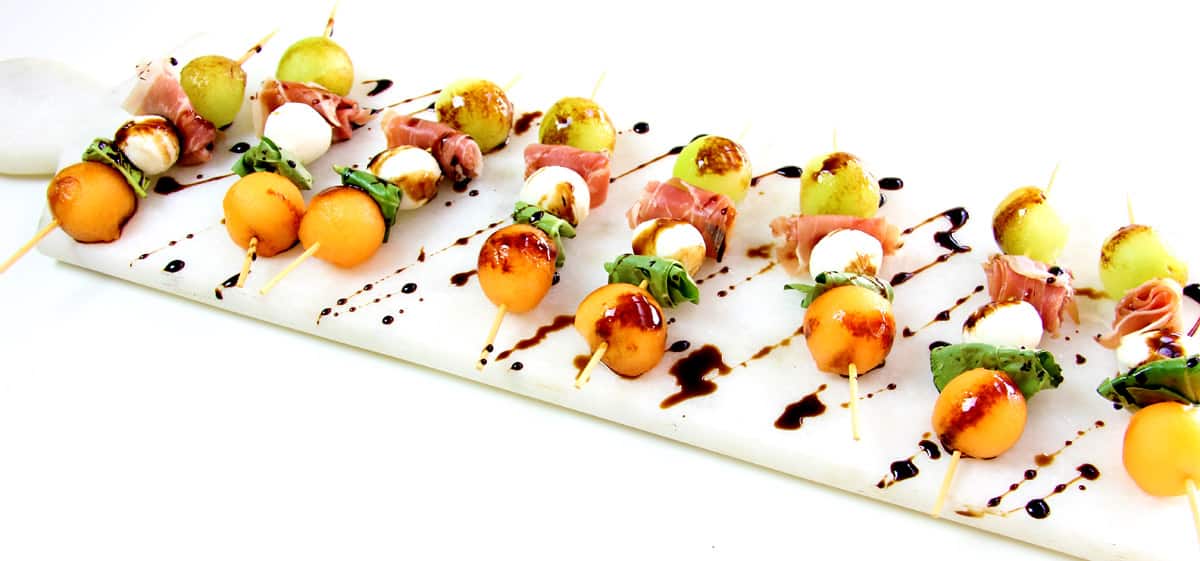 Picking Your Prosciutto
For this recipe, I used Trader Joe's sliced prosciutto. However, any prosciutto that is sliced thin will work.
What Cheese Goes with Prosciutto and Melon?
This recipe uses fresh mozzarella balls for their complementary flavor, freshness, and easy/nonexistent preparation requirements. Feta cheese and goat cheese are also great pairs for prosciutto and melon. However, they would not work well in this recipe due to their texture.
How to Pick Melons
How Do You Know When a Cantaloupe Is Ripe
Part of the process of making any type of fresh salad/skewer is to have the fruit and vegetables used at the proper amount of ripeness. In this case, the cantaloupe and honeydew are the key players.
A ripe cantaloupe has much better flavor and is the perfect amount of sweetness. There are a few different guidelines to follow when looking for a cantaloupe with the proper amount of ripeness. They are: weight (it should feel slightly heavy), color (tan + pale yellow between the netting), firmness (not hard, but firm to the touch), and the smell (should be fragrant/lightly sweet). Make sure it is not soft, doesn't contain any green rind, and does not have an overpowering smell.
How To Tell if Honeydew Is Ripe
The next step is to find a properly ripe honeydew. The combination of honeydew and cantaloupe adds beautiful, fresh, summery color to the skewers. Watermelon can also be added if desired.
A ripe honeydew melon also will have great flavor and the perfect touch of sweetness. The guidelines for finding one will be similar to a cantaloupe. They are: a sweet but not overpowering scent, next to no greenness (a whiteish yellow to golden color), and feel (they should be slightly soft, not hard with a smoother rind).
Extra Tips: Honeydews have many seeds inside them and as the melon ripens, they work their way looser, providing a faint rattle when shaking. Additionally, if you gently press the opposite end from where the stem was; you'll feel just a slight bit of yield when the fruit is ripe.
How to Use a Melon Baller
Prior to using a melon baller, begin by prepping the melon. All melons should be scrubbed with a clean brunch under running water. Make sure the cutting board, melon baller, and knife are all clean. Cut the melon in half and remove the seeds (for cantaloupe & honeydew…for watermelon seedless is preferred).
To begin, push the baller fully into the fruit of the melon. If any of the scoop sticks out farther than the flesh of melon, your balls will potentially have flat side(s) instead of the full sphere. Turn the melon baller 360°.
I read a couple tutorials saying 180°, however, I round since I wasn't the most skilled at this that anywhere from 1-1½ full turns helped round out the edges that I missed. Enjoy! Don't forget practice makes perfect, for the first time doing this you may want to grab an extra melon as by the second was about the time it got easier.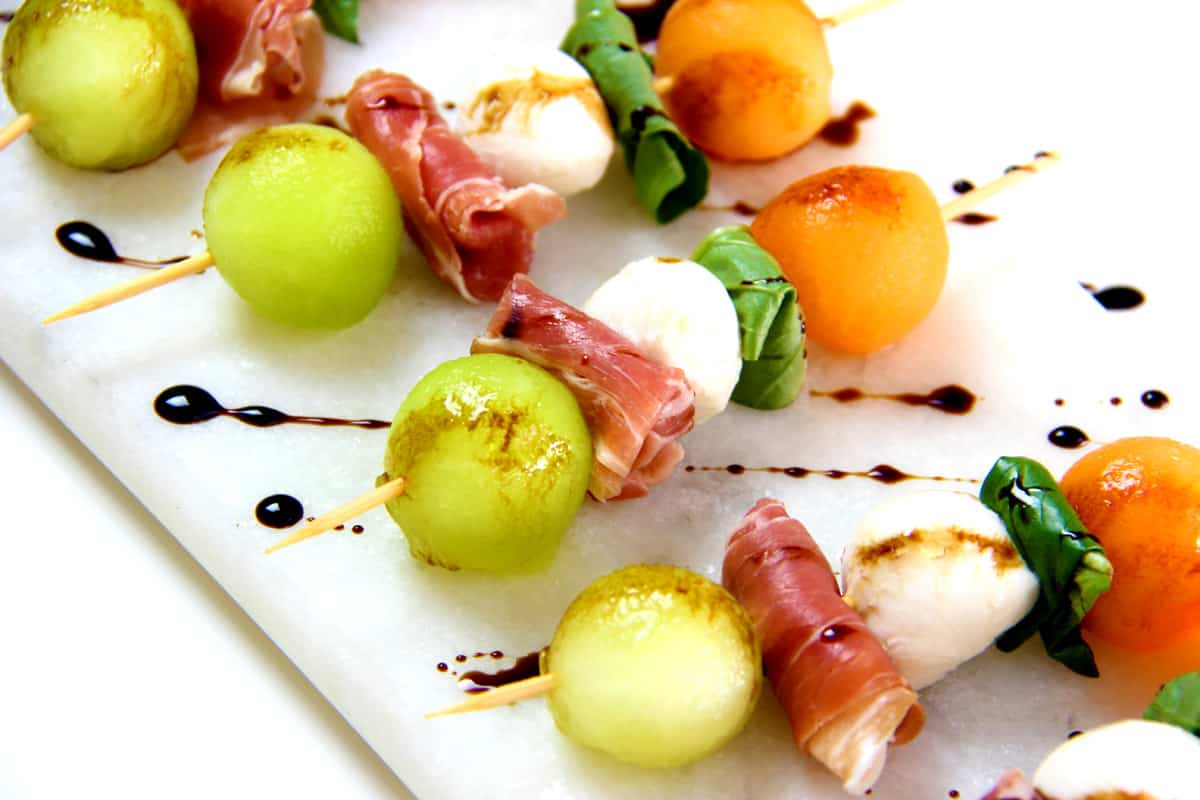 How To Make Melon Prosciutto Skewers
Prep the melons. Cut the cantaloupe and honey dew in half. Scoop the seeds out of the halves, then discard them. Scoop out 24 balls from each half using a melon baller.
Prep the prosciutto and basil. Rip each prosciutto slice in half and fold up to get a piece that would stay on the skewer (same with the basil). 
Assemble the skewers. Begin by threading cantaloupe, basil, mozzarella, prosciutto, honeydew until you have 24 total. Drizzle with balsamic glaze right before serving.
FAQ
Can I make these skewers in advance?
These skewers are best served fresh, they will, however, last 1-2 days in the refrigerator. After that, their quality will be diminished significantly.
How do I store these skewers?
In an airtight container in the refrigerator. You can store them on the skewers if you'd like to prep them in advance. However, it would be better to store the individual components, then make the skewers when you're ready to serve them.
Can I use watermelon in this recipe?
Absolutely. The flavor of watermelon complements the other ingredients in this recipe. You can add a watermelon ball to each skewer or substitute watermelon for the cantaloupe or honeydew.
How can I make an easy balsamic glaze?
I prefer to buy mine pre-made as you have to watch the pan very well and stir often when making it. However, there are some easy recipes out there for balsamic glaze if desired.
How to Make Your Prosciutto Skewers EASIER
Want to be artsy, but just don't have that artistic touch? Want to make your food beautiful, but no time? The struggle is real here as well. In fact, I found melon balling a huge pain, so much so that I actually bought twice the number of melons in the recipe to make room for error.
However, if you can't get it right or simply don't have the time/patience, throw all the ingredients for this skewer right in a bowl! Most of my melon balls came out half flat at first, so these were all added to a bowl and it still looked amazing, impressive, and full of fresh spring flavor (as the colors in this were so bright). No one even noticed!
Here's to an EASY & delicious party appetizer (even when it doesn't turn out perfect) and to regaining our sparkle together,
✧❈✯✦Jenn✦✯❈✧
Print Recipe
Easy Mozzarella Melon Prosciutto Skewers
These easy mozzarella melon prosciutto skewers are made in under 15 mins with fresh, healthy ingredients for a gluten free party appetizer.
Ingredients
1

cantaloupe

1

honeydew

24

fresh basil leaves

24

fresh small mozzarella balls

(I used 2 – 8 oz tubs)

12

slices

prosciutto (about a 6 oz package),

break pieces in half

Balsamic glaze,

for drizzling
Instructions
Cut the cantaloupe and honey dew in half. Scoop out, then discard the seeds. Scoop out 24 balls from each using a melon baller.

Assemble skewers by threading cantaloupe, basil, mozzarella, prosciutto, honeydew until you have 24 total.

Drizzle with glaze right before serving.
Notes
I had to rip each prosciutto slice in half and fold up to get a piece that would stay on the skewer (same with the basil).