Oh, how I miss fried donuts. Especially when I'm cooking my favorite meal of the day, weekend brunch! If you couldn't tell from my other blog posts, my most missed meal when I switched to a cleaner diet was brunch. The greasy meats, the fried sugary donuts, the decadent pastries, and the sugary cocktails.
Luckily you can still have everything you love about brunch with these healthy apple fritters – gluten free, dairy free lovers – rejoice! These healthy apple fritters are gluten free as the wheat flour was ditched and traded for an all-purpose gluten free flour!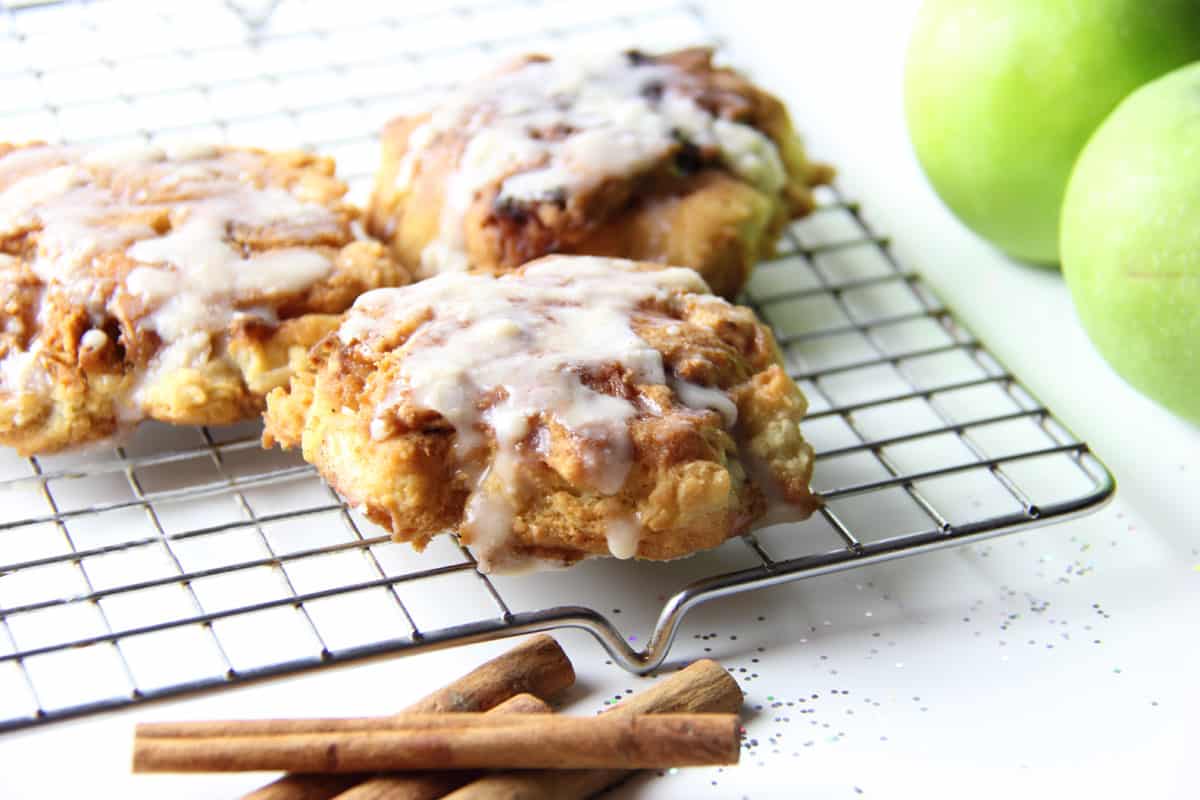 Why Make Them
These are absolutely perfect for weekend brunch with family and friends – especially as guests roll in for the holidays. They're golden brown, crispy, and sweet with a delicious doughy-apple center; filled with all the favorite flavors of fall.
Can I Bake Apple Fritters Instead of Frying Them
You could if you really wanted to, but from all the other pictures I've seen online, they really aren't worth it. The crispy nice brown coating is gone (would probably choose to make an apple coffee cake instead if going to baking route). Not all of us have a deep fryer – I know I'll never get one, I already have limited space in my kitchen! Luckily these still have the nice fried touch to them by pan frying in coconut oil!
Healthy Apple Fritter Ingredients
What's the Best Gluten Free Flour to Use?

Of the common questions I get for gluten free apple fritters, the main one is which flour to use. I actually would prefer an almond or coconut flour (paleo, low carb). However, as I saw from the lack of other paleo apple fritters examples online and my few failed attempts, paleo just doesn't work awesome for apple fritters. (Please note I did have one recipe that tasted amazing paleo and lower carb, it just didn't stick together so is pretty hard to serve to people and didn't photograph well – feel free to reach out if you really want it [email protected]).
The best choice for this recipe was a gluten-free all-purpose flour. I've found a few have a funky taste when bean flours are incorporated into the mix. So, I prefer a gluten-free all-purpose flour without fava bean flour included – the difference between this and regular flour is unnoticeable. The best tasting I've found so far are: King Arthur's Gluten Free Measure for Measure Flour and Pillsbury Best Gluten Free.
What Apples Are Best?
The second most common question is which apples to use for apple fritters…pretty much any "baking apple" can be used; these tend to be firmer, so when you dry them, they are more likely to hold their shake.

Options include Cortland, Honeycrisp, and gala. I tend to go with granny smith as they have a nice flavor and are lower in sugar than most apples.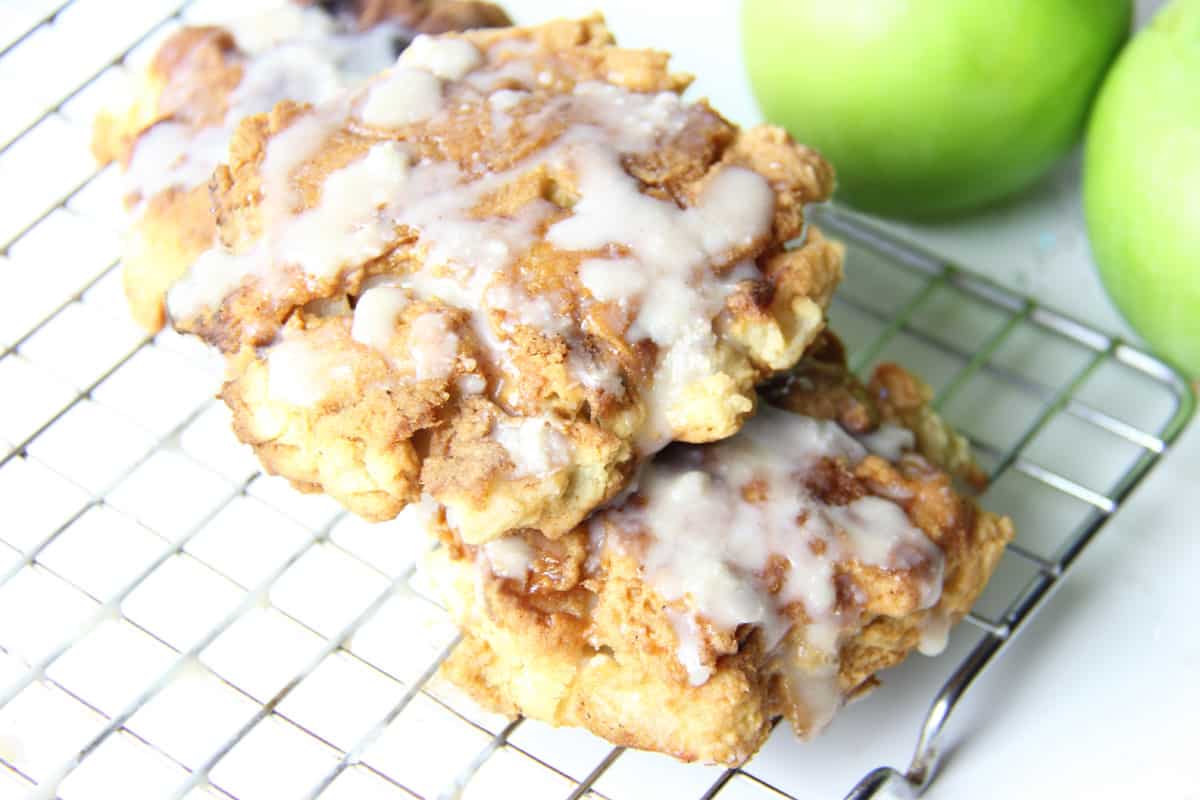 How Long are Apple Fritters Good For?
The taste of them freshly fried just can't be beat. However, if you really can't finish them all, they can be stored in the refrigerator or freezer for a couple days. Please note that they can be reheated in the oven or microwave, however, their original fried crispy finish will not be restored. The only way to even get close is to air fry for a couple minutes.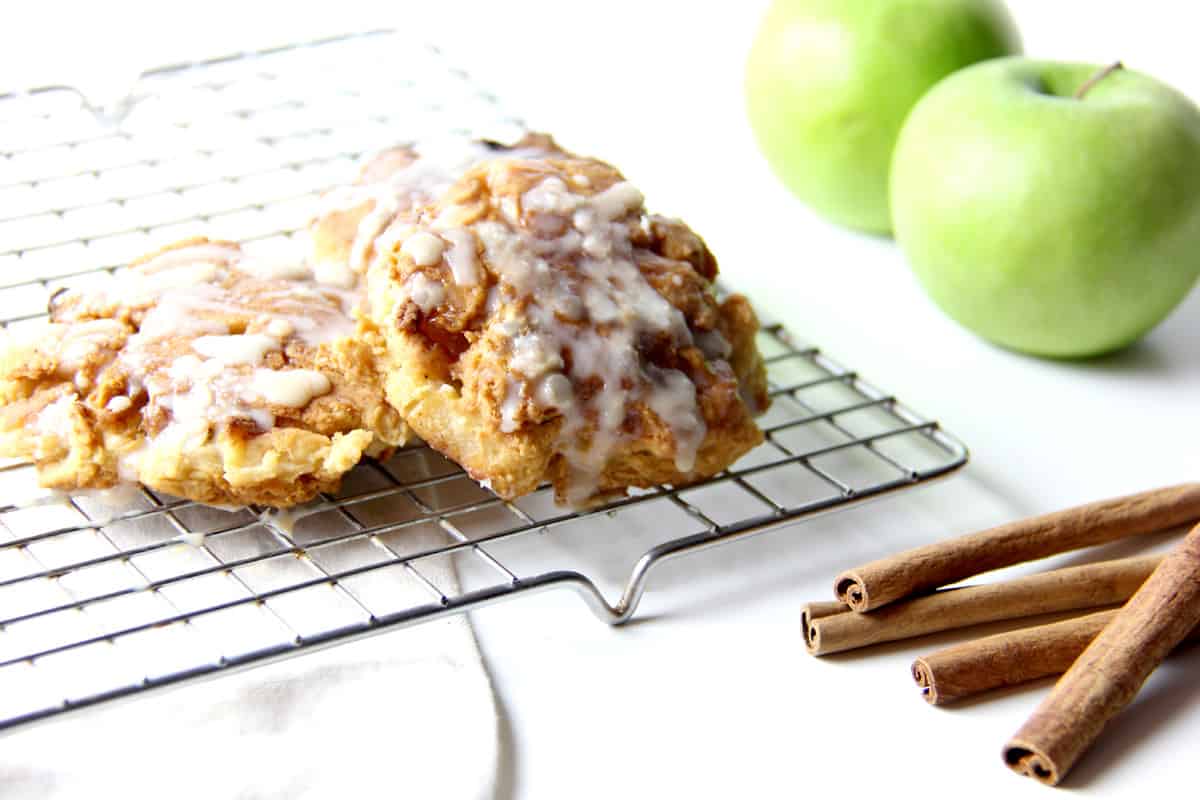 So…if you're ready to do brunch right (and healthy) again, let's add that crispy, sweet, and so-fall fried donut flavor back to the menu! >> Don't forget, if you're ready to take your brunch to the next level >> click here for healthy brunch ideas! Or if you can't get enough fall flavor, try these Pumpkin Fritters or Apple Crisp (made with almond flour)!
Here's to the perfect, healthy, and gluten free brunch and regaining our sparkle together,
✧❈✯✦Jenn✦✯❈✧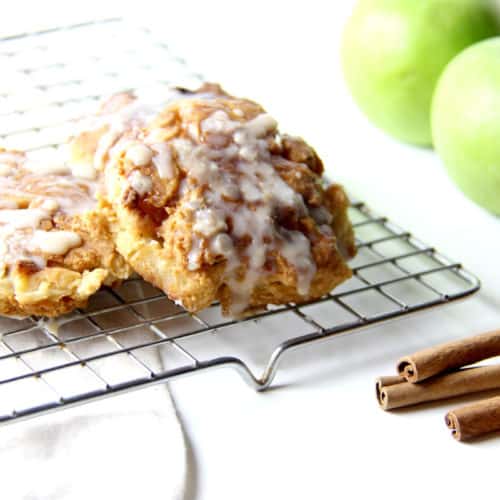 Print Recipe
Healthy Apple Fritters (Gluten Free, Dairy Free)
You can still have everything you love about brunch with these healthy apple fritters – gluten free, dairy free lovers – rejoice!
Servings:
8
apple fritters
Instructions
(Apple Fritters)
Core, peel, and dice apples into ¼-inch pieces and sauté over medium heat with 1 teaspoon coconut oil. Stir and cook until apple is somewhat soft to touch, about 7 minutes. Mix in cinnamon and vanilla.

Stir together flour, salt, and baking power. Mix together milk, maple syrup, and egg, then lightly stir into dry ingredients. Mix in apple pieces.

Add remaining coconut oil into a large frying pan. Heat over medium. When the oil is hot, add about ¼ cup of batter in small circles/patches to make fritters (about 3-4 will fry in the pan at once). Cook each about 3 minutes per side. Flip and cook the other side for 3 minutes. Remove from pan.

Repeat with the remaining batter and fry the second batch of fritters.

Allow fritters to cool on a baking sheet lined with parchment paper.
(Vanilla Cinnamon Glaze)
In a small saucepan, add coconut cream and maple syrup. Bring to a boil. Reduce heat and allow to simmer, stirring on occasion, for 5-10 minutes until thickened (will be a slightly syrupy consistency when ready). Remove from heat and mix in cinnamon, vanilla, and sea salt. Allow to cool, then drizzle over apple fritters.