This fun appetizer/party dish is a hit every time I make it. It also scored amazing reviews in the original recipe >> Annie's Fruit Salsa and Cinnamon Chips. This healthy version; healthy fruit salsa with gluten free cinnamon chips will definitely do the same for you! And luckily, with some of the delicious gluten-free tortilla options out there right now and the organic sweeteners, no one will ever know its healthier.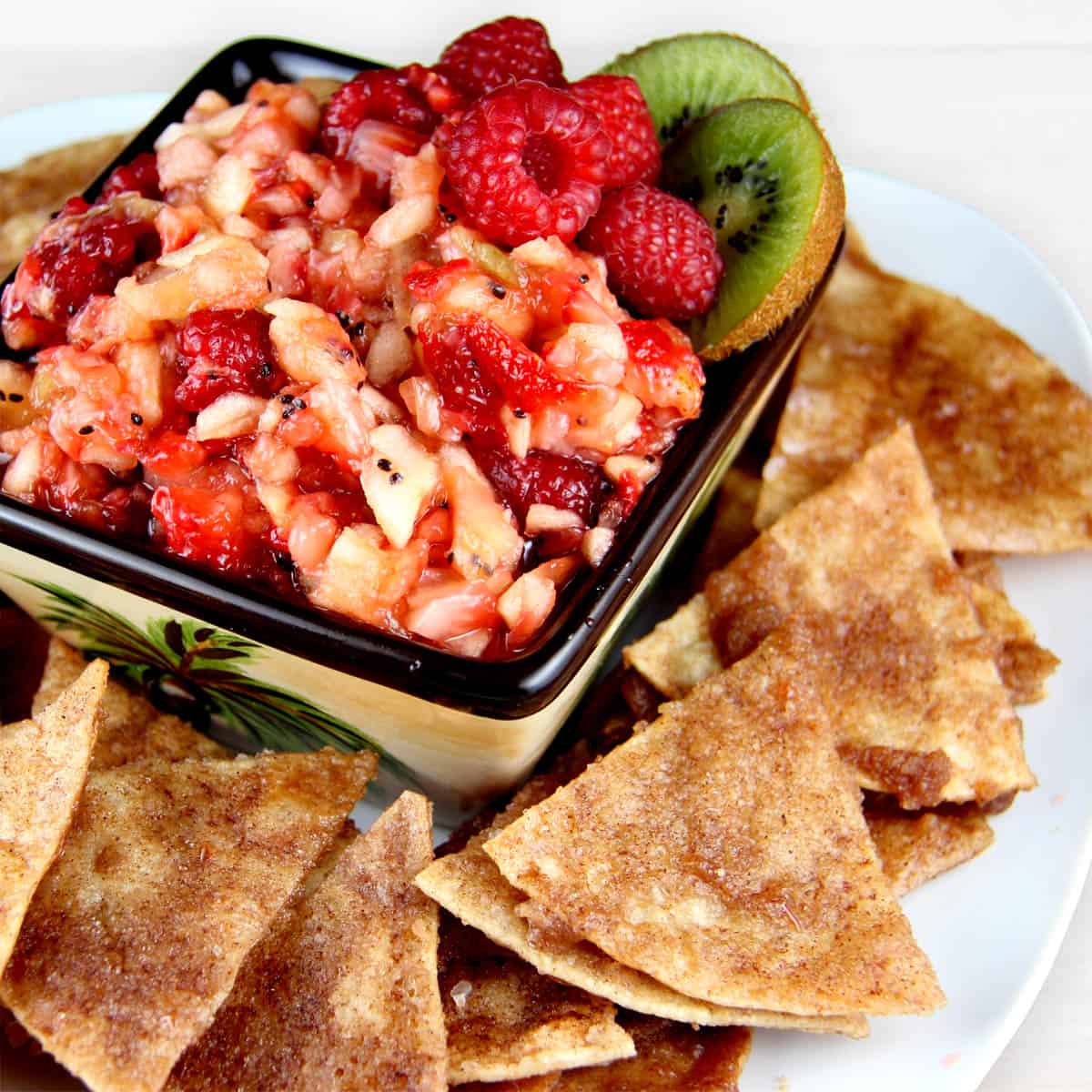 How to Make Healthy Fruit Salsa & Gluten Free Cinnamon Chips
Just a heads up, after many, many fails on successfully recreating a gluten-free version of this recipe, I learned a couple things:
To make this recipe faster: I wish I could be a minimalist. Unfortunately, clean eating/cooking takes up extra time, so I often do use kitchen tools to make recipes faster. You are perfectly welcome to dice all the fruit by hand. However, I used a vegetable peeler + apple slicer for the apples and a food chopper for the rest of the fruit (this works better on the softer fruits; everything but the apple).
I DO NOT recommend using corn tortillas. They just aren't the right consistency for this recipe. When I converted this recipe to gluten-free with a more natural fruit salsa, my first attempt of the salsa with tweaks went great. However, the tortillas (as easy as they sound) were not easy. The original recipe used flour tortillas, which previously worked fabulous (and will work great for you if you're not gluten-free). But when I tried out gluten-free tortillas, I went through eight batches before I settled on the corn tortillas being the issue. The sugar kept caramelizing and making the tortillas a huge soggy mess. I tried corn tortillas with: coconut oil brushed on, an organic coconut oil spray, an organic vegetable oil spray, and an organic olive oil spray; and each was soggy. Finally, I tried out some cassava flour tortillas (and tried each of the oils) and all versions of these worked much better. Moral of the story, if your recipe is not turning out, try a new type of gluten-free tortilla, it's probably not the oil!
Healthy Fruit Salsa Ingredients
Now that you've got the right tools and cinnamon chips, how can you make your salsa healthier? Well, this recipe already falls on the natural side to begin with by obtaining most of its sweet flavor from fruit. You start with your favorite fruits – I used kiwis, apples, strawberries, and raspberries, but you can also add and/or sub: peaches, nectarines, pears, blueberries, pineapple, grapes (diced), and orange pieces/segments.
Lemon juice is added to prevent browning. I like to use a citrus juicer/squeezer and squeeze mine fresh as the store-bought version can taste off and include extra preservatives. Finally, the sweetener is added. Two tablespoons are used in this recipe, but you can get away with using coconut sugar, honey, both, or neither (both are more natural sweeteners, but obviously the lower sugar the healthier!).
How to Serve Fruit Salsa
As seen in the picture, I like to serve mine Florida-style (in cute tropical dishes) ❤️🧡💛 🌴. It's definitely best served on a platter with an accompaniment. Here are some options:
Serve with the cinnamon chips. You can make them gluten-free, regular, or there are even low carb tortillas available in grocery stores that you can sub in the recipe above for a keto/low carb options.
Serve with graham crackers of choice (easiest option requiring no prep)
If you're grain free you could serve with these apple chips – this recipe is amazing, but for clean-eating purposes, I'd recommend making it with a sea salt or Himalayan salt instead of the kosher.
You could also use this fruit salsa as a topper for fish or a cheesecake/other dessert instead of with the cinnamon chips. Yum!
How Long Does Fruit Salsa Last?
It typically keeps in the fridge for up to 3-5 days. It will, however, likely get runny after even a few hours to be sure to strain before serving.
How Do You Store the Fruit Salsa & Cinnamon Chips?
Store the healthy fruit salsa in an airtight glass container in your fridge. Make sure the cinnamon chips are completely cooled, then they can be stored in an airtight container. These will also only keep a few days before the texture won't be ideal for consumption.
……………………………………………………………..

You can still enjoy most of your favorite recipes ~ with a few minor tweaks! For more fun gluten free party recipes, check out these recipes, or try the current summer favorite a red, white, and blue 4th of July Charcuterie Board!
Here's to another flavorful, fun, and healthier party recipe and regaining our sparkle together,
✧❈✯✦Jenn✦✯❈✧
Print Recipe
Healthy Fruit Salsa and Gluten Free Cinnamon Chips
Healthy fruit salsa with gluten free cinnamon chips makes a sweet, fun, and impressive party food for cookouts, dinner parties, and more!
Ingredients
3

kiwis

peeled and diced

2

honeycrisp

or another sweet apples – peeled, cored and diced

8

ounces

raspberries

1

pound

strawberries

diced

1

tablespoon

honey

(sub maple syrup for vegan)

1

tablespoon

organic coconut sugar

2

tablespoons

lemon juice

½

cup

organic sugar

2

tablespoons

cinnamon

1

package

gluten free tortillas

, preferably not corn
Instructions
Preheat the oven to 350°F.

In a bowl, combine kiwis, apples, raspberries, strawberries, honey, coconut sugar, and lemon juice. Mix well and refrigerate while making the chips.

Mix sugar and cinnamon together.

Cut each tortilla into wedges. Coat one side of each wedge with cooking spray. Sprinkle with cinnamon sugar. Flip and repeat.

Bake wedges for 8-10 minutes (make sure there's only one layer on the pan; this may require separate batches). Allow to cool. Serve with fruit salsa. **You may need to strain fruit salsa before serving, the salsa creates a lot of juice.