Keto / gluten free potato pancakes + mimosas…because brunch is ALWAYS a good idea; especially when its guilt-free and eaten poolside!

I've never been one of those people who has a love-hate relationship with carbs. However, being gluten-free and as paleo as possible, it doesn't leave me many carb-filled options left. And some days I really need them or I just don't feel full!
To me, the taste of healthy homemade potato pancakes has to be at least comparable to a fast food restaurant! While not the highest in nutritional value, potatoes still supply me this delicious (and more than comparable) healthier version. To ensure this, follow these tips:
Top Tips for Extra Crispy Potato Pancakes
Make sure to remove the excess liquid. See recipes for details.
When you add additional oil for frying, allow it to rise to temperature for a minute before adding more pancakes.
Don't allow pancakes to sit out too long – best served fresh!
Don't crowd the pancakes – 3 at a time is more than enough.
Best served thin?! Press down with a spatula to thin the pancakes, thicker ones will not fry as well.
Substitution Options
Paleo? Keto? Prefer a different variation, no problem! While my preference is towards the traditional gluten free potato pancake in this recipe; I do occasionally make the others as well as I try to keep my sugar low (and potatoes can be quite frankly, low in nutrition. If you'd like to try some other options, here they are:
Keto – use the cauliflower rice substitute in the recipe below or replace shredded potatoes with equal part shredded zucchini (about 8 medium / 8 cups). Additionally, flax seed flour needs to be used instead of tapioca flour.
Paleo – use either of the keto substitutes above or shredded sweet potato (about 8 medium / 8 cups).
The Perfect Brunch
The best part of these gluten free potato pancakes are that they make an amazing gluten free brunch option for those (like me) who are brunch obsessed; using fresh ingredients. Restaurant-style potato pancakes don't even come close!
So grab your favorite gluten free brunch recipes + a couple healthy mimosas and let's get to brunching!

Here's your gluten free brunch checklist:
Who said you couldn't eat clean and still enjoy a poolside summer brunch? Here's to brunching and regaining our sparkle together,

✧❈✯✦Jenn✦✯❈✧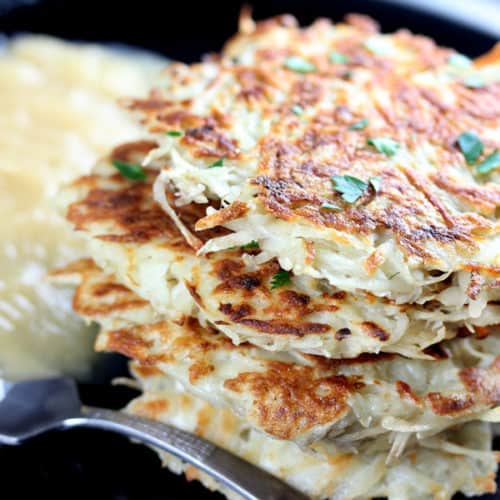 Print Recipe
Gluten Free Potato Pancakes
Keto / gluten free potato pancakes + mimosas…because brunch is ALWAYS a good idea; especially when its guilt-free. Here's to healthy brunch eaten poolside!
Ingredients
8

medium potatoes

or for keto use riced cauliflower sautéed until tender (I buy mine frozen from Trader Joe's; (3) - 12 ounce packages/9 cups)

1

large onion,

minced

4

eggs

1/3

cup

organic tapioca flour (or 2 tablespoons ground flaxseed for keto)

1

teaspoon

sea salt

1

dash

pepper

1

teaspoon

baking powder

¼

cup

olive oil
Instructions
Use food processor shredding attachment to quickly shred potatoes (I just ordered this one on Amazon, which is the current best seller, ridiculously cheap, and works well). You can take the time to mince your onion, however, I prefer to save time and shred it right in with the potatoes.

Set potato and onion mixture aside for 10 minutes. Afterwards, squeeze all the liquid out. It may help to wrap in a kitchen towel (thin or tea towel) and squeeze. *This is really a key step to getting crispy pancakes.

Mix in remaining ingredients.

Heat oil in a large skillet. Form potato mixture into patties.

Fry in batches until golden brown and cooked through.

Serve by themselves or with chives and sour cream, apple sauce, or maple syrup.