Live is better with margaritas – especially with a fiesta-filled margarita bar where you can try all your favorite flavors. From unique flavors like pineapple and mango jalapeno, to classics like strawberry and lime, your Cinco de Mayo parties, taco nights, and summer get togethers have never been better.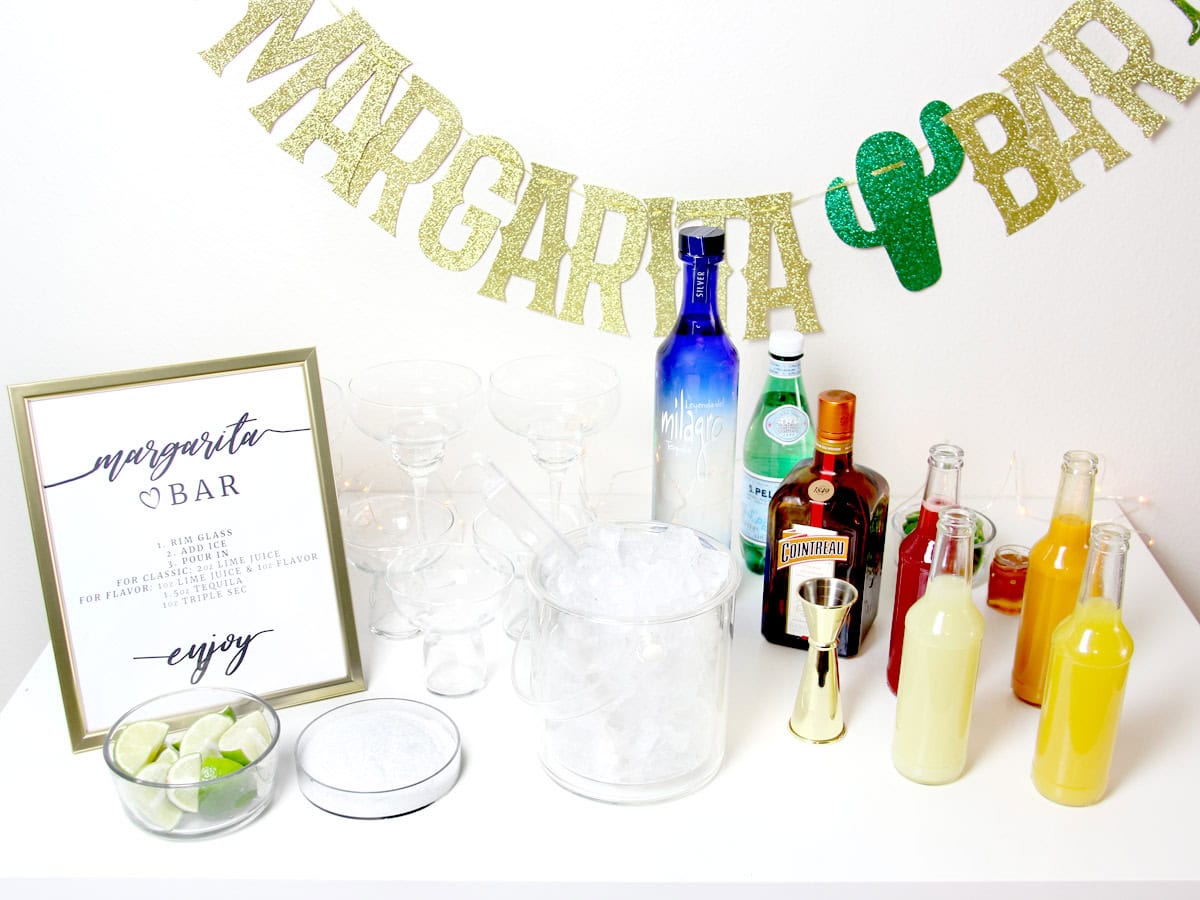 Why You and Your Guests Will Love a Margarita Bar
Margaritas are a favorite amongst many, especially during Cinco de Mayo. When a high-quality (yet affordable) tequila is used, you'll find that even those that weren't a fan will become a margarita lover.
Margarita bars are a fun way for guests to make-their-own favorites. Plus, with a quick instructional sign and all the essentials for the perfect margarita on the rocks, your cocktails serve themselves; leaving you the freedom to enjoy the night.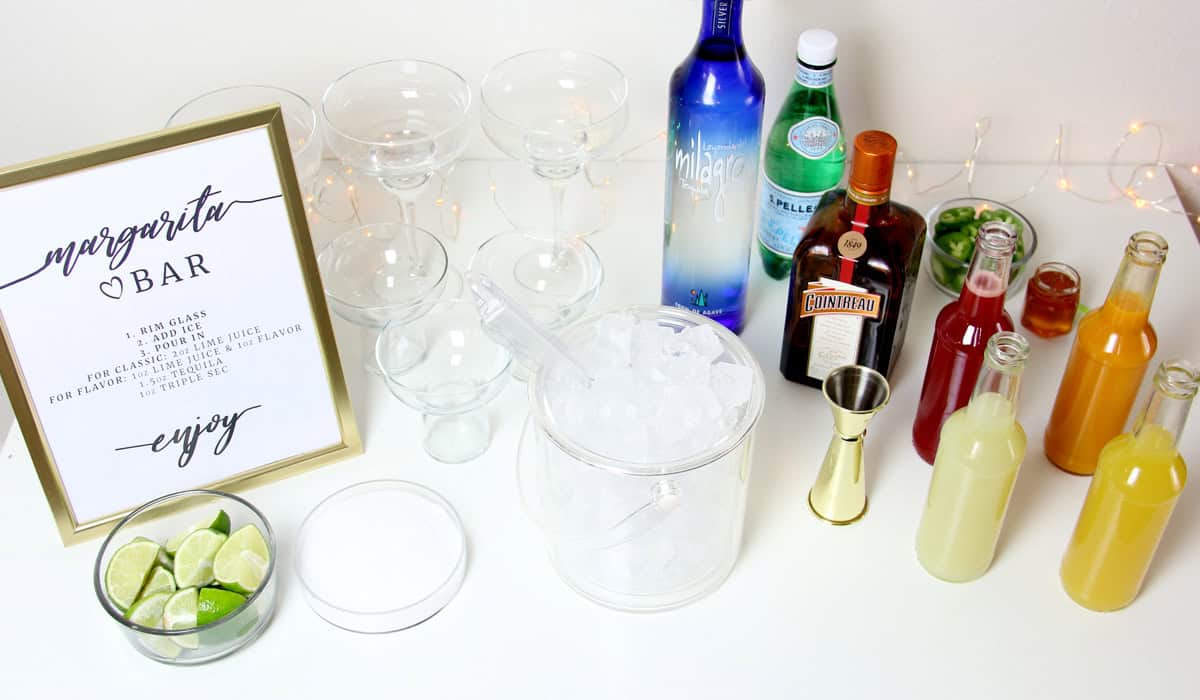 Supplies (Order Ahead of Time)
Below is a list of the things you'll want to obtain ahead of time. You can also pick a color scheme; in my case I chose gold. I've linked what I used + I used many items I already had in my cabinet and spent about $100 total for everything (including the liquor, fruit, and juice from below).
Margarita glasses. I set out some smaller margarita glasses (less breakable) as well as some classic/full sized margarita glasses.
A picture frame for your instructional sign. I ordered this 8×10 frame, but you can also find nice ones at Dollar Tree to cut costs.
Juice bottles. I got empty soda bottles from my local craft store for even cheap (or you can get juice carafes on Amazon).
Ice bucket and scoops. I went with a clear ice bucket, so I could re-use it for other events and it would match anything.
A jigger used for guests to use to measure and pour their drink.
A rimming tray. I also went with clear for this so it would easily be able to be re-used for other events.
Optional: a "margarita bar" banner. I used this fun margarita banner and color-changing light string.
Optional: spoons or stir sticks. You could also use a shaker if desired (this is not preferable, however, due to multiple people using it resulting in melding flavors together.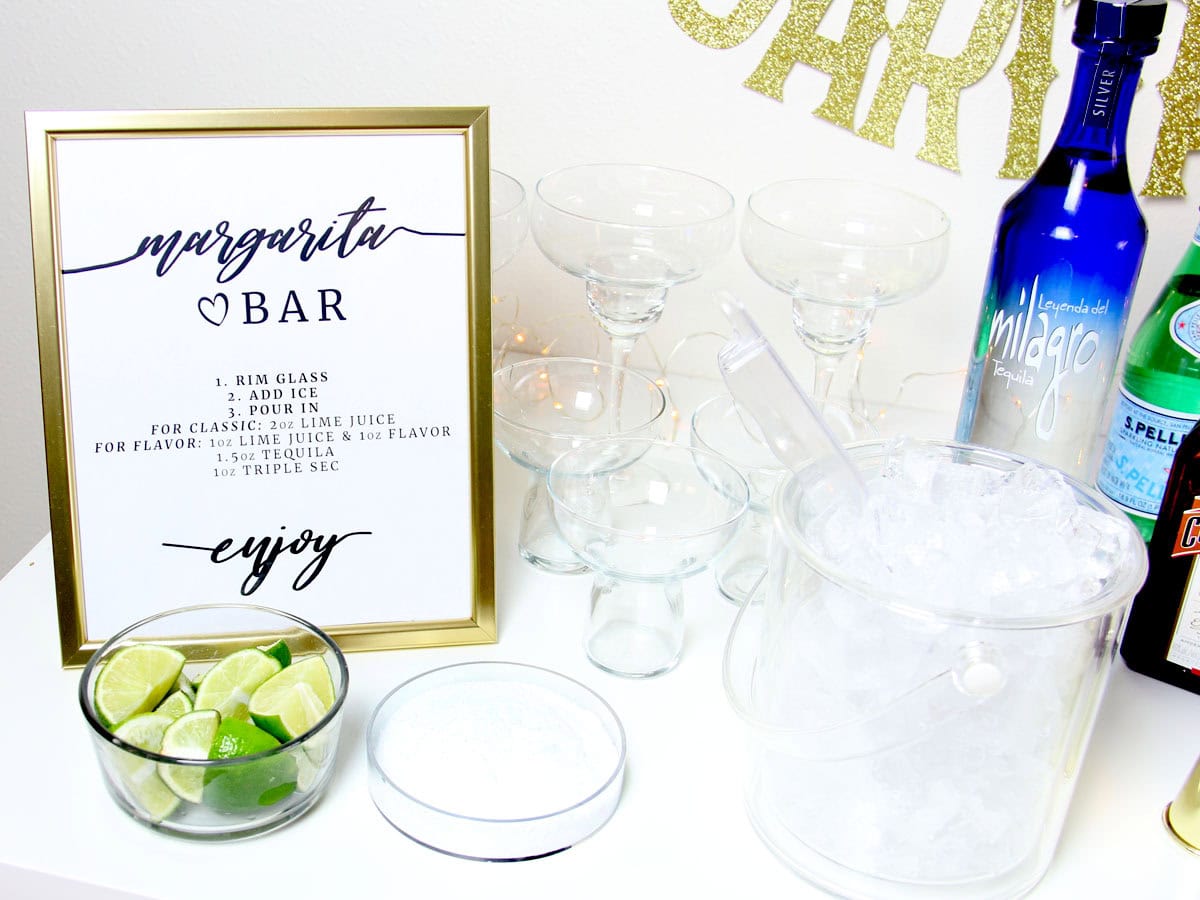 Free Printable Margarita Bar Sign
To keep costs low, I used my printer to print a margarita bar sign. Since it is black and white and of a very standard size, it prints easily on any home printer and looks classy in a nice gold frame.
If you'd like to use the one I made, just click here to download the pictured 8×10 sign. Print it on your regular printer using the full-page option (usual 8½ x 11 document), then trim off the excess and stick in an 8×10 frame! 
Choosing a Tequila

How much tequila do you need for a margarita bar? It depends on how many guests and how much they typically drink. To help you calculate this amount, use this as a base: a 750-ml bottle of tequila can make about 16 margaritas; with approximately 1.5 ounces of tequila in each drink. A bottle of orange liquor/triple sec will make about the same; slightly more.
What type of tequila should I use for a margarita bar? When selecting a tequila, quality, yet affordable, is preferable. A high-quality tequila will be made with 100% agave (as some cheaper brands can contain extra sweeteners/unnecessary additives) and in this recipe is preferred blanco (in order to remove anything excess that could affect taste/quality/guest preference). Learn more about selecting a quality tequila. My personal favorites are Milagro®, 1800®, and Hornitos®.
Choosing An Orange Liquor

A form of orange liquor is the second classic margarita essential! Cointreau, triple sec, and Grand Mariner® are the best known.
Grand Mariner is the top shelf version. It's a blend of cognac and triple sec and is citrusy but has an oaky flavor to it.
Cointreau is also a type of triple sec and stronger in citrus flavor.
If you do not go with one of the two above, triple sec is a liqueur/process made from skins of oranges and though it still results in citrus flavor, its less intense and lower in alcohol. Any triple sec will work, it's all just a matter of personal preference.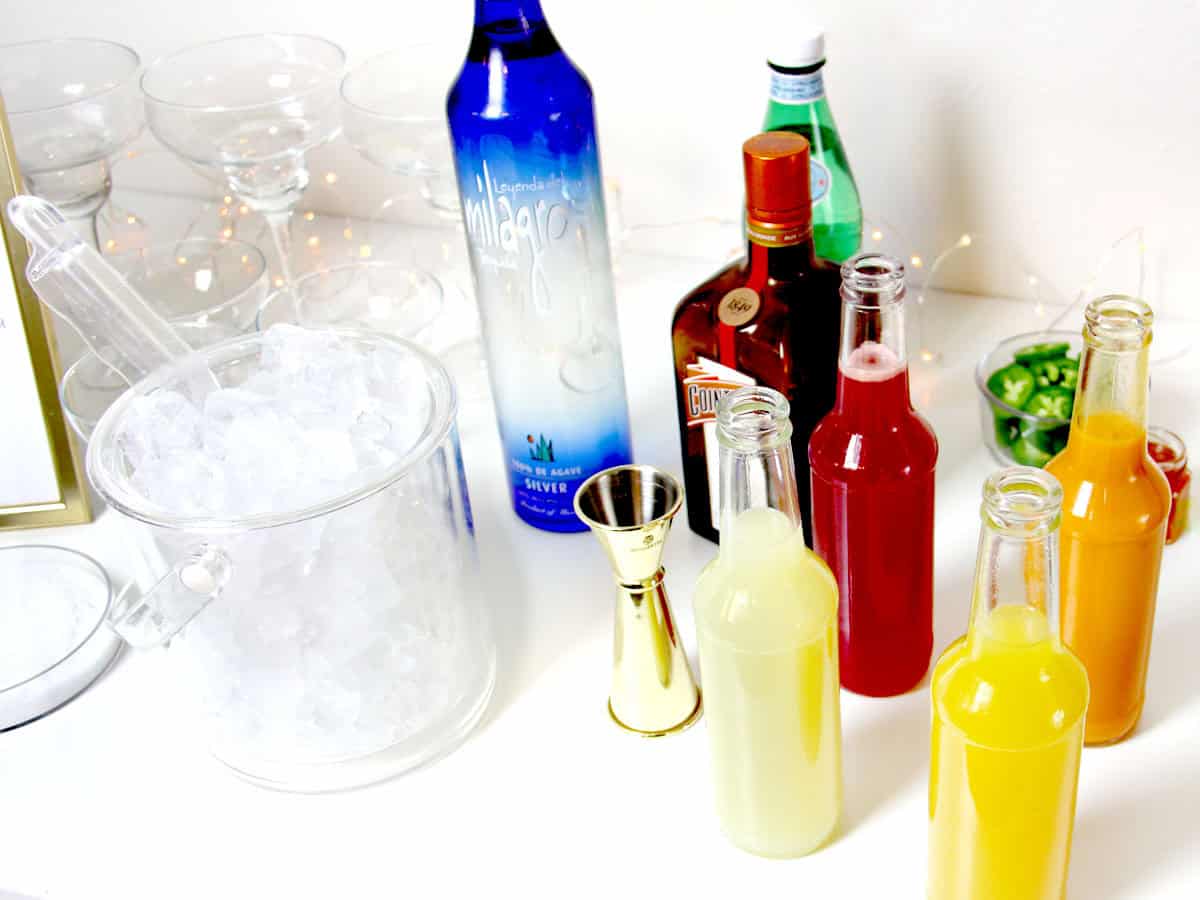 Additional Ingredients & Flavors
In addition to the supplies mentioned above and the liquors, you will need:
Ice
Lime wedges and salt or sugar for rimming
Optional: Agave or honey (for those who like it a little extra sweet)
Optional: Sparkling water (makes a great mocktail version for kids, non-drinkers, and those who want a less strong drink)
Optional: seeded and sliced jalapenos (for spicy versions)
Juices/simple syrups, or fruit purees for the flavors you select. The following flavors of margaritas on the rocks flavors are the most popular: lime/classic, strawberry, pineapple, and mango. To make these, I grabbed: about 20 limes, 1 lb strawberries and 1 cup of sugar, mango puree (I used Naked® Mighty Mango), and pineapple juice.
The Set-up
A week or so in advance:
Purchase the supplies and decorations.
The night before:
Print and frame the sign and set up the bar with the non-edible supplies.
Strawberry Margarita's Simple Syrup: Make the strawberries into a strawberry simple syrup by bringing a mixture of 1 lb of washed, and diced berries, 1 cup of sugar, and 1 cup of water to a boil. Lower the heat and simmer for 15-20 minutes. Pour the resulting mixture though a fine mesh strainer and into a glass storage container. Allow to cool, then refrigerate until ready to serve. Chill tequila.
10 minutes prior to serving
Prior to serving, set out liquors. Cut 4-5 limes into wedges and set them out to be used for garnishing or rimming glasses. Add the juices/puree/simple syrup to juice carafes/bottles. Add salt or sugar into the rimming tray(s). Add ice into the ice bucket. Serve, refill as needed, and enjoy!
FAQ
What is the best tequila for margaritas?
Select a tequila that's quality and affordable. Pick one made with 100% agave; preferably a tequila blanco. My personal favorites are Milagro®, 1800®, and Hornitos®.
Is tequila healthy?
When I drink, tequila (with a mixer) is my drink of choice. It has less sugar and calories than most other liquors, it said to be good for your digestion, and is linked to other benefits. As always, drink in moderation if choosing to do so. 
How can I make margaritas healthier?
Choose a high-quality tequila that's 100% agave and use 100% fruit juices. If you choose to add extra sweetener, sweeten your margaritas with natural options such as agave or honey. Make your margaritas without margarita mix; which is often full of extra sugar, preservatives, colorings, and more.
Are margarita bars/margaritas gluten free?
The ingredients in this margarita bar and most margaritas are gluten free. Avoid cheaper brands of tequila ("mixto") and stick with tequila blanco made from 100% pure agave just in case.
Are margarita bars/margaritas vegan?
The ingredients in this margarita bar and most margaritas are vegan; with the exception of the optional honey. Use agave as a sweetener instead for a fully vegan margarita bar.
What other variations/customizations can be made to a margarita bar?
1. Use other fruits, simple syrups, or purees for additional unique flavors: blackberry, peach, raspberry, apple, pear, watermelon, grapefruit, cranberry, blood orange, hibiscus, honeydew, blueberry and more. 2. Add fresh herbs to the lineup for additional flavor: basil leaves, mint leaves, rosemary sprigs.
3. Offer additional serving options that are less breakable than glass: tumblers, disposable margarita glasses, plastic margarita glasses.
4. You can use a cocktail shaker instead of stirring with stir sticks, however, this is not preferable due to the flavors being mixed up after each drink.
Is there a mocktail options/what can I offer those who do not drink?
Absolutely! Just add a couple of bottles of sparkling water to the line-up of options. Sparkling water can be subbed for both the tequila and triple sec. Add more as desired. This makes a great option for non-drinkers and a fun option to allow kids to participate!
More Cinco de Mayo/Taco Party Ideas
Taco bars, Taco Tuesday nights, and Cinco de Mayo parties are always a fun and festive time! Some ideas for activities that can accompany your food and/or margarita bar are:
Red, green, white, and other festive décor
Pin the sombrero on the burrito
A dance off
Taco eating contests
Mariachi bands or Mexican themed music
Chili/peppers/hot sauce tasting contest (how hot can you go?!)
Pinatas
Dance lessons (hire someone or pull up a YouTube video on your tv): samba, salsa, and more.
And of course, there's always delicious food that can be served alongside of your margarita bar:
Classics like: chips and guac, salsa, queso, or taco dip
Sides and appetizers like: Mexican corn, jalapeno poppers, tamales, and fruit salsa (with gluten free cinnamon chips)
Mains like: Taco bar or nacho bar, ceviche, mole mole poblano (official dish), enchiladas, taquitos, tostadas, chimichangas, (gluten free) cornbread taco pizza
And more!
Here's to sharing our love for margaritas and regaining our sparkle together,
✧❈✯✦Jenn✦✯❈✧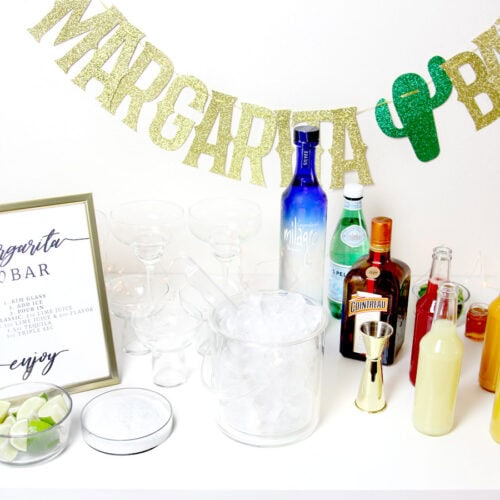 Print Recipe
Margarita Bar
Enjoy a fiesta-filled margarita bar where you can try all your favorite flavors. Perfect for a Cinco de Mayo party, taco night, or summer entertaining.
Ingredients
Empty soda bottles for serving juices/purees

Salt or sugar for rimming

Lime slices for rimming

Ice

Lime juice

Mango puree

Pineapple juice

Strawberry simple syrup

Triple sec

Tequila

Jalapenos, seeded and sliced (optional)

Agave or honey (optional)

Jigger for measuring

Stir sticks
Instructions
Rim the margarita glass by running a slice of lime around the rim then dipping the glass in a rimmer dish filled with salt and twisting it gently.

Scoop ice into the glass.

Pour in 2 oz lime juice for a classic margarita. For a flavored margarita, pour in 1 oz lime juice and 1 oz of the flavor.

Add 1.5 oz tequila and 1 oz triple sec.

Optional: Add jalapenos (for a spicy marg) and honey or agave (for a sweeter marg or to reduce the taste of tequila).

Stir with a stir stick. Enjoy!
Notes
*For those who are not used to the taste of tequila…Add an extra oz or two of the flavor, plus honey or agave to sweeten, for more preferable flavor.