This (healthy) gluten free taco dip is just what you need for a FUN, clean party appetizer! Perfect for taco bars, Cinco de Mayo, and tailgating party recipes — and the best part is…no one will ever know.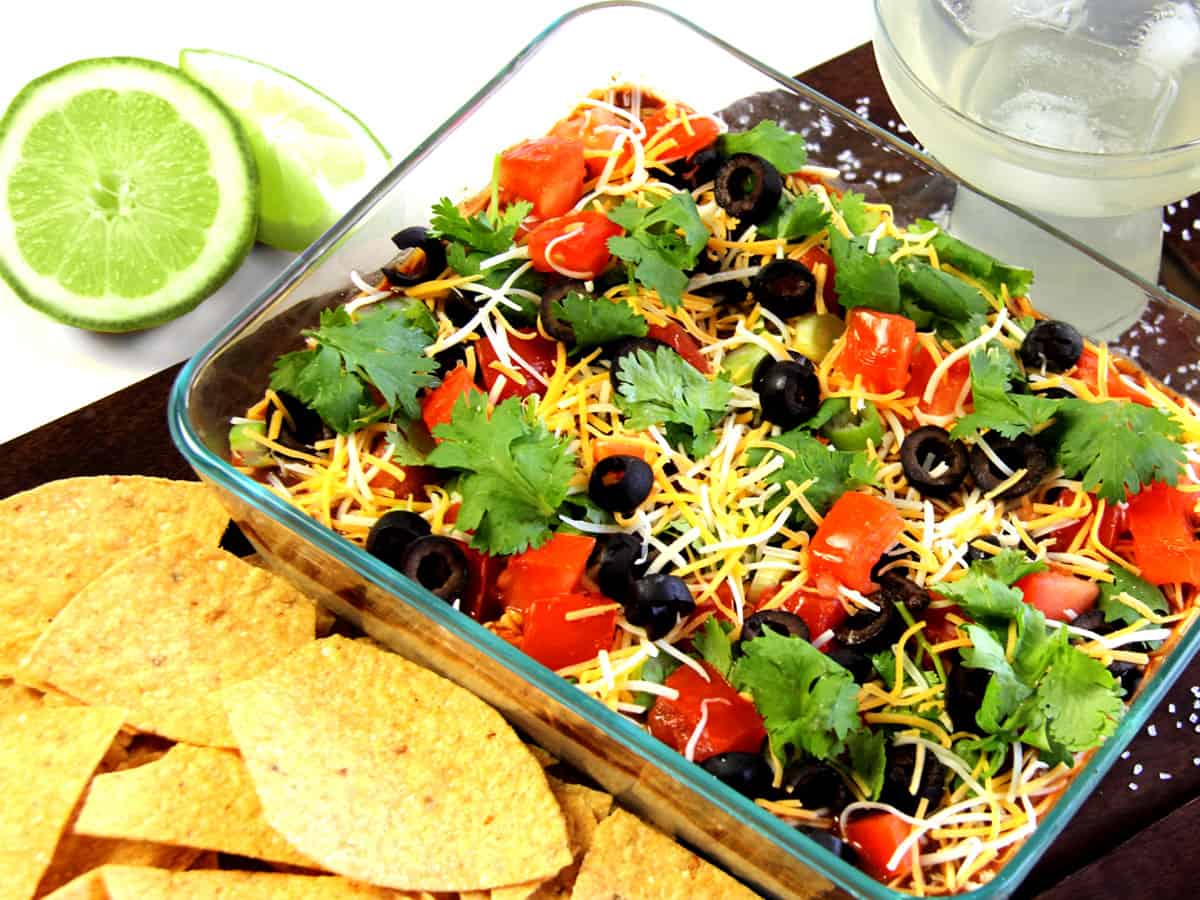 Using conventional dairy and seasonings can lend a traditional party dip to be full of msg, artificial growth hormones, gluten, etc. Just because you like dip though, doesn't mean you can't partake in the fun. Bring this festive healthy taco dip to a party or keep it all to yourself at home!
Make 7 Layer Gluten Free Taco Dip FAST!
I swear, prior to the clean eating/gluten-free life, I was on time to a gathering on occasion. Haha or maybe I'm not remembering things right 😉. Either way, healthier recipes can make it take so long to get places on time. Luckily, not only is this recipe healthy and delicious, but its super-fast to make; perfect for when you're in a pinch.
Grab the important dry ingredients ahead of time either online or at the store. Even if you forget to grab everything in advance, all of these items can be grabbed at your local health food store. Once you have your groceries, this recipe takes under ten minutes to make.

*This healthy taco dip tasted amazing served with bags of Organic Corn Dippers from Trader Joe's. I became completely obsessed with these after reading about them in Food Babe (wellness blog obsession). The best part is, people rave about them every time they're served!
(7 Layer) Gluten Free Taco Dip Ingredients
The first layer of this dip is made by beating together 8 ounces cream cheese, 8 ounces sour cream, 1 tablespoon taco seasoning, and garlic granules. This is spread over a plate, followed by the remaining six layers: spread taco sauce, mixed greens, diced tomatoes, shredded cheese, sliced green olives, and sliced black olives! So easy – just layer, then serve!
Are Taco Sauce and Seasonings Gluten Free?
Is taco sauce gluten free?
MOST taco sauces are naturally gluten free. However, make sure to check the label just in case. An occasional sauce will use wheat or malt for thickening. Some safe options include: Sky Valley,® Kevin's Natural Foods, Fody, and Red Duck.
Are taco seasonings gluten free?
MOST taco seasonings are also naturally gluten free. However, make sure to check the label just in case. Occasionally, thickeners or preservatives that contain gluten may be added.
What taco seasonings are gluten free?
Some safe options include: Siete, Primal Palate®, Simply Organic®, Fody™, and even classics like McCormick® (other than Lawry's® version), and Old El Paso.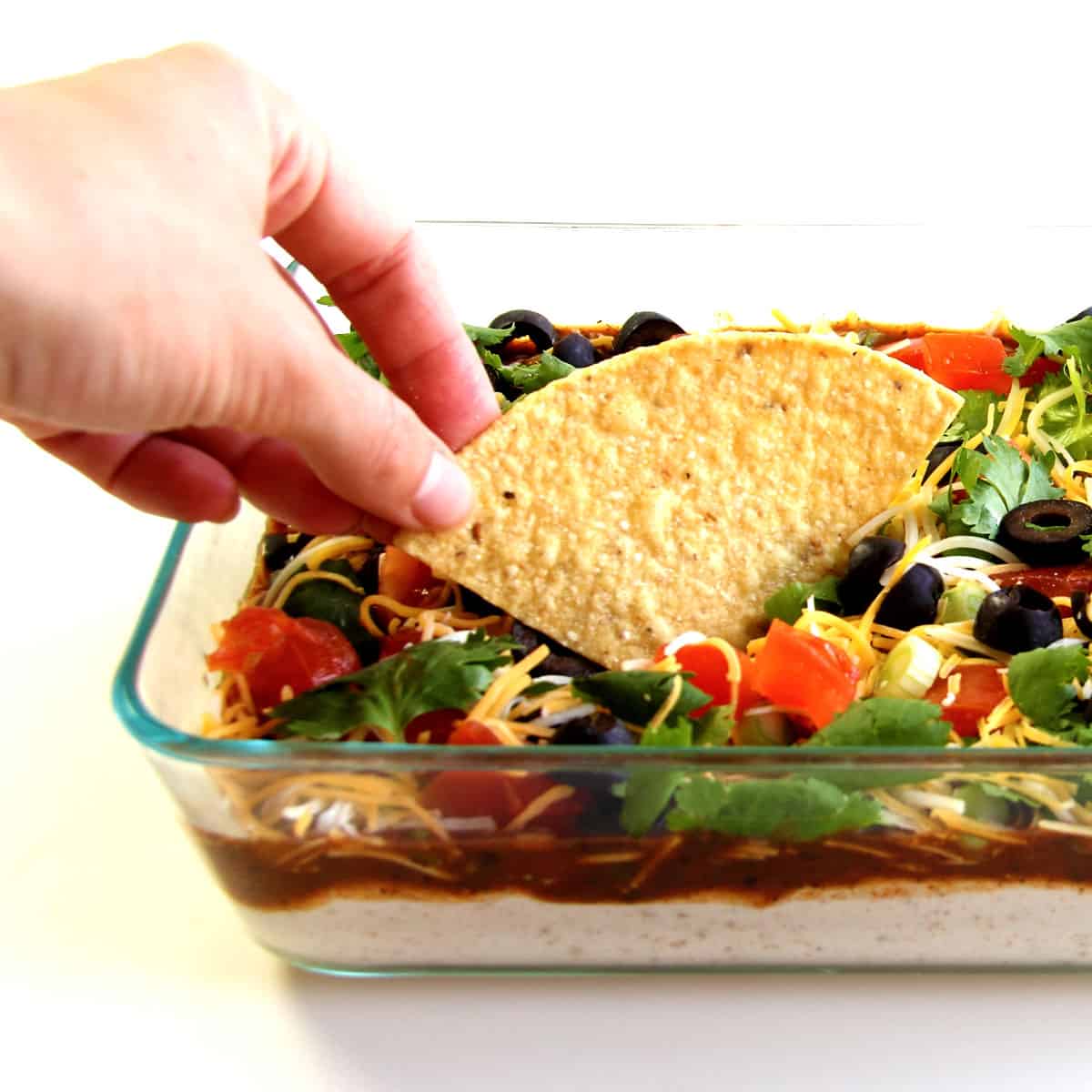 ---
Taco Dip Frequently Asked Questions
What are the main 7 layers?
The base is a cream cheese/sour cream mix, the 2nd layer is taco sauce, and then the remaining ingredients make up the other 5 ingredients. These include: lettuce, tomatoes, black olives, cheese, and green onions.
How do you make a 7-Layer Gluten Free Taco Dip?
So easily! The first three ingredients are beat together (cream cheese, sour cream, and taco seasoning). They are spread thin, followed by a thinly spread layer of taco sauce, and sprinkled with the remaining ingredients.
Can you make layered taco dip ahead of time?
Layered taco dip can be made up so about 3 days in advance and stored in the refrigerator. If any longer than that, the vegetables may get mushy.
Can you make this dip dairy free? Vegan?
All of the above! For the base layer, substitute refried beans. Follow with a layer of guacamole (optional) and then spread the taco sauce. Sprinkle with the remaining ingredients (with the exception of the cheese). Stay tuned for a fun black bean "healthy taco dip" full recipe coming soon!
What goes with gluten free taco dip?
Taco dip makes a fabulous Cinco de Mayo dip, party dip, or taco Tuesday appetizer/dip! What to serve with taco dip? Taco dip makes a great appetizer to a meal full of: tacos, enchiladas, quesadillas, and Mexican bowls. Serve with chips and margaritas!
How long does gluten free taco dip take to make?
This taco dip takes 10 minutes or less to make. Enjoy! …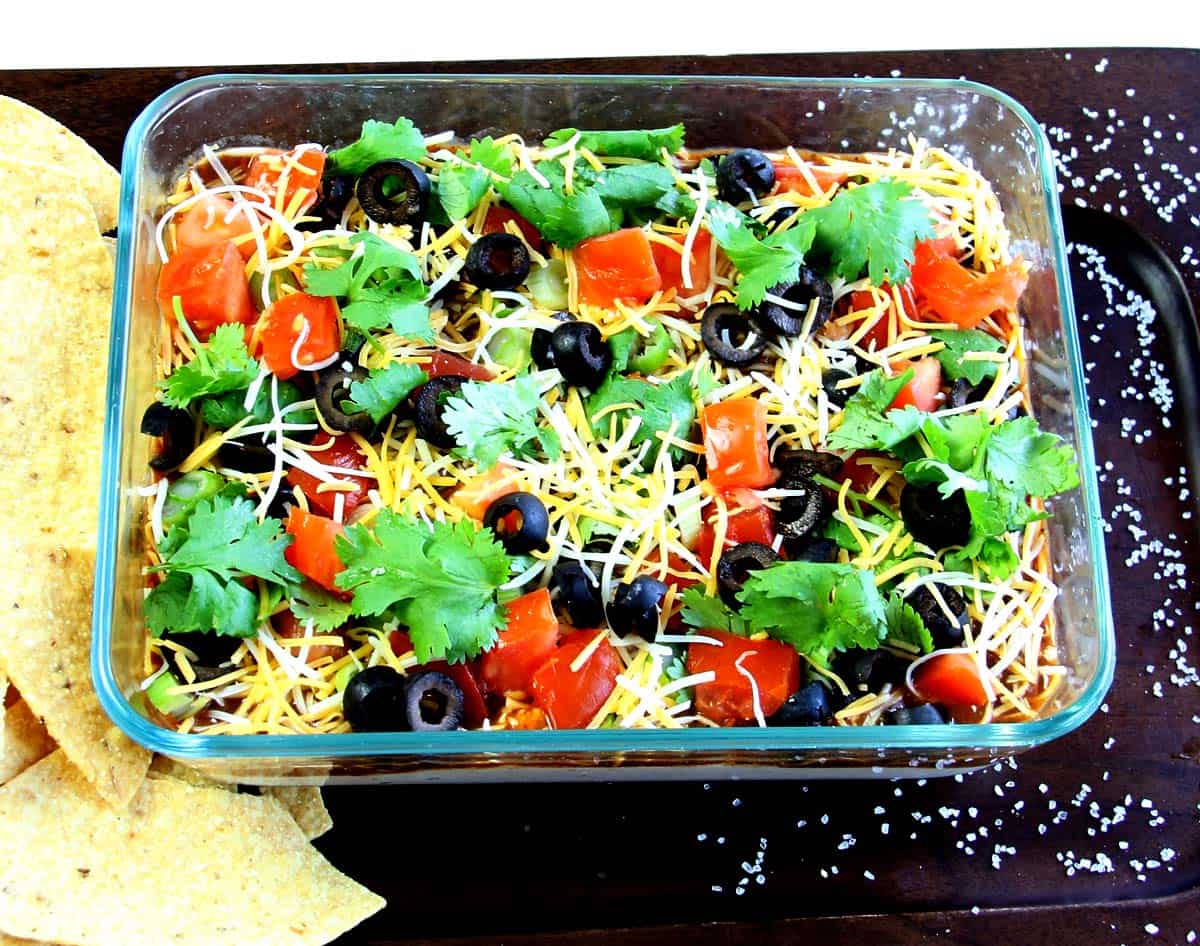 ---
Other Healthy Party Recipes
Don't want to show up with just dip? Make sure to check out my healthy party recipes for some other fun party dishes including a delicious Blackberry Basil Margarita (or even a full Margarita Bar) that'll go along with it perfectly.
Also included in the party recipes are: desserts, fun appetizers such as these adorable individual charcuterie boxes, easy gluten free canapes, and prosciutto skewers, and dips such as a Healthy Buffalo Chicken Dip! Feel fun party food deprived no longer — and stick to your healthy standards all the while!
Enjoy the fiesta! Here's to regaining our sparkle together,
✧❈✯✦Jenn✦✯❈✧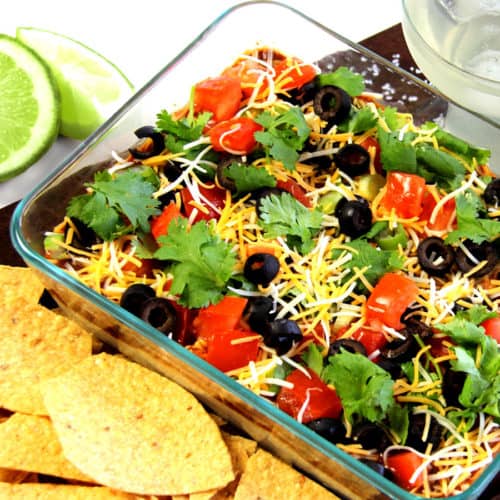 Print Recipe
Gluten Free Taco Dip
Bring this festive gluten free taco dip (a healthy taco dip also known as 7 layer dip) to a party, taco bar, or tailgate party!
Ingredients
8

ounces

cream cheese

I used Organic Valley®, softened

8

ounces

sour cream

I used Organic Valley®

1

tablespoon

taco seasoning

½

tablespoon

garlic granules

½

cup

taco sauce

About ½ of a 5 oz container of mixed greens

sliced

1

cup

diced tomatoes

½

cup

shredded cheese

½

cup

sliced green onions

3.8

oz

can sliced black olives

1

bag organic corn chips

(I love Trader Joe's Organic Corn Dippers)
Instructions
Beat together cream cheese and sour cream.

Add taco seasoning and garlic. Mix.

Spread mixture over a large plate or platter. Spread taco sauce on top.

Top with lettuce, tomatoes, cheese, green onions, and black olives.