Feeling refined? Adulting is done right in this diy mimosa bar! Unlike vodka, rum, and beer drinks; these bubbly drinks aren't intended to get you drunk.
This great at-home option is also often a common choice for bachelorette parties, bridal showers and more, but here, we're just celebrating YOU and a love for brunch. Additionally, if you have little ones keeping you company, it's kid-friendly! Help them customize their drink by providing sparkling water for their "bubbly" and "unbreakable" mimosa tumblers
.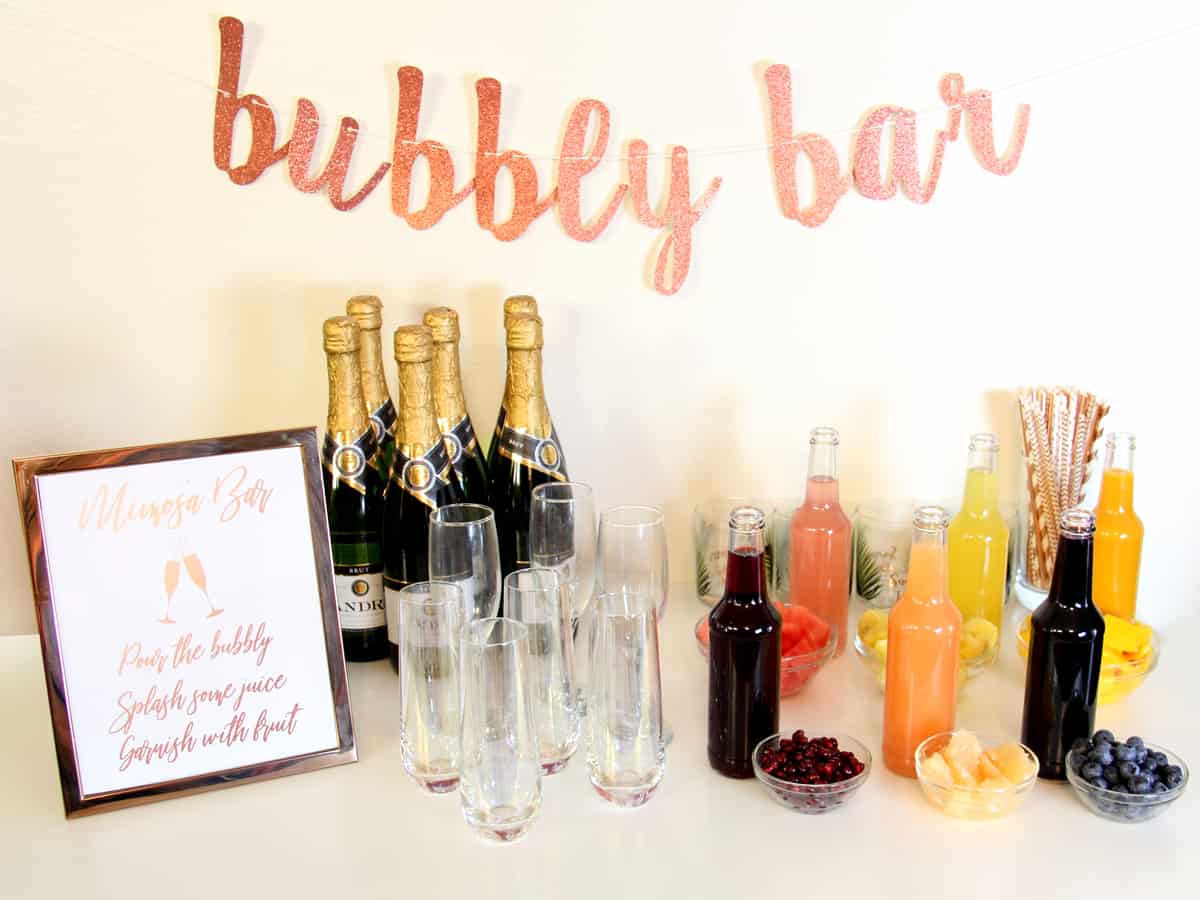 They're for those of us foodies who appreciate a little buzz and a calm relaxing summer morning with friends and family, great tasting-drinks, and a pool-side brunch. This fun crafty activity diy mimosa bar makes my wellness blog's brunch series as its low key due to the vast majority being able to be prepped in advance, a great option for dietary restrictions (vegan, gluten-free alike – fruit and champagne rarely make the intolerance lists), and I go over some options for lowering the sugar!
Mimosa Bar Supplies (Order Ahead of Time)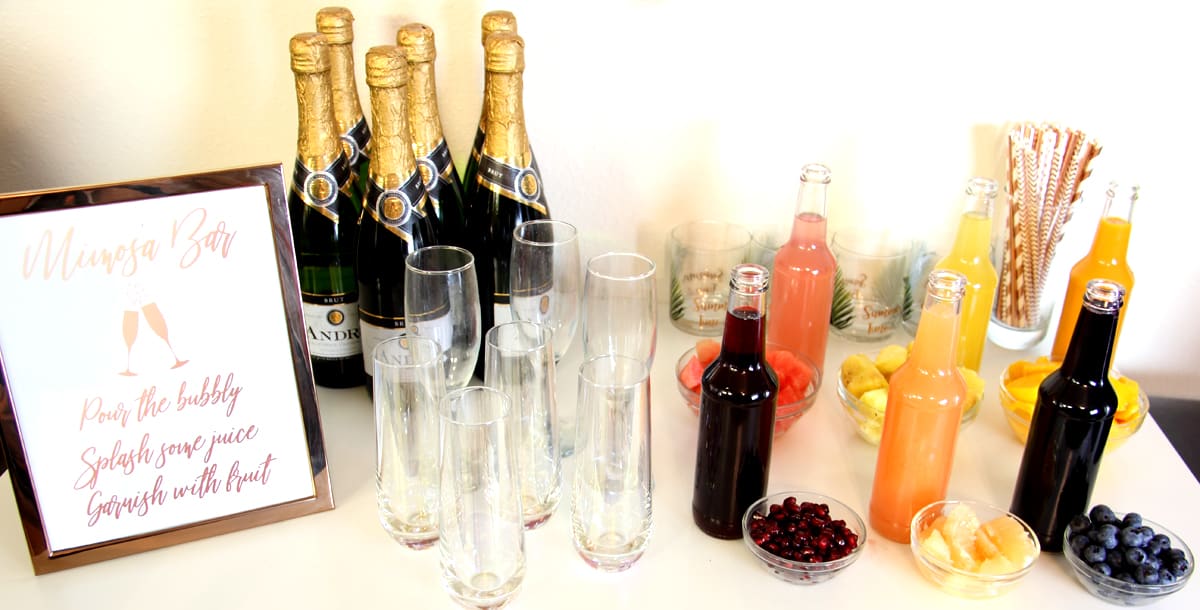 Reference my photos for the basics, but below is a list of the things you'll want to obtain ahead of time. I'd pick a color scheme too, in my case I chose rose gold. I've linked what I used and also some tips for cutting costs/to keep you from breaking the bank. Overall, I used items I had in my cabinet for many pieces and spent about $100 total for everything (including the champagne, fruit, and juice from below).
A "bubbly bar" banner (I went for a rose gold theme so used this sparkly one).
Champagne glasses. I had a few already then ordered iridescent champagne flutes as well.
A picture frame for your mimosa bar sign. I ordered this one, but you can also find nice ones at Dollar Tree to cut costs.
Juice bottles. I saw so many cute juice carafes, but I'm not made of money haha! I got empty soda bottles at my local craft store for cheap.
Fruit dishes. I used glass bowls I had at home, but these can also be grabbed at the craft store or Dollar Tree at a low cost.
Water glasses and paper straws (these these rose gold ones are so cute and match perfectly).
Free Printable Mimosa Bar Sign
In order to keep costs low, I placed the fruit next to each juice it represented (so didn't need to label the juices). I ordered one banner (as linked above). And I made the sign with a rose gold gradient so it matched the rest of the décor without needing to buy an expensive foil sign. It actually looked great, coming right out of my cheap home printer.
If you want to grab one for yourself, you're welcome to use my 8×10 sign – just click here to download. Print on your regular printed using the full-page option (usual 8½ by 11 document), then trim off the light grey border, and stick in an 8×10 frame!
Champagne
How much champagne do you need for a mimosa bar? It definitely depends on how much you and your guests will drink! For a standard mimosa, using the ratio 1/3 juice (about 2 oz) to 2/3 champagne, yield between 6 and 8 mimosas for a 750 ml bottle of champagne. As a rough estimate, I'd grab one bottle of champagne for every two people.
What type of champagne is the healthiest/lowest in sugar? If you are careful with your health or calories, fruit juice is relatively high in both, so I'd opt for a low sugar champagne to balance it out. The lowest sugar options for your champagne would be brut nature or extra brut (for those who don't know too much about champagne, these are a type; any brand will do). If you're like me and just went to the closest cheapest place, I wound up with brut from Walmart (the lowest sugar option they had).
Mimosa Bar Juices & Fruits (Get the Day Before)
To make things quick and easy, I grabbed six of my favorite fruits and juice to go with them! Placing the fresh fruit next to its equivalent juice helps you skip having to label each juice. See below for my recommendations (in the order of their popularity):
Blueberry Mimosa – 100% blueberry juice and 1 pt fresh blueberries
Grapefruit Mimosa – 100% grapefruit juice and 2 grapefruits, sectioned
Watermelon Mimosa – watermelon juice and a couple cups of watermelon, diced
Mango Mimosa – mango juice and 2 mangoes, sliced
Pineapple Mimosa – pineapple juice and 1 pineapple, diced
Pomegranate Mimosa – pomegranate juice and 1 the seeds of 1 pomegranate
Other popular options to consider: peach or strawberry puree, raspberry, blackberry, one of my other two healthy mimosas, classic orange, and more!
The Set-up
Make your DIY Mimosa Bar in advance with limited stress! Almost all of the prep-work can be done prior to guest arrival.
Set-up in advance (day before or morning of):
Print and frame your mimosa bar sign.
Chill the champagne bottles and any juices needed.
Prep the bar by setting out the table, hanging the banner, placing the sign, setting out the empty cups and straws, and setting out bowls for fruit.
Cut up all the fruit and store in the fridge.
Set-up five minutes before beginning (day before or morning of):
Add prepped fruit to the bowls
Fill juice bottles with juice and set them out
Set out champagne bottles (leave a couple chilling in the refrigerator until ready so they don't get warm).
Refill as needed and enjoy your DIY Mimosa Bar with friends, family, kids, and more! Pour the bubbly!
………………………………………………………………………………..
Want more brunch or healthy cocktails? Make sure to check out my healthy brunch ideas for some delicious clean eating brunch favorites + more brunch recipes coming soon. Or click here for more healthy gluten free cocktails or other healthy mimosas such as the: Grapefruit Mimosa, Pineapple Coconut Mimosa, or Island Breeze Mimosas.
Plus, sure to put your email address above to sign-up for my email updates to make sure you catch all the exciting new brunch recipes!