Get your brunch party on! Enjoy brunch as much as you used to with these 10 gluten free and healthy brunch ideas and recipes. Each recipe/suggestion is made super simple and with gluten free ingredients (most are dairy free) and whole foods.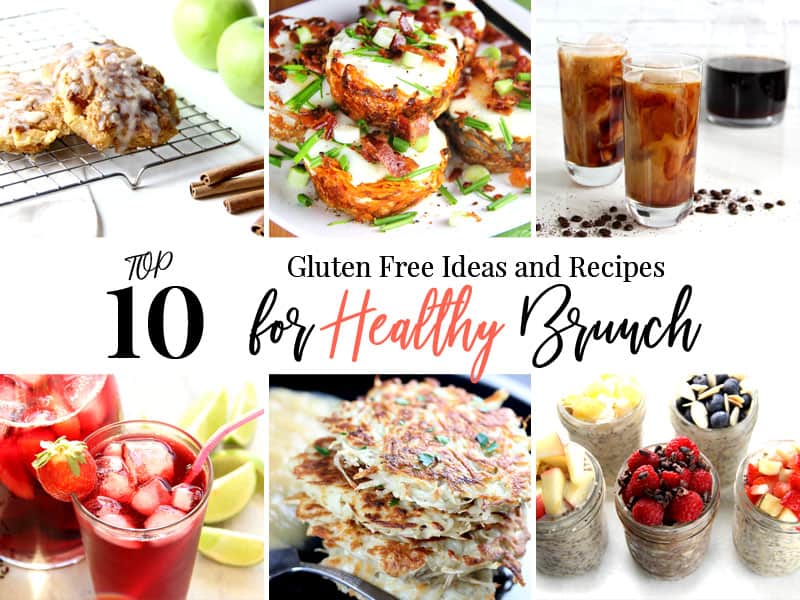 They're perfect for these types of events:
Pool parties
Holiday weekend brunch
Sunday brunch
Mother's Day, Valentines, or Easter Brunch
Or simply, everyday breakfast (if you're feeling a little fancy)
If you've gone the gluten-free or wellness route and are still feeling deprived, let me help bring the fun back! The most popular recipes on this site are healthier (gluten free) cocktails, brunch, & party recipes. P.s. Make sure to join the list below if you want to keep the recipes coming!
…………………………………………………………………………………………………………………………………..

…………………………………………………………………………………………………………………………………..
Entertaining & Brunch Party Recipes

Sweet Potato Hash and Egg Breakfast Cups
This is the top brunch recipe among my blog viewers. They're gluten free, paleo, pretty damn close to keto, and make an exciting and delicious healthy brunch option. Each begins with a flavorful sweet potato hash brown nest, continues with a savory baked egg, and is perfected with a delicious crunch of bacon!
GET RECIPE Here >>> Sweet Potato Hash and Egg Breakfast Cups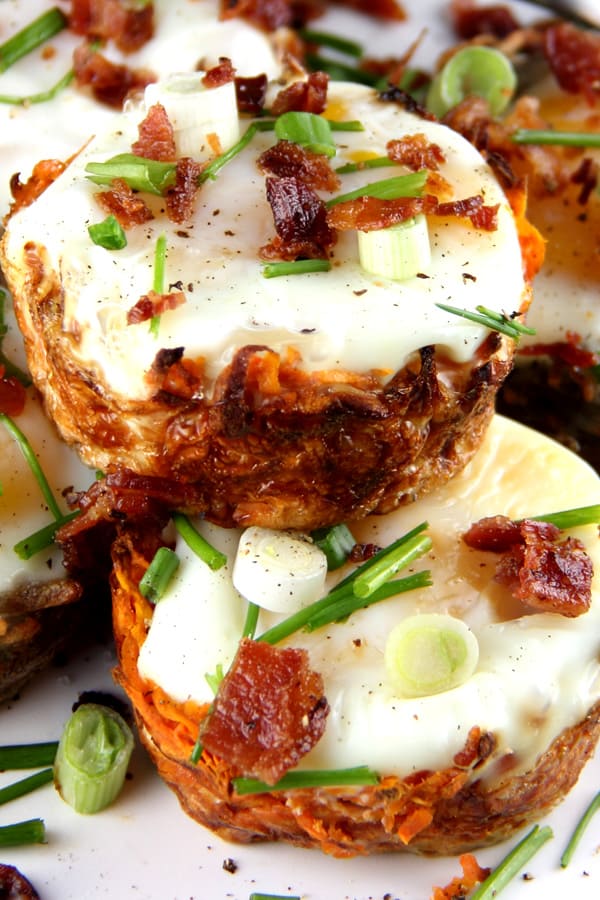 Gluten Free Potato Pancakes (+ Cauliflower Keto Option)
Keto / gluten free potato pancakes have been an absolute favorite among my gluten consuming friends and family. What's perfect about these is they taste better than the fried restaurant options – they have a fresh taste, they brown nicely, and they are made with whole foods.
GET RECIPE Here >>> Gluten Free Potato Pancakes
Healthy Apple Fritters (Gluten Free, Dairy Free)
You can still have everything you love about brunch with these healthy apple fritters – gluten free, dairy free lovers – rejoice! If you'd ready to do brunch right (and healthy) again, let's add that crispy, sweet, and fried donut flavor back to the menu! Plus, these retain some of their original crunch when reheated, if you'd like to make them in advance and refrigerate them.
GET RECIPE Here >>> Healthy Apple Fritters
Paleo Lemon Blueberry Cake
Paleo lemon blueberry cake makes one of many options for easy healthy brunch recipes. Make your dessert or brunch much healthier, while keeping it simple!
GET RECIPE Here >>> Paleo Lemon Blueberry Cake
Cheesy Gluten Free Hash Brown Casserole
Weekend brunch couldn't be more perfect – especially with a HEALTHIER homemade cheesy gluten free hash brown casserole!
GET RECIPE Here >>> Cheesy Gluten Free Hash Brown Casserole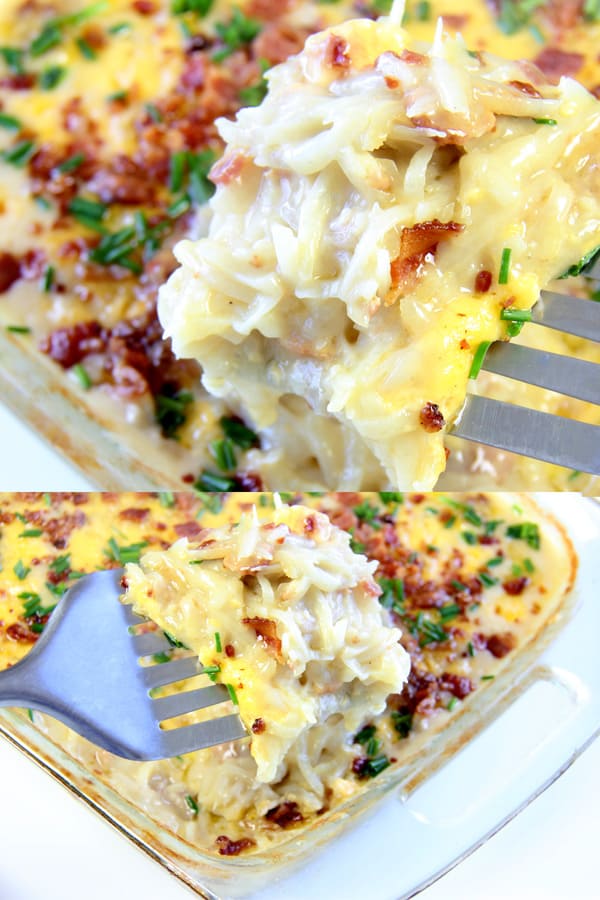 Everyday Breakfast/Brunch
Overnight Oats (with Health Benefits for Hair & Nails)
So many benefits & so many delicious flavors. Plus, these are SO easy to make in advance. Make your weekday mornings a breeze. This trendy favorite is loved for a reason.
GET RECIPE Here >>> Overnight Oats
Make-Ahead Paleo Breakfast Muffins
These delicious muffins are quick, simple, and paleo and allergen-free (except eggs). With instructions for freezing and re-heating (and the potential for batch cooking) this recipe provides a great option for those who are not morning people. Just bake then freeze the extras and you have a healthy breakfast for 1-2 weeks!
GET RECIPE Here >>> Prep-Ahead Paleo Breakfast Muffins
Hash Brown Sandwiches
Hash brown sandwiches make for a healthy summer breakfast! Naturally gluten free. Try paleo versions or remove the top for a keto avocado toast.
GET RECIPE Here >>> Hash Brown Sandwiches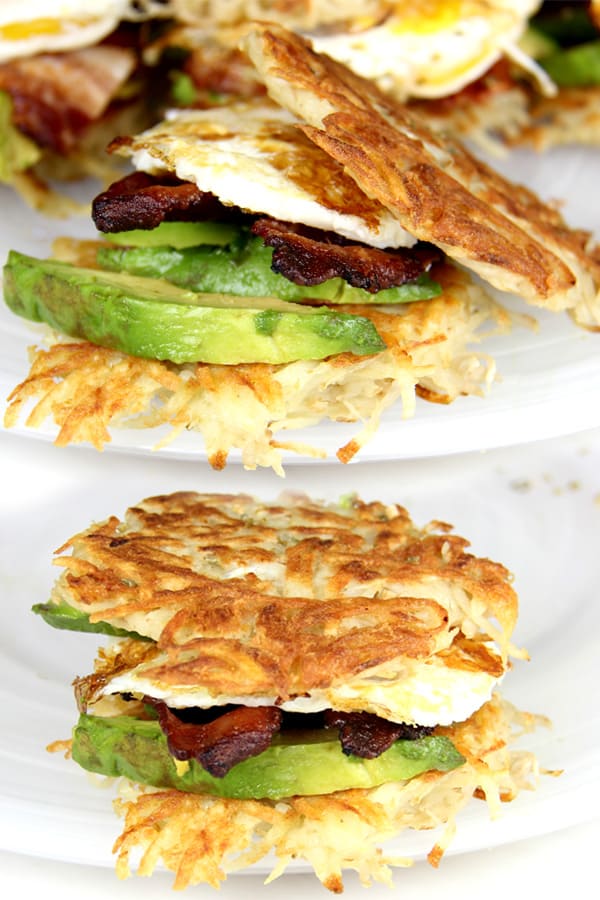 Best Healthy Brunch Beverages & Cocktails
Overnight Cold Brew Coffee
Can't give up your morning latte? This overnight cold brew coffee makes a great dose of healthy caffeine for an easy healthy brunch recipe, a crazy morning schedule, and more! Plus, this is made in a pitcher – perfect for brunch, especially those who need a pick-me-up.
GET RECIPE Here >>> Overnight Cold Brew Coffee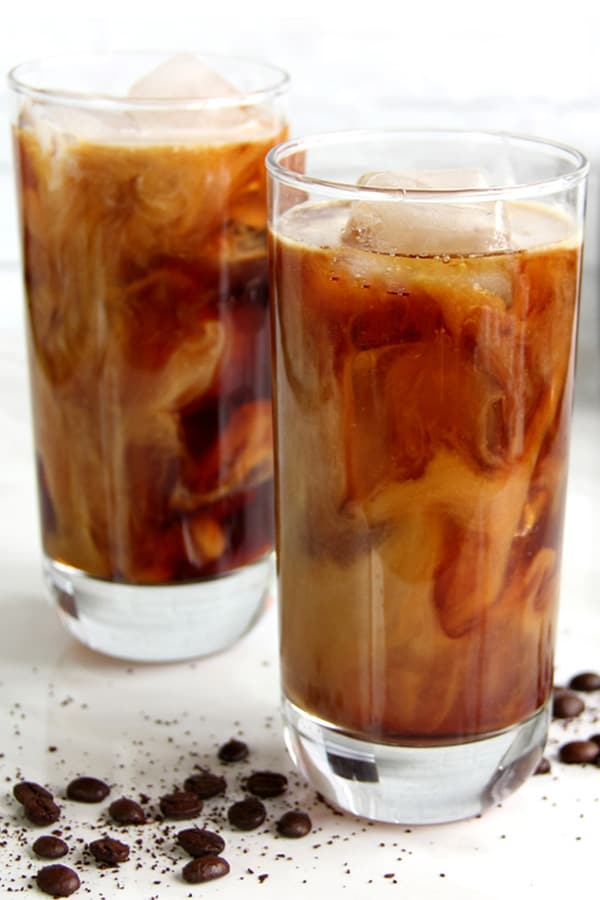 Hibiscus Black Iced Tea Infusion (Quick and Simple Batch Iced Tea Brewing)
Brewed to contain extra black tea for caffeine, herbal tea for a fruit flavor (appeals to those who don't usually drink tea), and less of the drop-off than sugar containing or coffee-type drinks…this iced tea taste great brewed in advance and makes a full pitcher – perfect for your morning caffeine ALL week or a brunch drink.
GET RECIPE Here >>> Hibiscus Black Iced Tea Infusion
Hibiscus Iced Tea (Helpful For Sugar Control/Cravings)
A quick tip from a recovering sugar addict (turned health nut). This quick and easy herbal infusion is a quick fix for sugar cravings. This recipe brews a full pitcher of the light, refreshing, and fruity/tart iced tea – great for brunch (alternative to sugary juices).
GET RECIPE Here >>> Hibiscus Tea
Mimosa Bar
Make a DIY Mimosa Bar in advance with limited stress! Almost all of the prep-work can be done prior to guest arrival. Easily serve anywhere from 1-10 mimosas types and if not feeling decorating, just add the champagne glasses, champagne bottles (or sparkling water/grape juice if kids will be joining), and juices for a quick version! Or if you just want to serve one mimosa, check out some delicious healthier mimosa options here.
GET RECIPE Here >>> Mimosa Bar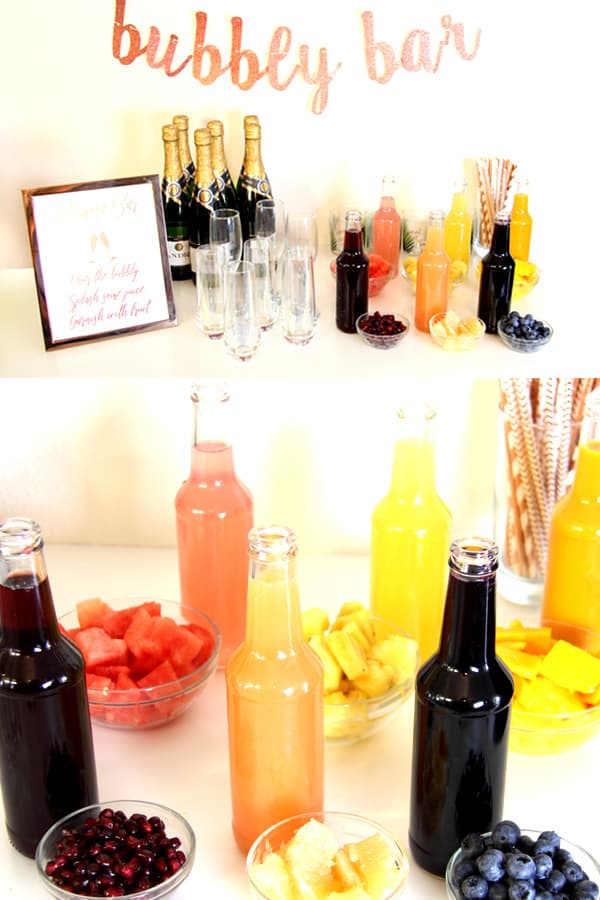 Tips for Serving the Best Healthy Brunch
What will make your brunch healthier? Below are some of the top tips for serving the best healthy brunch.
Watch the sugar. Brunch is so tasty, but your healthy intentions can easily be ruined with too much sugar. Pastries, juices, store-made foods, jellies and other items can turn your post0brunch relax time into an exhausting sugar crash. Try to keep the sugar low by serving drinks lower in sugar and plenty of hearty options.
Gluten and dairy may not be your friend. Some, especially those fighting with autoimmune or other illness may find 1 or 2 of these to cause additional inflammation in the body. Not to fear, there are plenty of great options without them!
Avoid using meats with hormones, antibiotics, or nitrates. These have been know to potentially cause a number of issue including: inflammation, increased intestinal permeability and more. Why use them when your back tastes just as great without?!
Tips for Serving Brunch to a Crowd/Brunch Party Tips
What will make you brunch set-up quick and easy? Below are some of the top tips for serving brunch to a crown, at a party, or for a larger group of family or friends.
Prep as much ahead of time as you can. Many of the recipes above can be frozen or prepped in advance making brunch a breeze.
Provide a colorful fruit tray/platter: this will add visual interest and simplicity to your table.
When overwhelmed, local bakeries, health food stores, and cafes are great places to find additional items for your brunch table. Some great options are: smoothie bowls, omelets, smoothies, and anything from a local vegan/gluten free bakery.
Drink wisely. You may want to relax, but don't let drinks high in sugar put a damper on your mood or energy for the day. Serve unsweetened iced tea, cold brew coffee, and even healthier cocktails for a fun morning with less downfalls.
Use cute/ fun party ware to set the mood. If worried about cleanup time, make it disposable. Here are a few of my favorites:

Party platters, cocktail glasses, and more.

If pool party or outdoor brunch, keep the food temperature appropriate. Keep refrigerated drinks and foods in the refrigerator until the last minute. Serve hot foods when hot and do not leave anything out too long that contains meat or dairy.
If your party is family or kid friendly –make sure to provide some activities for the little ones: make your own juice bar, play-doh/stickers/craft table (or other activity), small construction toys or blocks, sandbox/activities, and more.
Enjoy! <3 I can't wait for you to be able to enjoy a fun, healthy, and oh-so-delicious weekend brunch with family and friends.
If you're looking for more delicious gluten free appetizers or party recipes, healthy cocktails, natural beauty, or brunch recipes make sure to sign up for my email newsletter to be notified when a new recipe is posted! You can definitely still have fun, be healhty, and be gluten free!
Here's to #brunchlife and regaining our sparkle together,
✧❈✯✦Jenn✦✯❈✧