While many of us are still hiding at home, I figured now was the perfect time to start a easy healthy brunch recipes series. If you're missing all the delicious ways of your past; you can still cook the same fun brunch foods you loved with wholesome and nutritious ingredients! This Paleo Lemon Blueberry Cake is no exception. It's full of warm blueberries and a zing of lemon zest; the perfect brunch choice for summer.
This dish serves about four, so make it with your family at home or serve for a friend or two! It's everything you love about a typical coffee cake or breakfast cake and more!
Picking the Right Blueberries
One of the two most important ingredients in this recipe is blueberries! Choosing the right ones can really make or break the flavor. So, there are a few things you may want to keep in mind. So start, opt for organic blueberries when available. Blueberries are #17 in the EWG's extended Dirty Dozen™ list (for pesticides) because of their thin skins.
To help keep the flavor and texture of your breakfast cake just right, try to find blueberries that are plump, firm, dry, smooth skinned, and any size other than the teeny tiny ones. The color should be a deep blue/purple/black with zero pink as this shows a sign that they have been prematurely picked. They are best stored in the refrigerator and washed directly before us.
Why Coconut Flour?
The second more important ingredient is the flour! Coconut flour is used often chosen out of many alternative and gluten-free flours because of its versatility – its allowed in the vast majority of special diets – vegan, keto, gluten free, paleo, etc.). It's high in healthy fats and fiber, and it's known for its low glycemic index in addition to being gluten free, grain free, and low in carbs.
It does absorb more liquid in comparison to other gluten-free flours; so make sure to follow the recipe ingredients closely! This Paleo Lemon Blueberry Recipe Cake follows the typical ratio of coconut flour for cakes 1:4 (coconut flour:regular flour) and the standard one egg minimum per every ¼ cup of coconut flour.
More Easy Healthy Brunch Recipes
Want more easy healthy brunch ideas? This delicious series of blogs will feature paleo brunch recipes, many of which will be keto friendly, and all of which are gluten free. Many of which are entertaining worthy and great for: a family brunch, pool party, Sunday brunch, guests in town, and more.
Whoever said you can't eat clean and still have fun was so wrong! If you just can't get enough brunch, check out these breakfast/brunch recipes as well:
Here's to loving brunch again and regaining our sparkle together,
✧❈✯✦Jenn✦✯❈✧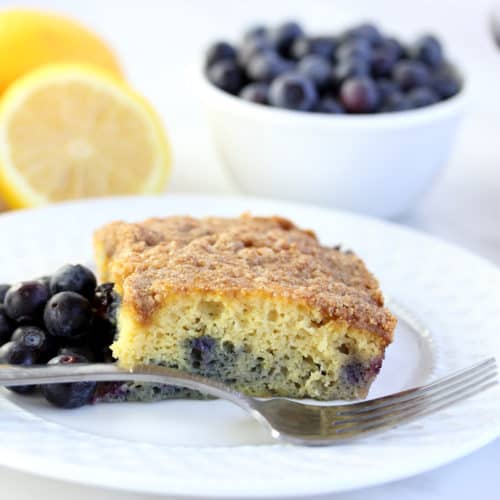 Print Recipe
Paleo Lemon Blueberry Cake
Paleo lemon blueberry cake makes one of many options for easy healthy brunch recipes. Make your dessert or brunch much healthier, while keeping it simple!
Instructions
Cake
Preheat the oven to 350°F.

Sift together coconut flour, baking powder, and sea salt in a small bowl.

Whisk together the eggs, honey, coconut oil, coconut milk, vanilla, and lemon zest in a separate large bowl. Once mixed, use a whisk to add and mix the coconut flour mixture. You'll need to let it sit for about five until the coconut flour absorbs the moisture, then stir again until fully incorporated. Fold in the blueberries.

With a non-stick (coconut) spray or coconut oil, grease an 8×8 glass pan. Add the batter and then bake for 10 minutes.
Topping
While the cake is baking, mix all dry ingredients together in a small bowl. Combine with the coconut oil using a fork. *You may find using your hands is helpful if the coconut oil has hardened too much (the warmth of your hands will help).

When done baking, remove the cake from oven, then sprinkle on the topping. Bake for 15 additional minutes or until a toothpick inserted in the middle comes out clean.
(optional Vanilla Glaze)
Add all ingredients to a small saucepan. Heat and stir on low until combined, then remove from heat. Once its cooled, drizzle over top of baked cake.
This recipe originally appeared on YumGoogle and has been republished with permission.