In my Intro to Tea blog, I touched a little on clean caffeine sources and how to select a healthy/natural tea. Now, I'm going to divulge into the specifics and some technique. Learn this important step to a clean caffeine option: simple batch iced tea brewing!
To begin with, there are basic details to tea brewing that you will need to know. The time brewed, temperature of the water used, and amount of tea used will affect the flavor of your tea. The amount of tea used can be adjusted to your preferences (use less tea for a weaker brew and more tea for stronger brew). However, make sure to follow the recommended time/temperature listed on the package as these should not be adjusted and if they are, it can result in a very bitter brew.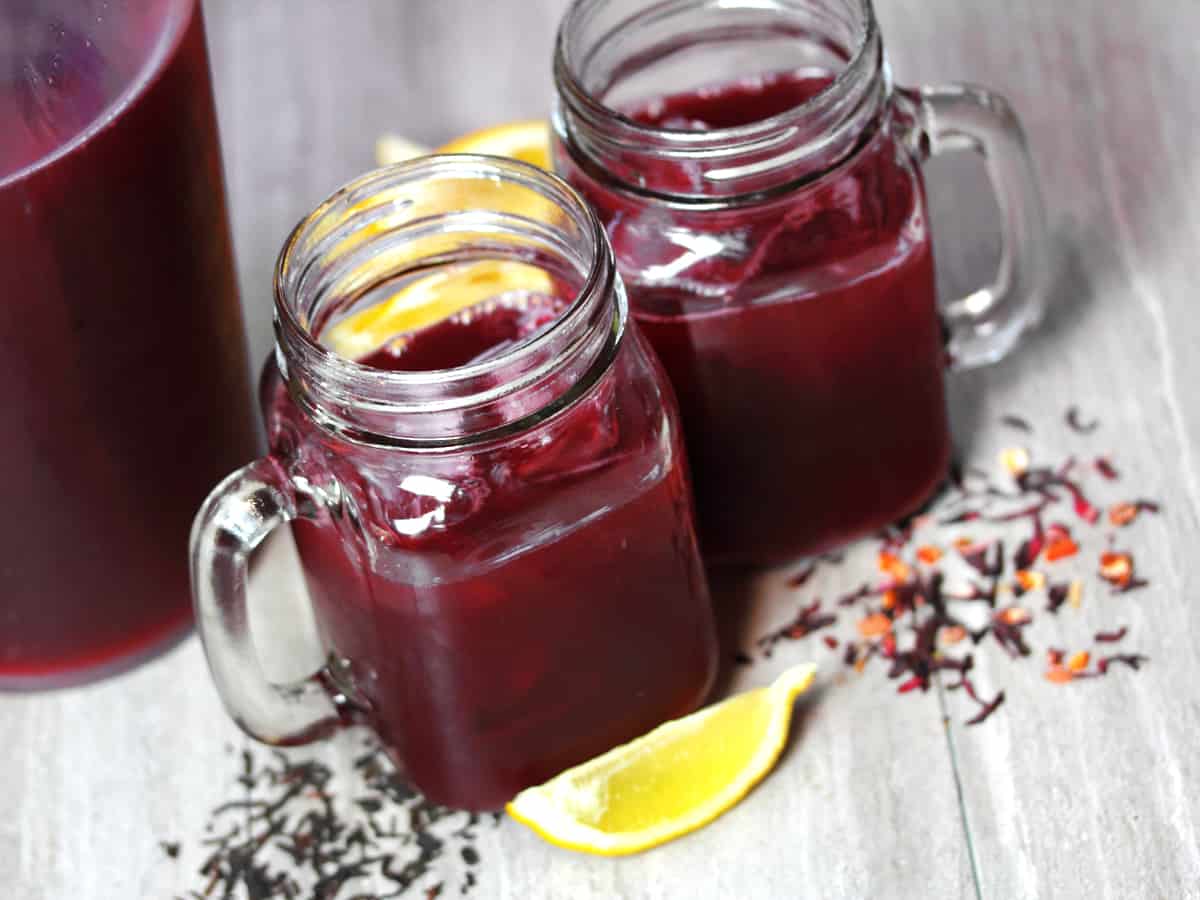 Choosing a Tea Type
Another important consideration is selecting your type of tea. Loose-leaf tea is available in three types: black, white, and green. These are all from the same plant, Camellia sinensis, and the type of tea this plant produces depends on the method its processed and other details (was the leaf or bud used, was it oxidized, was it roasted, etc). Herbal teas (tisanes) are not really tea at all and do not originate from the Camellia sinensis plant, but are actually a mix of fruit, berries, herbs, etc.
The Actual Tea Brewing Process
Hot Brewing Method: Hot tea can be brewed per package directions. To make iced tea using the hot brewing method, brew as normal but use half the water. Pour the brewed tea over iced and mix until the tea is melted. Add more ice and serve.
Cold Brewing Method: To make iced tea using the cold brewing method, add the tea to the appropriate amount of water. Place in the fridge for 6-12 hrs (white/green for about 6-8 hours or to taste and black/ herbal for 8-12 hours or to taste). Remove, strain and serve.
How I Brew My Batch Iced Tea
With all the flavor and caffeine, none of the sugar! Since I'm used to sugary drinks, I like the flavor of herbal teas the best. However, unfortunately this doesn't provide any caffeine! As a result, I normally brew black and herbal teas and mix them. This can be a complicated process since both have different steeping times, so I'm going to provide you with my quick recipe for making this easily (and in the comfort of your home without any fancy tea steeping equipment necessary). Enjoy!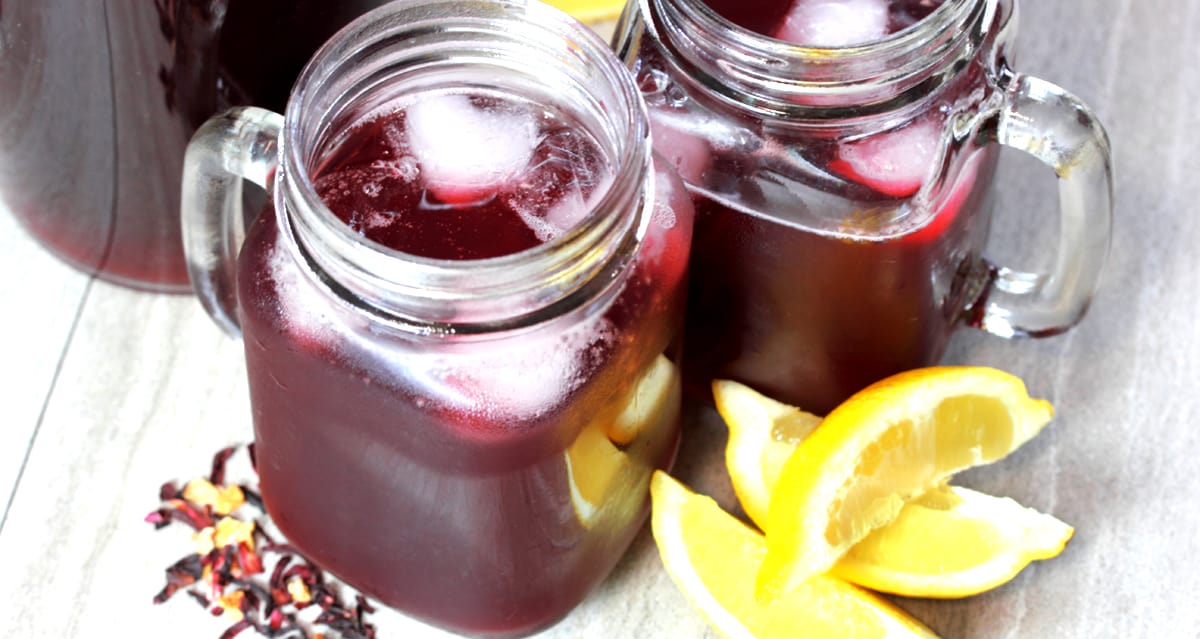 Other Healthy Beverage Options
Doing keto? Reducing sugar for autoimmune? Trying to lose weight? Don't let your desire to cut back on (unhealthy food and) sugar limit you! There are so many delicious options for healthier breakfast drink options, you don't have to resort to sugary options or drinks loaded with artificial sweeteners. For another healthier caffeinated option, try Overnight Cold Brew Coffee or for a fruity, non-caffeinated option try this Hibiscus Iced Tea. Or, if you want to cook up an entire healthy breakfast — beverage and all, try these healthy brunch ideas!

Here's to a little "cleaner" caffeine and regaining our sparkle together,
✧❈✯✦Jenn✦✯❈✧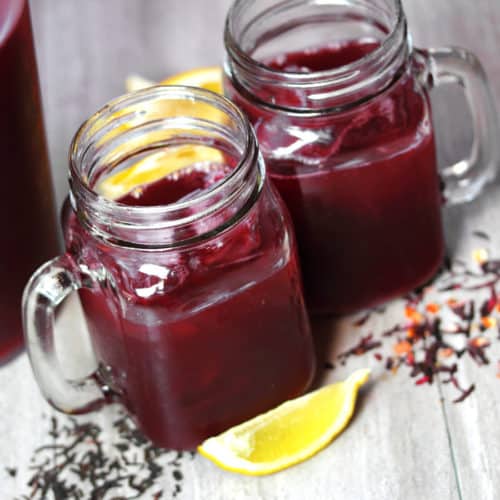 Print Recipe
Hibiscus Black Iced Tea Infusion
Infusing this delicious hibiscus herbal tea and a smooth black Assam tea provides an iced tea infusion with the flavor of an herbal tea and the caffeine of a black tea. Batch brew ahead of time for a refreshing and energizing glass to help you wake up during the work week.
Ingredients
Kitchen Supplies
Instructions
Bring water to a boil.

Carefully pour half of the boiling water into a large (usually 4 cup) glass measuring cup. Leave the remaining water in the pan.

Add the herbal tea to the glass measuring cup and the black tea to remaining water in pan (separating them allows both teas to their full strength in spite of their different steeping times so when you mix them, every 8 oz glass of tea contains a full serving of herbal and black tea).

After 2-3 minutes, strain the brewed black tea into a large glass pitcher. After 5-7 minutes, strain herbal tea into the same large glass pitcher. Allow to cool. Refrigerate. Serve over ice when ready to drink.

Lasts about five days in the fridge (tastes better towards the start but still good towards the end of the five days).
Notes
*Pre-brewed tea may start to get bitter towards the end of usage. The best way to prevent this is to choose a high-quality black tea with low acidity such as the examples above.