These gluten free hash brown sandwiches are sure to be your #1 healthy brunch recipe this summer! Popular hacks include: keto and paleo variations, removing the top for a gluten free or keto "avocado toast" recipe, and simply making your favorite meal (brunch) guilt-free – however you choose to have it.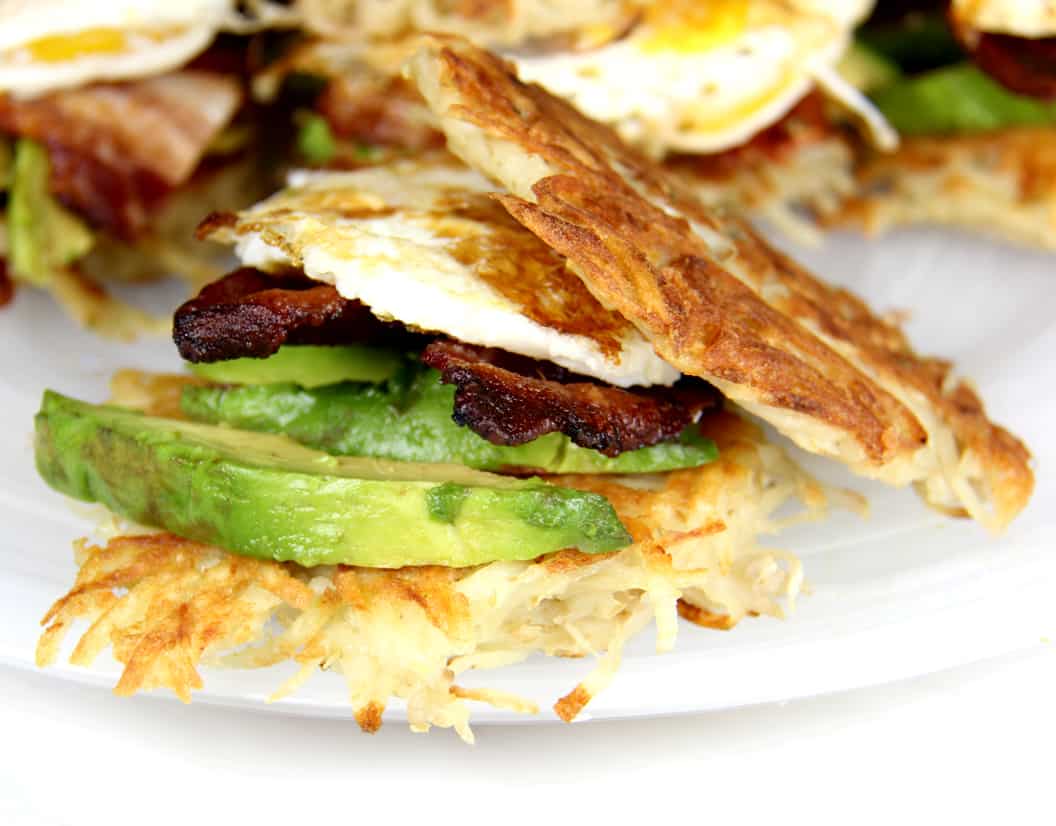 Have you ever felt like your diet (whether it be for autoimmune issues, athletics/fitness, weight loss, or just to be healthier) is ruining your fun? I did a complete overhaul to my entire lifestyle, home, and everything I ate! While my health made a complete turn for the better, my social life, and the joy I found everyday, went to hell.
Paleo Brunch Recipes (also includes Keto, Gluten Free, and other Healthier Options)
For those fellow brunch lovers, this >> healthy brunch ideas series << I've been doing is here to bring some of that joy back – guilt free! Especially with the way things are right now with strict restrictions on activities, a healthy brunch can be a great way to eat the way you need to and have a fun activity (especially is poolside) for a small groups of family and friends!
………………………………………………………………………………..
Want more brunch or healthy cocktails? Make sure to check out my healthy brunch ideas for some delicious clean eating brunch favorites. Or click here for more healthy cocktails. Plus, sure to put your email address above to sign-up for my email updates and make sure you catch all the exciting new recipes!


……………………………………………………………………………..
Tips for the Perfect Potato Pancake
One is the key features in this recipe is that you really need potato pancakes that are crispy and hold together well. To ensure this, follow these tips (or visit the gluten free potato pancakes recipe):
Make sure to remove the excess liquid. See recipes for details.
When you add additional oil for frying, allow it to rise to temperature for a minute before adding more pancakes.
Don't allow pancakes to sit out too long – best served fresh!
Don't crowd the pancakes – 3 at a time is more than enough.
Best served thin?! Press down with a spatula to thin the pancakes, thicker ones will not fry as well.
Substitution Options
Gluten free? Paleo? Keto? Simply want a lower carb option? Select your variation of choice for these hash brown sandwiches! While the traditional potato is my preference as it works best tastes best, and holds together best, it is not the choice highest in nutritional value.
Here are the options you have:
Keto OR low carb – use the cauliflower rice substitute in the recipe below or replace shredded potatoes with equal part shredded zucchini (about 8 medium / 8 cups).
Paleo – use either of the keto substitutes above or shredded sweet potato (about 8 medium / 8 cups).
Gluten free – any of the options – this recipe is naturally gluten-free.
Hash Brown Sandwiches – the Easiest Healthy Brunch Recipe
Let's get on to the recipe! While it's slightly labor intensive (I linked all the products I used below that make it a lot more convenient), this recipe is super simple. It really takes all the work out of entertaining or making brunch, because other recipes require sides. These hash brown sandwiches are the FULL meal all on their own – the bacon, the eggs, the avocado, etc. are already included!
The best options for serving them for a healthy brunch (for entertaining) are to serve with a simple side of fruit and a healthy cocktail. The best options for an everyday breakfast are to serve with a side of fruit, a glass of water, and some homemade iced tea!
These hash brown sandwiches really have EVERYTHING you love about brunch; no matter what way you need to eat for your healthy & lifestyle.
Here's to having brunch back and regaining our sparkle together,
✧❈✯✦Jenn✦✯❈✧
Print Recipe
Hash Brown Sandwiches
Hash brown sandwiches make for a healthy summer brunch! Naturally gluten free. Try paleo versions or remove the top for a keto avocado toast.
Ingredients
(Hash Brown Patties)
8

medium potatoes

*Substitution options: 8 medium / 8 cups of zucchini or sweet potatoes. Or riced cauliflower sautéed until tender (I buy mine frozen from Trader Joe's; (3) – 12-ounce packages/9 cups)

4

eggs

2

tablespoons

ground flaxseed

1

teaspoon

sea salt

1

dash

pepper

1

teaspoon

baking powder

¼

cup

olive oil
(Sandwich Assembly)
2

avocadoes,

sliced

1

pound

natural bacon,

baked in oven at 400°F for 25 minutes or until crispy, pat dry with paper towels

8

organic eggs,

pan-fried, over-easy

¼

teaspoon

garlic powder

½

teaspoon

sea salt

4

tablespoons,

minced fresh chives
Instructions
(Hash Brown Patties)
Wash, peel, then use your food processor's shredding attachment to quickly shred potatoes. Set potato aside for 10 minutes. Afterwards, squeeze all the liquid out. It may help to wrap in a kitchen towel (thin or tea towel) and squeeze. For keto, allow your cauliflower to cool for ten minutes, then squeeze out extra liquid, and proceed as directed. *Removing extra moisture really is a key step to getting crispy pancakes

Mix in eggs, flaxseed flour, sea salt, pepper, and baking power.

Heat oil in a large skillet. Form potato mixture into patties (use about 1/3 cup each). Fry in batches until golden brown and cooked through.
(Sandwich Assembly)
Assembly: on your serving tray, place eight hash brown patties. On each add a few slices of avocado, followed by two slices of bacon (broken in half so they fit), one egg, garlic power, sea salt, and eight more hash brown patties for the lids. Sprinkle with fresh chives.