Time to get tropical! This pineapple coconut mimosa is creamy, refreshing, gluten and dairy free, and perfect poolside. Continuing on my healthy brunch recipes series, this adds the absolutely perfect touch.
Not a Bartender?
Me either! That's why every cocktail you'll find in this blog is easy to make at home and quick. My expertise is in finding healthy, wholesome ingredients that are easier for those with autoimmune issues, worried about their health, super into fitness, or simply to eat cleaner for more energy! When I began eating healthier, I didn't want my social life and fun foods to fall at the wayside, so options like these mimosas made in minutes are perfect for entertaining.
Bored at Home?
This is the perfect poolside drink, perfect for an outdoors brunch with plenty of room for social distancing! If the kids are partaking (or you prefer mocktails) make the same recipe, but sub a sparkling white grape juice for the champagne in theirs.
Ingredients
It's just so hard to find ways to describe this recipe because it's just THAT easy. Probably the most important part of this recipe that I'd like to point out it to make sure you select a low sugar champagne. While natural, pineapple juice and coconut ice cream will add enough sugar, so you don't want to over do it (in terms of amount of sugar and flavor).
The lowest sugar options for your champagne would be brut nature or extra brut. *For those who don't know too much about champagne, these are a type – any brand will do. To learn more about the sugar content of your champagne including exact numbers, check out this article.
Pineapple juice is pretty straight forward. I'd pick one that's 100% juice or juice your own. One of my personal favorites is sold at Trader Joe's in a 16 oz bottle – fresh.
For ice cream, a coconut base will add coconut flavor as well as make this drink dairy free. Probably one of the most delicious and easily accessible options for this is So Delicious® Vanilla Bean or Coconut Macaroon. Coconut® Bliss Madagascar Vanilla Bean or Infinite Coconut are also great options.
Healthy Brunch Recipes
So, grab your favorite mimosa (if you love tropical, you may also love this healthy option – Island Breeze Mimosas), your favorite healthy breakfast dish (these gluten-free vegan banana protein pancakes have banana/tropical flavor to pair perfectly), your friends, and family, and have a small gathering with your quarantine buddies.
A RELAXING, but still healthy brunch poolside is the perfect way to let go of a little stress.
Here's to gluten free cocktails, eating brunch, drinking healthy (ish) mimosas, and regaining our sparkle together,
✧❈✯✦Jenn✦✯❈✧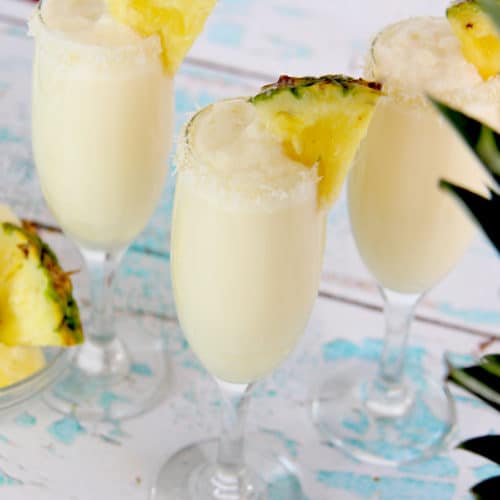 Print Recipe
Pineapple Coconut Mimosa
Time to get tropical! This pineapple coconut mimosa is refreshing, dairy free, and great poolside. The perfect touch to a healthy brunch.
Ingredients
Optional garnishes: pineapple slices, finely shredded coconut

1

bottle

of low sugar champagne

1

cup

pineapple juice

1

cup

coconut ice cream
Instructions
If desired, wet rim of four mimosa glasses and twist in a rimmer full of shredded coconut.

Pour champagne glasses 2/3 full of champagne.

In a blender, blend together pineapple juice and coconut ice cream together.

Fill mimosa glasses the remainder of the way full with pineapple mixture.

Add a slice of pineapple on each rim for a garnish if desired.