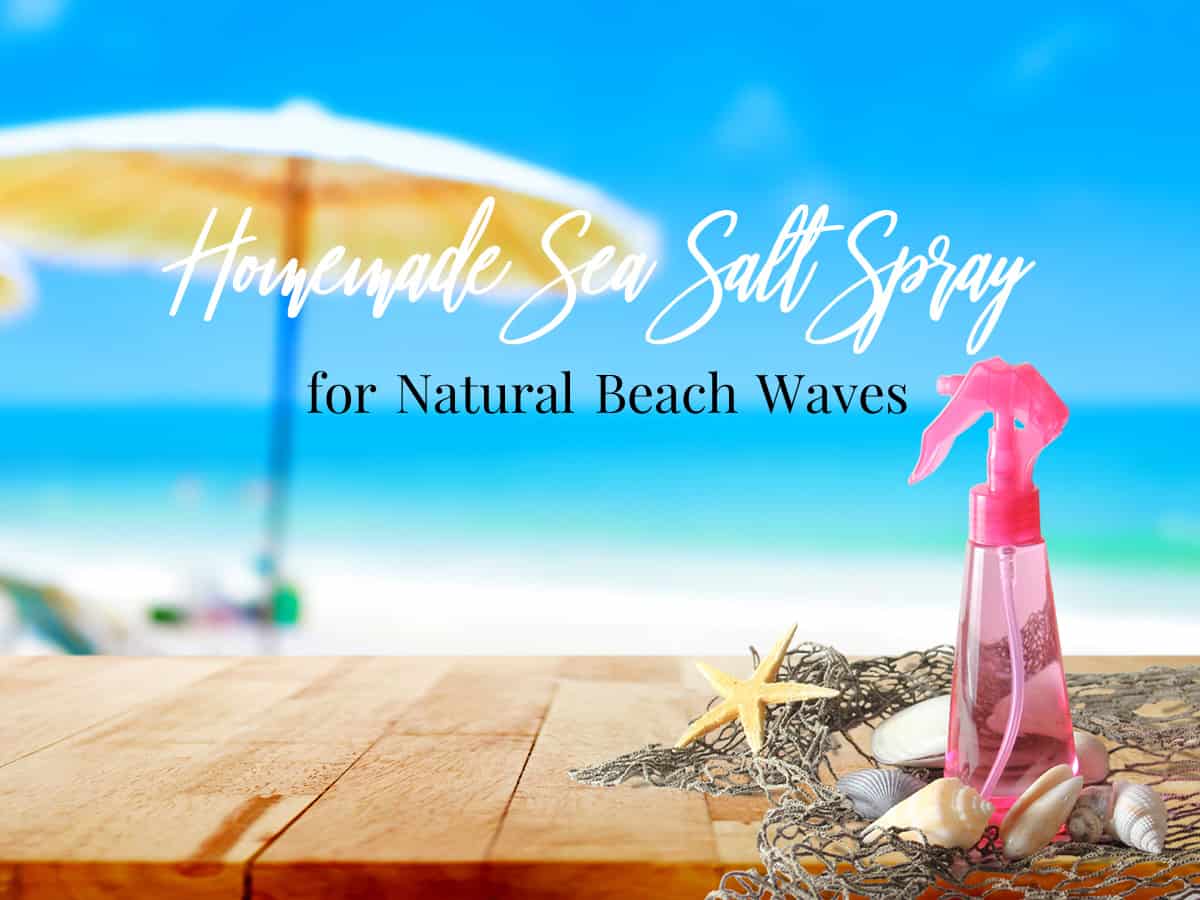 Salt in the air and sand in my hair ~ using homemade sea salt spray! Gorgeous wavy beach hair makes me think of my happy place…the beach! Unfortunately, with location, weather, and time, beautiful and natural beach waves are not always an option when you want them. Living near the ocean doesn't make it much easier. After a long hot day at the beach, a shower is always a necessity, ruining the perfect waves formed just hours earlier.
The salon and home alternatives are not much better…loaded with chemicals. What's a girl to do? Luckily after raiding through numerous DIY blogs, natural healthy blogs, and hair care blogs, I settled on a standard for recreating natural beach waves at home! With a few optional touches to the recipe, you can customize this spray to best fit the needs of your hair.
Homemade Sea Salt Spray Before and After
I've tried the recipe out numerous times on my naturally wavy hair as well as had a couple friends with straight hair try out this homemade sea salt spray. See below for the results.
(My naturally wavy hair after using the salt spray)
(A friend's naturally straight hair after using the salt spray)
What Does DIY Sea Salt Spray Do?
Sea salt spray is a styling product intended to make beach waves similar to those you'd have after a long day spent ocean side. It typically adds volume and beachy texture, as they tend to absorb some of the hair's excess oil. For those with wavy hair, it enhances the waves. For those without, it often adds a wave, texture, and body to the hair.
It's a great product because not only does it seem to give the appearance of added volume, but it adds a glamorous, yet natural summertime look. I love the homemade version of this sea salt spray, because it is super easy (and fast to make) and adds the same look without the harsh chemicals styling products can often contain.
Does This Spray Work for All Hair Types?
This spray works well for all hair types! Curly, straight, flat, volumized, dry, oily, and more. Just reference the recipe below for tweaks for dry vs straight hair as well as options for extra moisture.
How To Make Homemade Sea Salt Spray
Gather the 1 cup hot (filtered) water, Epsom salt, sea salt, and optional essential oils. If you'd like, also grab some of the optional add ins listed in the recipe below to customize the spray for your hair.
*Please note there are many variations that use coconut oil. However, due to the fact that I find it to leave my hair feeling greasy, I prefer to moisturize in this homemade sea salt spray without coconut oil (and instead if I need it, will use aloe and/or conditioner).
Then, it's easy as 1..2..3! Add ingredients to a good glass spray bottle and shake for 2-3 minutes or until the salts are dissolved. You can also use plastic, just instead add the ingredients to a glass measuring cup and stir for 2-3 minutes, Then allow the spray to cool before adding it to the plastic bottle.
How to Apply Your Spray for Beach Waves
Not sure how to use it? Moisten your hair until damp or apply to towel-dried hair. Spray the sea salt spray evenly over your hair while scrunching it in your hands or a towel.
If you have naturally curly or wavy hair, allow it to air dry. If you have straight hair, apply the night before, then braid it or put in a tight bun overnight. In the morning unwind then add extra spray and scrunch.
If you find your waves need a little pick-me-up throughout the day, feel free to spritz a bit more and re-scrunch.
Please make sure to leave a comment as to what variations worked best for your hair, as everyone is different and I'm sure it will be helpful to others trying out this recipe! Also, if you're looking to keep your tropical vibes flowing today, show off your beautiful beach waves pool-side with a healthy mimosa (layered in island colors).
Enjoy your beautiful, easy, chemical-free head of natural beach waves! Here's to regaining our sparkle together,
✧❈✯✦Jenn✦✯❈✧
Print Recipe
Homemade Sea Salt Spray for DIY Beach Waves
Create beautiful, natural beach waves at home with this DIY, chemical-free recipe + customize this homemade sea salt spray to fit your hair.
Servings:
1
head of natural beach waves!
Ingredients
Spray Essentials
1

cup

hot

filtered water

1

tablespoon

epsom salt

1

tablespoon

sea salt

will make waves stiffer

6-8

drops essential oils

for scent

1 spray bottle

glass is preferred + funnel (to help get ingredients into glass bottle)
Optional Add-Ins & Substitutions
½

teaspoon

conditioner

adds shine and moisturizes

1

teaspoon

aloe vera

optional, softens and conditions

For lighter hair: 1 teaspoon lemon juice

For darker hair: sub hot black tea for the water
Instructions
Find a good spray bottle (preferably glass). Pour hot water in the spray bottle, then add the Epsom salt, sea salt, and essential oils. Add optional add-in or use substitutions if desired.

Put the cap on the spray bottle. Shake for 2-3 mins or until salts are dissolved.

Spray on damp hair and scrunch with a towel. Allow to air dry. Very straight hair may require spraying damp hair the night before. Then braid or put in a tight bun overnight. In the morning unwind then add extra spray and scrunch.

Store extra at room temperature for 2-3 months (if you use lemon juice or black tea, it will need to be stored in the fridge).
Notes
*I love tropical scents, so for the version I made, I used four drops of orange essential oil and four drops of grapefruit essential oil.
**Feel free to vary up the proportion of Epsom to sea salt (as long as you get around 2 tablespoons salt total between the two) depending on what works best for your hair. The above recipe was what worked best for my naturally wavy hair, however, my friend with straight hair found 2 tablespoons Epsom salt and 1 teaspoon sea salt worked best for her
***If you choose to use a plastic spray bottle, just make sure to stir/mix the solution in a glass measuring cup and pour the completed mixture into a plastic spray bottle for dispensing once cool.
---
Ready to begin your wellness journey — and still have fun?!
If you're ready to eat healthier and/or try a gluten free lifestyle, but don't want to give up your favorite cocktails, brunch, and dessert recipes, then:
>> Check out the gluten free cocktail and brunch, plus other healthy party recipes, OR sign up to my email list below to have them delivered straight to your inbox! >>
+ If you love natural hair care, you may also love this homemade Cocoa Powder Dry Shampoo. Here's to beautiful and natural locks!