These 30 gluten free Halloween recipes make the perfect healthier party recipes for fall & Halloween. Calling all wellness, healthy, gluten free, and pumpkin lovers! You can still enjoy the holiday, make amazing treats, and entertain; without the regrets after.

Each healthy recipe makes an amazing appetizer, mocktail or cocktail, dessert or treat, or snack. Plus, many are great for kids. No one has to know they're easy or gluten free (and some options are even vegan, keto, dairy free, low-carb and/or low-sugar).
---
30 Gluten Free Halloween Recipes
Gluten Free Halloween Appetizers
Halloween Fruit Kabobs from Two Healthy Kitchens – These fun fruit kabobs are great as an appetizer with fruit dip, or as a kids' snack for parties and after-school munching. Lots of ideas to customize them however you'd like.
Halloween Spooky Deviled Eggs from Grits and Pinecones – These charming deviled eggs with spiders aren't just crowd-pleasers; they're the ultimate make-ahead appetizer to bewitch your guests at any Halloween potluck or party.
Brown Sugar Bacon from G-Free Foodie – Balance the sugar with a little protein and salt with still-decadent and totally delicious Brown Sugar Bacon, aka "Pig Candy". With just a touch of spice and some crunch, it's exactly what your previous Halloween spreads have been missing.
Halloween Bean Dip from Garlic and Zest – This vibrant, easy bean dip served with blue corn chips make a festive Halloween appetizer great for parties. With its eerie colors, it's loved by kids and adults alike.
Hocus Pocus Snack Board from Keeping the Peas – This fun and adorable Hocus Pocus fruit platter will be the highlight of your Halloween celebration. Featuring the Sanderson sisters with fresh fruit and rice cake faces. It's vegan friendly and gluten-free!
Healthy Gluten Free Taco Dip from Regain Your Sparkle – Bring this festive gluten free taco dip (a healthy taco dip also known as 7-layer dip) to a taco bar or make it into a spider web for a fun Halloween appetizer.
---
Gluten Free Halloween Snacks
Halloween Snack Mix from Luci's Morsels – This festive, yet healthy trail mix features spooky black and orange colors. Make it ahead of time, bag it for gifts, serve it at a party, or save it all for yourself!
Halloween Puppy Chow (Gluten Free) from The Rustic Foodie – This gluten free Halloween Puppy Chow is a great sweet snack mix! It's made with Chex cereal, chocolate, peanut butter, and powdered sugar.
Apple Monsters from Aussie Home Cook – These easy apple monsters are an adorable gluten free Halloween snack. Great for a spooktacular party or healthy Halloween dessert.
Apple Mummies from Two Healthy Kitchens – Super cute and fun to make, these apples are a terrific kids' snack you'll feel terrific serving (before all the piles of candy come cascading in)!
Clementine Pumpkins from Tasty Galaxy – These easy pumpkins take only 5 minutes to make and only two ingredients; making a simple delicious Halloween snack.
Brine Roasted Pumpkin Seeds from Coley Cooks – The secret to the BEST ever roasted pumpkin seeds is to brine them first. They come out perfectly seasoned and extra crispy, just the way they should be. This is the ultimate method for roasting pumpkin seeds for Halloween!
Healthy Halloween Mummy Pizzas (Gluten Free) from The Yummy Bowl – Healthy and gluten free, make these mummies with kids for Halloween and serve as a spooky party snack.
Coconut Banana Ghost Pops from My Kids Lick the Bowl – Coconut Boo-nanas are the cutest little Halloween snack. Gluten and easy to make dairy free they are so fun to eat.
---
Gluten Free Halloween Desserts / Treats
Easy Halloween Gumdrop Nougat Candy from Officially Gluten Free – This Easy Gumdrop Nougat Candy is a Halloween Must! It's a Chewy, Gooey, White Marshmallow Nougat mixed with Orange and Black Jujubes. It's the perfect no-bake gluten free treat to make sure your Halloween is filled with fun.
Halloween Chocolate Covered Strawberries from How We Live – Kids love these Halloween chocolate covered strawberries because they're easy and fun to make. Let their creativity flow with colored, sprinkles and edible decorations. Perfect for a spooky fun party or special after-school treat.
Best Fluffy Vegan Gluten-Free Pumpkin Cookies (refined sugar-free) from Eating by Elaine – Oats and almond flour create the perfect base for an incredibly fluffy, warmly spiced Vegan Gluten-Free Pumpkin Cookie! These are easy to whip up and even easier to love.
Secretly Healthy Halloween Cookies from Healthy Halloween Cookies – Wholesome and delicious monster cookies are the perfect way to sneak in some nutrients! Kids love them and adults can feel great about serving them!
Frankenstein Krispies from Allergy Awesomeness – This Halloween dessert is delicious, easy to make, and super cute, although scary when cut in half. These strawberry and chocolate fudge mice are great finger food for any Halloween Party!
Halloween Bark from Veggie Desserts – This bark is an easy party food and a great way to use up Halloween candy. Make it in minutes!
Gluten Free Apple Cider Donuts from Healthful Blondie – There's nothing better than warm, cakey, homemade apple cider donuts. This recipe is gluten-free, oven-baked, and super fluffy. No deep frying or oil is needed for this delicious Fall treat!
Candy Corn Pudding Parfait from Dancing Through the Rain – These Candy Corn Pudding Parfaits are super easy no-bake desserts for Halloween! With fun candy corn colors, even the kids can make this treat!
Toffee with Pecans and Pumpkin Spice from What a Girl Eats – Pumpkin spice toffee with pecans is an easy and delicious sweet treat!
Soft Gluten-Free Pumpkin Cookies from Healthful Blondie – The best soft, fluffy gluten-free pumpkin cookies are cakey, pumpkin spiced, and topped with a simple, healthy cream cheese yogurt frosting. So good that you can't tell they're gluten-free!
Chocolate Covered Apple Slices from Hungry Healthy Happy – These dark chocolate covered apple slices are such a fun (and delicious) dessert or snack that kids will LOVE making. Perfect for a Halloween treat and there are so many different ways that you can decorate these candy apple slices.
---
Gluten Free Halloween Cocktails
Pumpkin Spice Martinis from Regain Your Sparkle – Finish off your night with this sweet party drink: gluten-free, vegan, and paleo it provides the perfect healthy PUMPKIN cocktail for entertaining!
Hocus Pocus Cocktail from The Short Order Cook – A delicious & sweet spell will be cast on you with just one yummy sip of this Hocus Pocus cocktail. It's sweet, spiced, & spooky.
Red Devil Drink from The Littlest Crumb – This red devil drink makes the perfect Halloween cocktail. The combination of sloe gin and grenadine give this drink a bright red, spooky look.
Apple Pie Drink from Regain Your Sparkle – WARNING: this drink is strong! Delicious around the campfire or for surviving the holidays, this apple pie alcoholic drink is sweet and delicious. Serves a crowd; serve it hot or iced.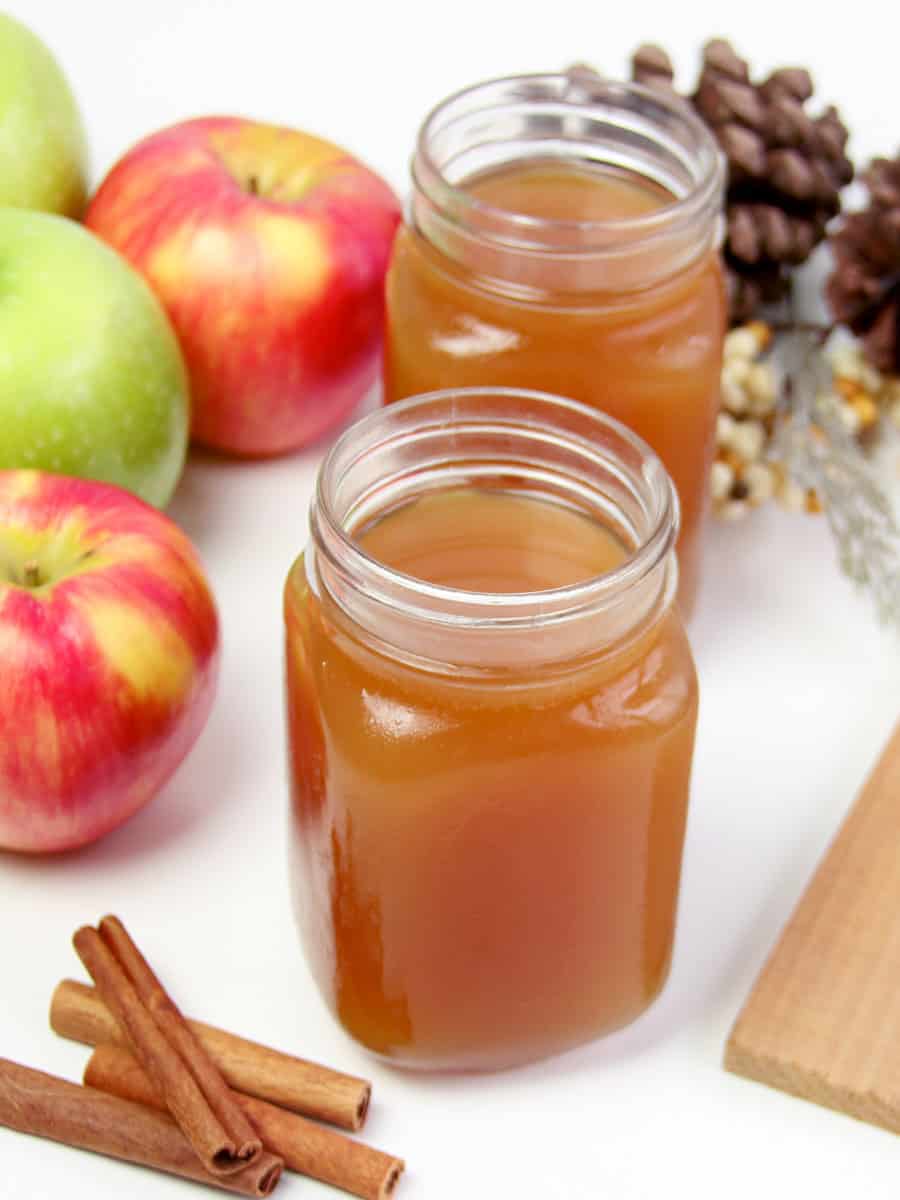 Warm Pumpkin Spice Cocktail from G-Free Foodie – This incredibly delicious Warm Pumpkin Spice Cocktail will make you the hit of the neighborhood- with the adults, anyway! Beware: You may have grown up Trick or Treaters showing up through December.
---
Enjoy! Thanks to all the above bloggers for the delicious contributions to these gluten free Halloween recipes! <3
If you're looking for more amazing gluten free dairy free recipes or gluten free appetizers and healthy cocktails << click here << AND make sure to sign up for my email newsletter below to be notified when a new recipe is posted! You can still have fun and be gluten free!
Here's to regaining our sparkle together,
✧❈✯✦Jenn✦✯❈✧
…………………………………………………………………………………………………………………………………..
…………………………………………………………………………………………………………………………………..