Feeling the fall vibes? The chill in the air makes these gluten free smores bites the perfect warm end-of-summer/early fall treat! They're also dairy free, made in under fifteen minutes, and so gooey & sweet. They make for great party recipes, individually served party desserts, and are a fun dessert for kids and adults alike.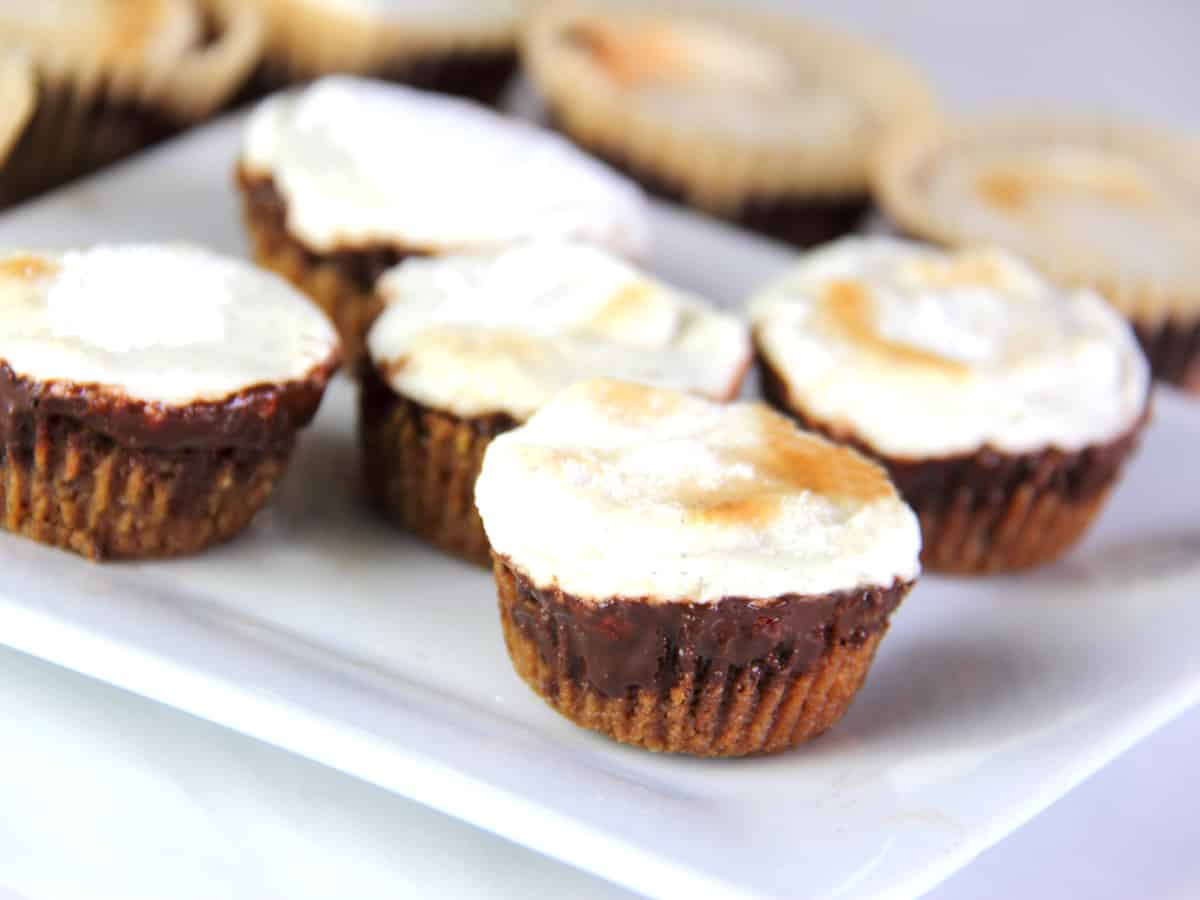 These are definitely no less messy than the original s'mores, but just as tasty, and way more convenient – no fire pit necessary! Plus, they are definitely a bit fancier 😉
Total Time / Made Easy
The "natural" life makes things take so much longer. Luckily, your party recipes don't need to! These gluten free smores bites take under fifteen minutes! The recipe below includes product recommendations that fit your dietary restrictions, so you don't have to hand-make every single part of this recipe!
Gluten Free Smores Ingredients
I've had many requests for gluten free dairy free recipes, so these have been tweaked to make them meet both! They begin with one of my favorite gluten, free graham crackers — I used Honeygrahams from Schar's (or Pamela's if dairy isn't an issue).
The binding agent for the graham crackers crumbs is coconut oil instead of butter which was used in most of the other recipes for s'mores bites. Then extra cinnamon is added to make sure the coconut oil taste isn't reflected in the graham layer's flavor.
The next layer is dairy-free chocolate bars and each bite is topped with homemade marshmallows (or Amazon/store bought if you're in a hurry) for a perfectly browned, sticky sweet topping. To see recommended brands for these products, click down into the product links in the recipe below.
Making Smores in Your Oven
Who said you need a campfire/bonfire (though the ambiance is so nice)?! You can absolutely make s'mores in your oven – and you may never make them campfire again after you try these delicious mini gluten free smores bites! They're so fast and convenient.
These smores bites are really something special – you, your kids, and your guests, are sure to love. Plus be sure to dust the tops with cocoa powder, sprinkle with a baker's spice or cinnamon sugar, or even drizzle with chocolate, to add a beautiful, impressive party touch.
Here's to perfect end of summer/start of fall and regaining our sparkle together,

✧❈✯✦Jenn✦✯❈✧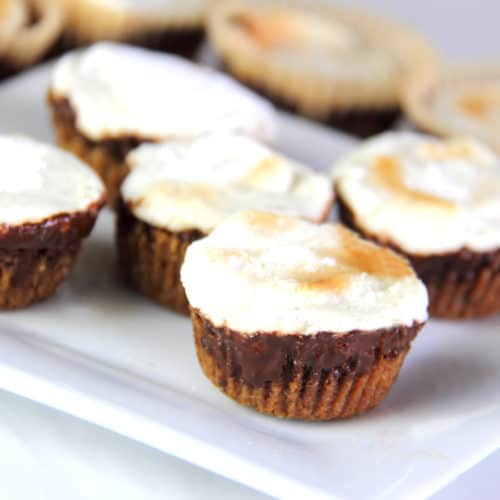 Print Recipe
Gluten Free Smores Bites (Dairy Free)
Warm, gooey, sweet gluten free smores bites are a fast and easy party recipe. These mini s'mores can be made in under 15 minutes!
Servings:
24
smores bites
Ingredients
Mini muffin tin pan

24

mini muffin liners

, I prefer natural but you can also get fun colored ones (which look really cute when making these for a party or kids)

8-9

gluten free/dairy free graham crackers, made into crumbs

*I used Schar's when dairy free is needed or Pamela's for just gluten-free

4

tablespoons

coconut oil

2

tablespoons

maple syrup

½

teaspoon

cinnamon

24

homemade marshmallows or pre-made marshmallows

, cut in half

2

chocolate bars

, broken/cut into 48 small square pieces (extra for garnish if desired) *You can use the above linked bars for convenience, but when I have time, I prefer to go into Trader Joes – their Organic Dark Chocolate Truffle/Super Dark bars are super cheap 😊.

(Optional) Garnish for top: cocoa powder, chocolate to drizzle, cinnamon sugar, or baker's spice.
Instructions
Add mini muffin liners to mini muffin cups.

Add crumbs, coconut oil, maple syrup, and cinnamon to a small bowl and mix well.

Divide crumbs mixture evenly amongst baking cups and press down firmly into each cup. Press the crumbs up against the sides as well so the sides raise a slight bit. Bake for 6-7 minutes.

Add two chocolate pieces into each cup. Top with half of a marshmallow. Return to the oven and bake an additional minute.

Optional: If a browned top is desired on the marshmallows…Remove them from the oven, move to rack up closed to the top (with an oven mitt on), turn the oven to low broil and allow it to heat up for a minute. Then, broil the smores bites for 1 minute (do not do this any longer than a minute, they will bubble up too much and be ruined).

Once cool remove from tins, garnish as desired, and serve!