These Gluten Free Fruit Pizza Cookies are vegan, dairy free, nut free, and are one of the easiest, fastest gluten free party recipes. They are both fun/colorful and delicious and can be made from start to finish in under 20 minutes.
Gluten Free Sugar Cookie Mix/Gluten Free Sugar Cookies
These fruit pizza cookies are one of my favorites as they are so simple and the perfect last-minute grab for a party with people of almost any dietary restrictions – vegan, gluten free, nut free, peanut free and dairy free! All of this was made possible with one of my absolute favorite brand's refrigerated cookie dough, Sweet Loren's®. (This blog is not associated with and neither endorsed nor sponsored by Sweet Loren's®, I am just a huge fan).
You also have the option of using gluten free sugar cookie mix (there are some available from Betty Crocker™ or King Arthur) or you can make your own gluten free sugar cookies base. However, I do find refrigerated cookie dough to be the most convenient.
Gluten Free Fruit Pizza Ingredients / Best Fruits to Use
The only ingredient for the sugar cookie base of these fruit pizzas is Sweet Loren's® refrigerated sugar cookie dough. It already comes rolled out and everything, you just pop them out of the package onto a tray and bake them.

They have grown immensely in popularity, since I first found them in my grocery store's refrigerated aisle a couple years ago and are now widely available across the U.S. They will likely be at your local grocery or health food store, but if you can't find them, see their website's store locator to find them near you.
Once the cookies are baked and cooled and the cream cheese frosting is spread on top, they are topped with colorful chopped fruit. I used strawberries, blueberries, and raspberries for a gluten free 4th of July party recipe, but you can use a variety of fruits to color your fruit pizza cookies for the applicable occasion. *If you're looking for another colorful fruity recipe that works great for patriotic holidays, check out this Watermelon Feta Basil Salad with Blueberry Balsamic.
For example: kiwis and strawberries for Christmas, bright tropical fruits for summer, orange segments and chocolate chips for Halloween, etc. Here are some fun fruits to choose from:
RED: strawberries (hulled, chopped), raspberries, cherries (pitted)
ORANGE: peaches, mangoes, mandarin oranges or orange segments
YELLOW: bananas (use within a couple hours though, or they'll brown), pineapple, starfruit slices
GREEN: kiwis, green apples, green grapes (halved)
BLUE/PURPLE: blueberries, blackberries, purple or black grapes (halved), plum slices
MISC (these non-fruit items also made great additions): fresh mint, sprinkles, chocolate chips (make sure to get dairy-free if needed)
Vegan Cream Cheese Frosting Ingredients
You can use regular cream cheese in this recipe if desired, but this vegan, dairy free version is no less delicious! Just use vegan butter and vegan cream cheese (I grab mine from the local Trader Joe's). The only difference between a vegan cream cheese frosting and a regular one, to me, has been consistency.

The vegan versions I've had have always been more prone to melt/thin easily. Which is why this recipe has a slightly larger amount of powdered sugar than a cream cheese frosting that includes dairy – it helps the frosting hold its shape. Make sure to apply it thick.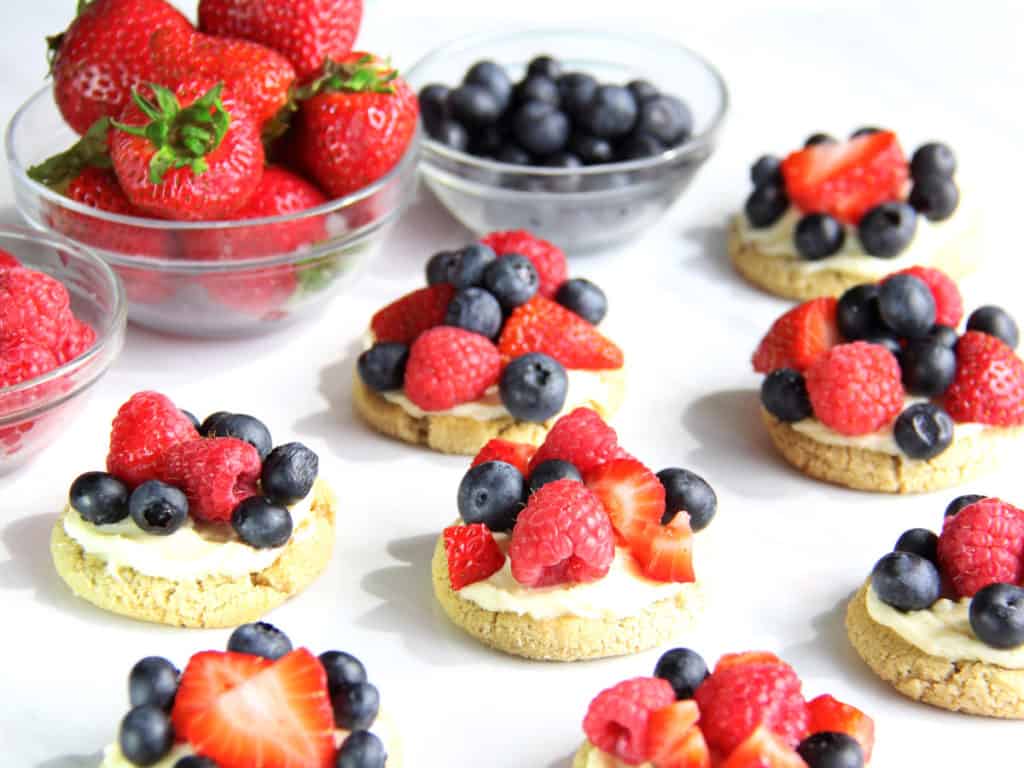 How to Make
This recipe is super easy with Sweet Loren's® refrigerated sugar cookie dough. Preheat the oven to 325°F. Remove the pre-formed cookies from the package and add them to a non-stick baking sheet (or for a natural option, a baking sheet covered in unbleached parchment paper). Bake according to the package directions (for 11-13 minutes). Allow them to cool.
Meanwhile, make the cream cheese frosting. To a medium mixing bowl, add butter, sugar, maple syrup, vanilla, and lemon zest. Beat with a hand mixer for 1-2 minutes or until smooth. Spread on the cooled cookies. Top with your favorite washed/cut fruit.
Tips for Decorating Fruit Pizza Cookies
The most important tip for decorating your fruit pizza cookies is to use fresh fruit! Dried tends to have less vibrant colors and frozen fruit tends to leak juice.
The 2nd most important tip is to make sure the cookies are completely cooled before frosting them. The frosting will melt if the cookies are still warm, and if they are even only slightly warm, the frosting will not stick properly.
The 3rd and final tip is a party planning tip! If you are having a party, people love to make their own. Make a few of the cookies for an example, but leave them next to a plate of cookies that are frosted, and next to bowls of fruit with spoons. This will allow party guests to choose their fruit of choice.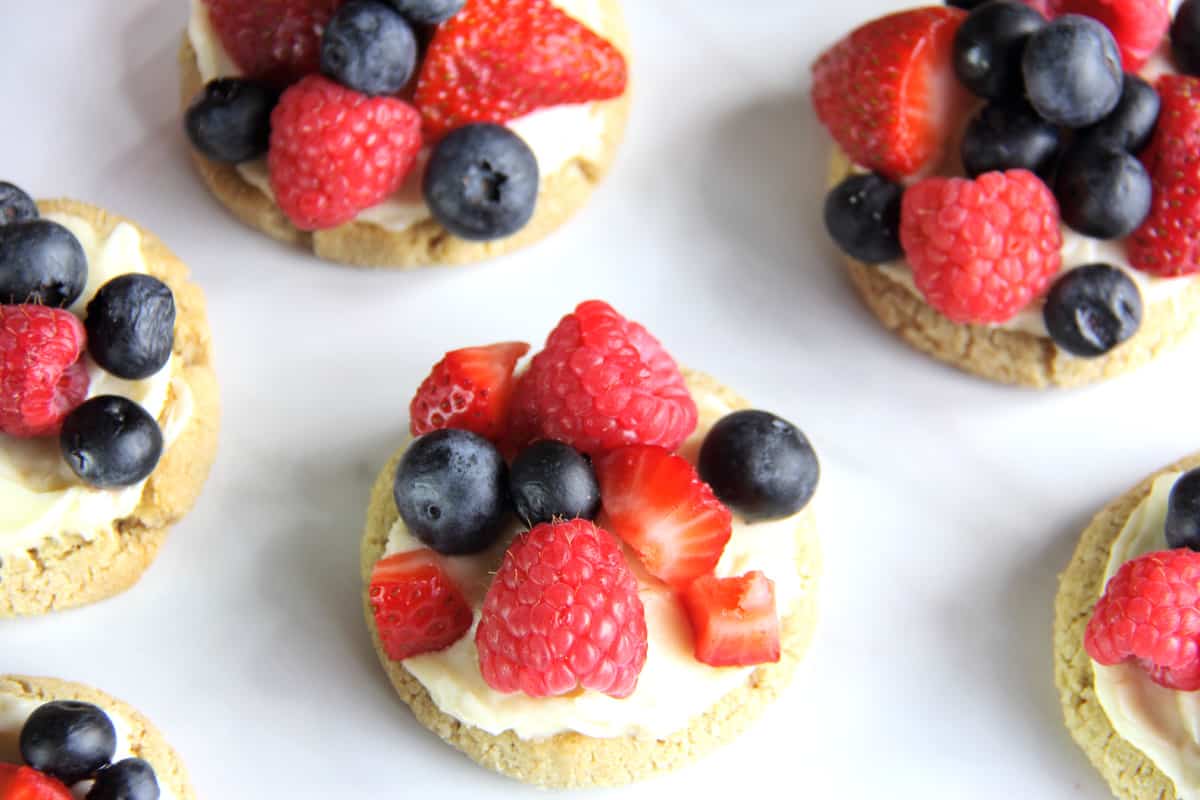 FAQ + How to Make the Best Fruit Pizza Cookies
How do I store fruit pizza cookies?
Fruit pizza cookies should be stored as individual components, so they don't get soggy. Keep the cookies in an airtight container at room temperature. Keep the frosting in a container in the fridge. And keep the cut fruit in a separate container in the fridge. Assemble the cookies shortly prior to serving/consuming.
Can fruit pizza cookies be made in advance?
They can, but as mentioned in the question above, I'd store them as individual components. Additionally, I'd only make the components 1-2 days in advance.
What fruits work well for fruit cookie pizzas?
See above for fruit options, however, I would go with fruits that are in season and/or ones that have colors that match any occasion at hand. In this recipe, I used strawberries, blueberries, and raspberries for a 4th of July party.
Can I make larger cookies or a full pan?
You sure can! Just grease a 9×9 square pan, allow the cookie dough to soften, and press it into the bottom. Or roll and then press a couple cookies together to make a larger cookie. If not using refrigerated cookie dough rounds, you can press the dough into the pan of your choice or create larger cookies as a base.
Gluten Free Party Recipes & Other Healthy Party Recipes
Unfortunately, I learned the hard way 10+ years ago about the damage that sugar and emotional eating can do to your body and mental health. Once my diet was cleaned up, I started feeling better, but I missed all the foods I used to have.
RegainYourSparkle.com was created to bring back the joy to eating healthier – all the fun party, healthy brunch, & cocktail recipes you used to enjoy. Check out all the gluten free and healthy party recipes here. Or try other fun vegan and gluten free desserts such as 3-ingredient Homemade Heart Chocolates, Gluten Free Carrot Cupcakes, or Healthy Fruit Salsa & Cinnamon Chips.
Don't forget, you can make this super-fast, delicious, and allergy-friendly party recipe in just minutes for almost any type of gathering. Plus, it's a favorite for both kids (they love fun, bright colors) and adults! Who said healthy had to be difficult? Enjoy a party you actually have time to sit down and enjoy.
Here's to friends & family, easy healthy party recipes, and regaining our sparkle together!
✧❈✯✦Jenn✦✯❈✧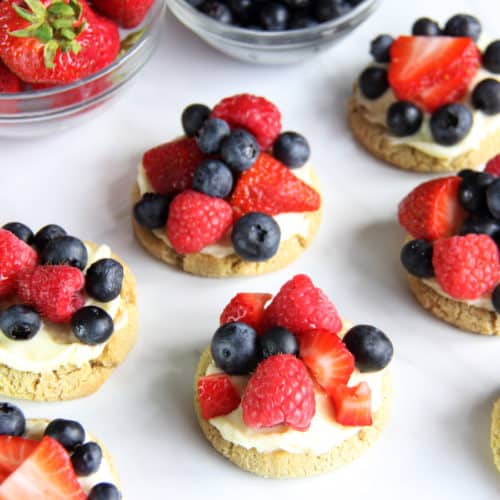 Print Recipe
Gluten Free Fruit Pizza Cookies (Dairy Free, Vegan)
Gluten Free Fruit Pizza Cookies are vegan, dairy free, nut free, and an easy, fun party recipe. These colorful cookies take under 20 minutes.
Servings:
12
cookie pizzas
Ingredients
Cookie Pizzas
12

ounces

(or enough for 12 cookies) gluten-free, dairy-free, vegan refrigerated cookie dough

(I used a package of Sweet Loren's®)
Fruit Toppings
Strawberries, blueberries, and raspberries
Instructions
Preheat the oven to 325°F. Bake the cookies on a sheet pan for 11-13 minutes or per package directions. Remove from pan and allow to cool.

For cream cheese frosting, add to a medium mixing bowl: butter, sugar, maple syrup, vanilla, and lemon zest. Beat with a hand mixer for 1-2 minutes or until smooth. Spread on cookies.

Top with washed/cut strawberries, blueberries, and raspberries. Enjoy!
Notes
*Notes: for a regular cream cheese frosting with dairy, use the same amounts of regular cream cheese and butter, but slightly less powdered sugar.