Bellinis are quite possibly one of the quickest summer party cocktail recipes; and this is a fizzy, gorgeous pink-red summer favorite! This Raspberry Prosecco Cocktail is known more commonly as a raspberry prosecco bellini (though bellinis are traditionally made with peach).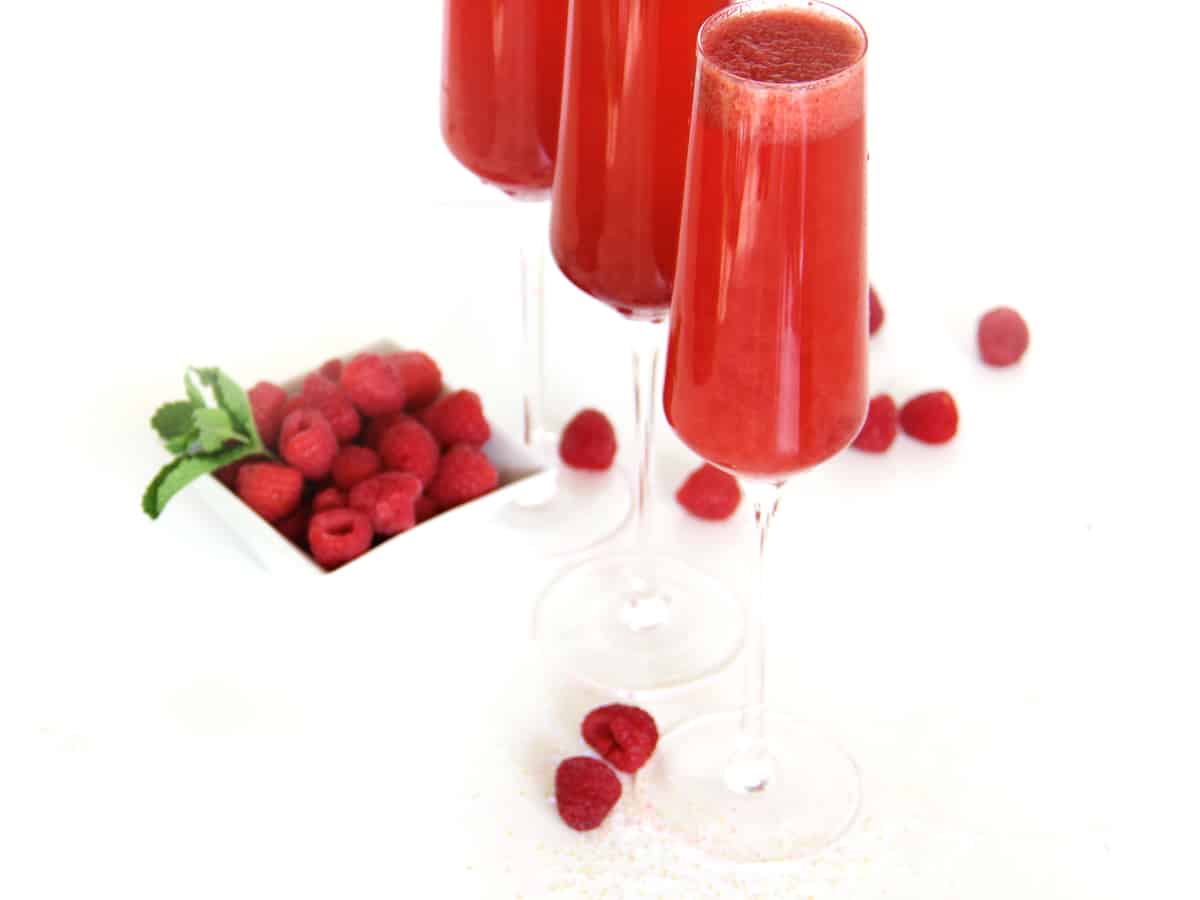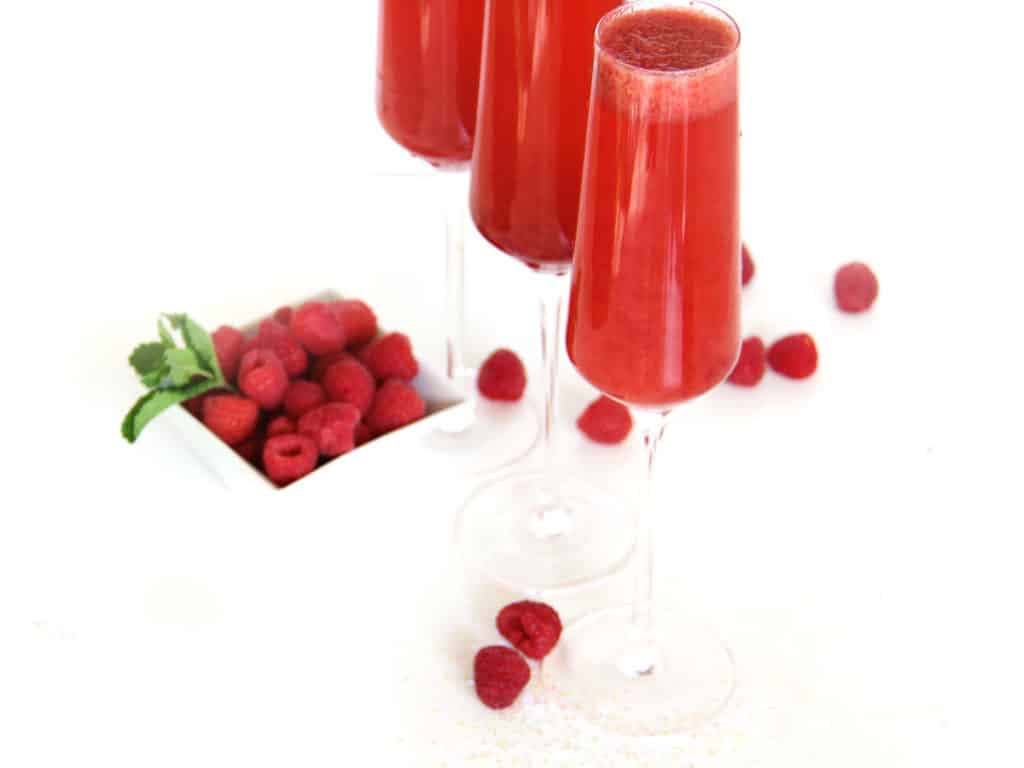 What Prosecco is Gluten Free / is Prosecco High in Sugar?
Into clean eating? Bellinis are made with very clean ingredients: just fruit puree, lemon juice, and sparkling wine or prosecco. According to NoughtyAF.com, Prosecco is known to be one of the less calorific drinks available; a typical sized glass containing around 1.5g of sugar (80 calories). Additionally, almost all (about 99%) Prosecco is gluten-free.

There may be a very rare occasion where cross-contamination could occur with barrels sealed with gluten-containing paste (the same goes to say for wine). If worried, make sure to contact the manufacturer. I'm very sensitive myself and I have not yet had an issue…
Raspberry Prosecco Cocktail ingredients
Not much else is needed for this fabulously easy healthy cocktail recipe, just grab your favorite (or in my case, cheapest) Prosecco. Then grab a bag of organic raspberries from your grocery store's freezer aisle, and a tablespoon of lemon juice (I always juice mine fresh with a handheld citrus squeezer/juicer
). You can use regular champagne or mimosa glasses. I like to use these champagne flutes; preferred for bellinis to make mine look fancy.
How to Make a Raspberry Prosecco Cocktail (Raspberry Bellini)
Bartender skills not up to par or making cocktails too much of an effort? These are SO simple and can be made in minutes. Take your thawed bag of frozen raspberries and empty all the contents into a blender. Add the lemon juice and water. Puree for about 30 seconds. Then strain. Toss the raspberry seeds.

Keep the raspberry juice/puree and divide it evenly amongst 6 mimosa glasses (refrigerate some of the juice for later if you're only making a couple cocktails now). Fill each champagne flute the rest of the way with prosecco.
What Fruit is Good in Prosecco?
If raspberries aren't for you, or even if they are, you may want to try making your sparkling cocktail/bellini with another type of fruit. The following fruits are amazing in bellinis: traditional peaches, mixed berries, strawberries, or blackberries. Or make yours tropical with cantaloupe, kiwi, mango, watermelon, or pineapple.
More Healthy Cocktails You'll Love…
Years ago, I was young and so sick and tired. I thought I'd have to give up everything fun, which was so wrong. This blog is full of gluten free party recipes, healthy cocktails, and all the things you love with so much less chemicals, preservatives, sugar, and ZERO gluten <3. Make sure to check out the full list of gluten free party recipes and gluten free cocktails!
Here's to a relaxing summer, great health, parties full of healthier options so you can keep having fun and regaining our sparkle together!
✧❈✯✦Jenn✦✯❈✧
Print Recipe
Raspberry Prosecco Cocktail
This Raspberry Prosecco Cocktail is a quick & healthy summer party cocktail recipe; a fizzy, gorgeous pink-red summer favorite.
Ingredients
1

package

(10 ounces) frozen sweetened raspberries, thawed

(or pineapple, peach, strawberry, and blackberry puree)

¼

cup

water (helps puree the raspberries)

2

tablespoons

lemon juice

1

bottle

chilled Prosecco, champagne or dry sparkling wine

Optional garnish: fresh raspberries
Instructions
Add full contents of raspberry package, lemon juice, and ¼ cup water to in a blender; cover and puree. Press through a strainer.

Fill each champagne flute with 2 tablespoons of the raspberry mixture; and fill the rest of the way with prosecco. Garnish with fresh raspberries.