This Watermelon Feta Basil Salad is the fastest, easiest refreshing salad for summer. It only takes 10 minutes to make and is the perfect balance of sweet and salty. It also comes topped with a light fresh blueberry balsamic for a completely unique sweet fruity flavor.
If you are looking for a quick and delicious side dish or salad for your pool party, barbecue, or summer potluck, you have found your perfect match! This refreshing summer side dish is the perfect accompaniment for your meal on a hot day.
Looking for other summer side dishes or party recipes made with fresh ingredients? Be sure to check out another Accompaniment Salad, Healthy Taco Dip, Easy Mozzarella Melon Prosciutto Skewers, and Healthy Fruit Salad with Gluten Free Cinnamon Chips.
Watermelon Feta Salad Origin
Watermelon first came from ancient Egypt. As its popularity began spreading, many Mediterranean countries began adding feta to create a watermelon salad. Its popularity, then continued to spread throughout Europe and more!
A modern day watermelon salad is a summer salad that typically contains watermelon, mint or basil, feta, and a simple vinaigrette/dressing. Occasionally it's expanded from the classic version by adding other ingredients such as cucumber, onion, and blueberries. Other common variations include a simplified version with olive oil and lemon juice instead of a full vinaigrette OR using goat cheese instead of feta cheese.
How To Pick & Cube a Watermelon for Your Salad
Watermelon is a favorite at our house during summertime. It's a great summer fruit that's easy to prepare and feeds a crowd. However, it does require choosing the right melon.
Picking a sweet, perfectly ripe, & delicious watermelon is best accomplished by following the following tips:
Look for a watermelon with a field spot (where the stem was previously attached) that is creamy/yellowish in color, rather than white. This is a sign of ripeness.
Knock on the watermelon. It should feel firm with a thud, not soft or dull. This will help ensure its not overly ripe.
Examine the overall appearance and weight of the melon. It should have limited bruises, cuts and dents as well as have dull skin (shiny is a sign of being underripe). It should also feel heavy for its size due to its high water content.
Cutting a watermelon can be simple when done right! The easiest way to cut a watermelon into cubes is by cutting off both ends of the watermelon. The watermelon can then be set on one of the flat ends. Then, use the knife to cut the rind off of the watermelon, working from top to bottom on all sides. Once all the rind is removed, cut the melon in half lengthwise. Then slice it. Finally, cut each slice into strips, then cubes.
How long is cut watermelon good for? Watermelon is good for about 3-4 days in the refrigerator after cutting. Correspondingly, this watermelon basil feta salad also has a shelf life of 3-4 days.
Ingredients For a Watermelon Salad
This watermelon basil feta balsamic salad utilizes 4 simple ingredients:
Watermelon
Fresh blueberries
Feta cheese: What cheese goes with watermelon? Feta's texture & flavor make a perfect pair for watermelon; however, goat cheese can also be substituted as its properties are very similar though it lacks a bit of the crunch of feta.
Fresh basil
Its vinaigrette uses 5 ingredients: fresh blueberries, a lime, balsamic vinegar, honey, and olive oil.
How to Make This Watermelon Feta Basil Salad
This salad is so easy and can be made in under 10 minutes! The watermelon is cubed and tossed with blueberries, feta cheese crumbles, and thinly sliced basil.
The vinaigrette is made by adding all the ingredients (except olive oil) to a blender and blending. The olive oil is then slowly drizzled in while blending continues; until fully incorporated/emulsified. Finally, the is poured over the salad for an extra blueberry touch!
Make It into a Patriotic Red, White, and Blue Salad
Serving your watermelon salad for 4th of July? This variation with blueberries makes the perfect patriotic red, white, and blue watermelon salad. If you're feeling extra patriotic, you can instead cut the watermelon into starts with a star cookie cutter.
Or you can serve it with the blueberries and feta used to make strips; instead of fully incorporated. However you choose to serve it, the blue blueberries, white feta, and red watermelon are the perfect colorful dish!
What to Serve with Watermelon Salad?
Watermelon is best served at a pool party, barbecue, or summer potluck as a side dish. It's great served alongside barbequed meats, chicken sandwiches, potato salad, macaroni salad, baked beans, sweet potato or zucchini fries, macaroni and cheese, and other similar dishes!
_______________
So, what are you waiting for? A healthy party recipe has never been easier AND more impressive than it is in this Watermelon Blueberry Feta Basil Salad with Blueberry Balsamic.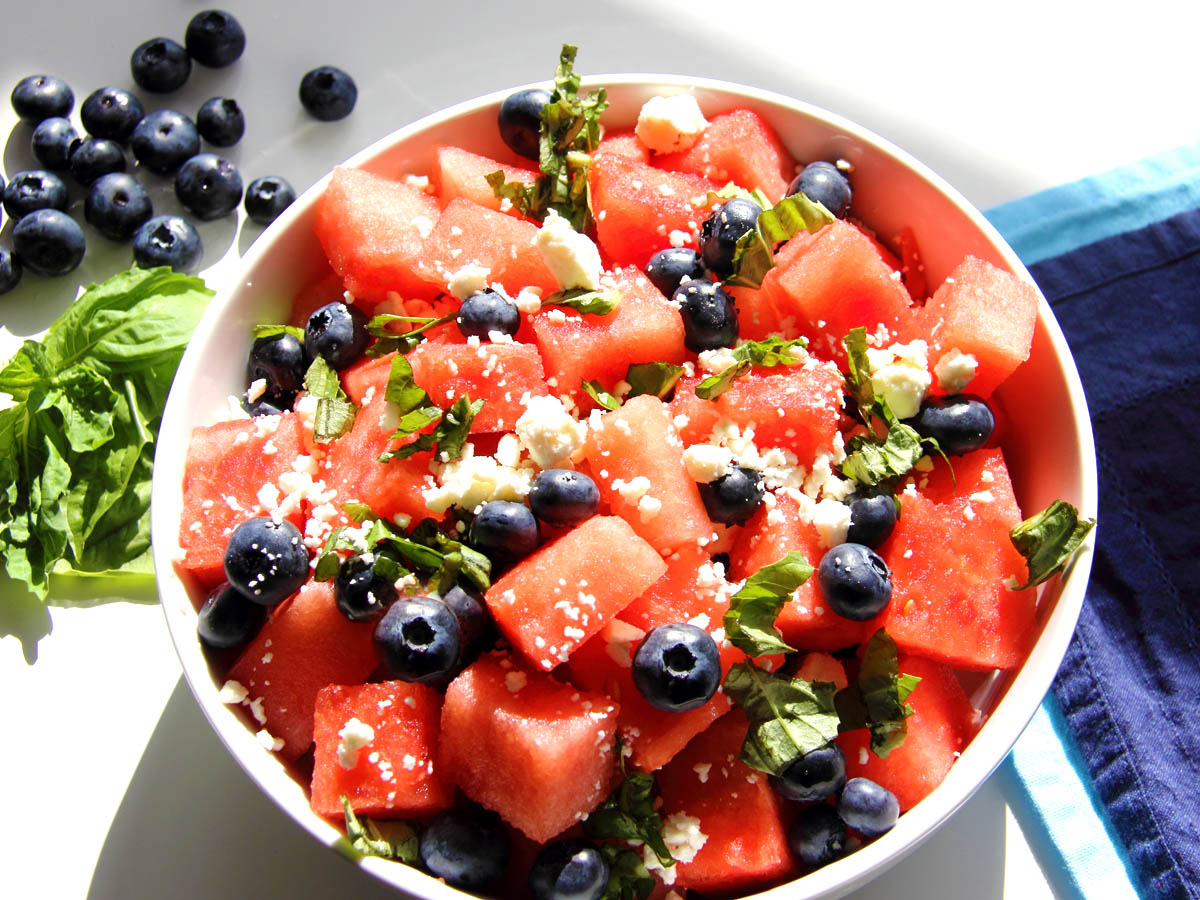 Here's to an EASY & delicious summer size dish, a refreshing barbecue side, and a love for fresh summer flavors, summer salads, and juicy watermelon!
Let's regain our sparkle together,
✧❈✯✦Jenn✦✯❈✧
Print Recipe
Watermelon Feta Basil Salad with Blueberry Balsamic
This Watermelon Feta Basil Salad with a sweet blueberry balsamic is a fast, easy, and refreshing salad for summer parties and barbecues. Bonus: it takes only 10 minutes to make.
Ingredients
Watermelon Salad
6

cups

watermelon,

cubed

1½

cups

blueberries

½

cup

feta cheese crumbles

1/3

cup

fresh basil leaves,

sliced thin into strips

Salt and pepper, to taste
Instructions
Make salad. Add all ingredients to a large bowl. Mix.

Make balsamic. Add blueberries, lime juice, vinegar, and honey to a blender. With the blender running, pour in olive oil and continue blending until creamy and completely emulsified. This will take about 25-30 seconds.

Pour balsamic over salad right before serving.